A Day "Without You" (Wicked Pictures)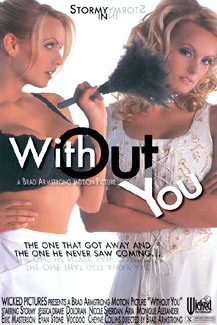 Cast: Stormy Daniels, jessica drake, DoLorian, Nicole Sheridan, Aria, Monique Alexander, Eric Masterson, Evan Stone, Voodoo, Cheyne Collins
Directed by: Brad Armstrong
Release Date: December 3, 2003
Okay what can I say I like bad puns. I arrived on the set at around 1pm and shooting had been going on since around 8 am. As I walked into the house I was greeted by DoLorian who was on her cell phone in the living room. I checked in with the production manager and then went upstairs where they were shooting a dialogue scene with Eric Masterson who is playing the male lead "Alex". Stormy is sitting topless in the bathroom as they go over a dialogue sequence with Eric about 8 times before I go back down stairs to talk to DoLorian.
DoLorian is busy trying to memorize her lines for her scenes today. Apparently she was cast late for this role so she hasn't had much time to prepare. She informs me that she has already done a sex scene earlier today with Eric, it was "extremely hot" and I missed it. DoLorian is still beautiful sans make-up at the moment even though she insists she is not. And she is wearing the cutest little pink sweat shirt that has little ears on the hood. Mark Stone briefly interviews her for the "Behind the Scenes" segment of the DVD and then we discuss her role in the movie.
She is playing "Cynthia", Alex's bitchy, spoiled fiancee. Now for those of you who have had the pleasure of meeting this beautiful young woman you know that this is a stretch for her since she is one of the sweetest people you will every meet. Since she is still trying to learn her lines I offer my services and go over them with her. In short order she has them down and she then curls up and starts reading her book (Danielle Steel's Dating Game) while I go over the script that was given to me for the movie. You can find out more about DoLorian in my interview with her during the 2003 Adult Entertainment Expo.
After the lunch break Jessica Drake and I sneak upstairs to listen in as DoLorian has her big dialogue sequence that I helped her go through. While she has a little trouble acting "bitchy" enough she pulls it off admirably and
in short order she is done and awaiting her next scene. Since she is already all made up I beg and plead to get her to come upstairs and pose for some pictures for you guys.
While I was shooting DoLorian it was jessica's turn in the make-up chair. Once she was all made up I got a chance to sit down with her and talk about her role and her new contract with Wicked Pictures.
They shift set-ups several times but during dinner I finally I get a chance to sit down with the beautiful star and talk about this movie and what else she has going on in at the moment.
After my interview with Stormy I said my goodbyes and left for the evening. All in all it was a rather uneventful day with no sex scenes shot while I was there (Stormy had one later on that night but I had to leave). Though I found the dialogue sequences interesting enough. Especially all the time and effort that goes into setting one up. I also learned to watch where I was going since in an effort to help out on one occasion I ended up walking right through one of their shots. To his credit Brad Armstrong didn't throw me right off the set. I am not so sure I would have been so understanding had our situations been reversed.
I would like to thank Daniel Metcalf at Wicked Pictures for allowing me to cover the set and for setting up all the interviews. As well as Stormy, DoLorian and Jessica for putting up with all my questions and requests for photographs. Brad Armstrong for putting up with the intrusion on his set and last but not least Steph at Adult DVD Talk for making all of this possible.