Stormy Daniels - Without You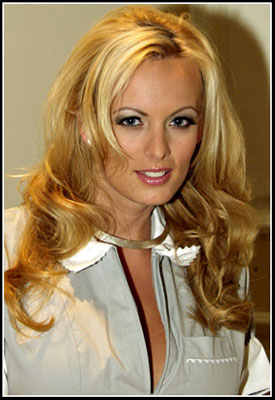 Tell me about your movie Without You.
Stormy - Without You is a story that I wrote and I am starring in. It is about a very successful and handsome businessman who relys heavily on his housekeeper who has a crush on him. He never really takes notice of her until she is gone and then he realizes that he had more than just friend type feelings for her.
Why did you write this script?
Stormy - I like to write. I wrote the last movie Kink which starred Devinn Lane. I wrote this one and I am also supposed to be writing a movie for Jonothan Morgan to be shot this summer.
I also got told you were writing a movie for you and Jessica about your cars?
Stormy - YES! It is not done yet. It is still in handwritten, notebook form. But it is a "woman power" type of story except we don't die in the end.
What has drawn you to writing?
Stormy - I took a lot of creative writing classes when I was younger. I was on the school paper so I have always been a writer. But I had never written a script before but I had some really great ideas for movies. I actually started writing because Brad writes his own movies because he has a hard time finding scripts that either he likes or that even if he likes them that are shoot-able. A lot of people submit scripts who just don't really know what we are capable of shooting. So he writes his own stuff and he hates it. That is his least favorite part of this job and he will tell you that. He despises writing. It comes very very slow for him. The idea comes easily to him but the actually sitting down and writing it out he hates it. So as you know anything you hate takes you a long time to do. I wanted to write stuff for him to make it easier on him because I love to do it. Actually the first time I did it was a surprise. He was supposed to write something and didn't want to do it so I wrote it and gave it to him. He was like "wow, I want to do this". After that everyone was telling me I did a good job and I was like I have all these other ideas.
Is that something you plan on doing later on? After you get done performing?
Stormy - Absolutely, after the second, third and fourth one is now in the works I really love doing it. I like writing something and seeing it come to reality. There is kind of an evil side too because I sit back and watch people do what I wrote and am like "they are puppets. They do what I say." :)
Your character in the movie is "Amy" tell me about her.
Stormy - I play the maid and actually I wrote this story with Jessica in mind. And Brad in mind to be the guy. But I am short a movie so they asked if I would do it and I said sure. So now I have to write another one for her.
So you basically cast a movie as you write it?
Stormy - I do. I do. When I wrote Kink I just knew Devinn had to do it. If she didn't do it I wasn't going to give them my script and she did it beautifully.
Well I haven't seen it yet. Tell David to get the DVD out.
Stormy - That will be a LONG time.
You have done a couple movies now. You seemed kind of hesitant in Heat. I sat down and watched the Behind the Scenes and you looked...well you didn't look depressed but not exactly happy either.
Stormy - No that is not it at all. I remember I was sad when Heat was done. They cut it out of the DVD because David doesn't like to embarrass the contract girls but there is this long tearful speech of me standing on an apple box crying thanking my crew. Oh yeah it was classic. I was crying because I didn't want it to end because I didn't know if I was ever going to get another movie. So that movie is very special to me. It is still my favorite.
Do you have your next project lined up?
Stormy - Yes, I start shooting my next project a week from Monday. It is called Space Nuts and is going to be directed by Jonathan Morgan. It is a very huge production. Someone just told me what the budget was and it is definitely the biggest movie I have ever done. And the biggest budget for a porn comedy ever. It is a 7 day shoot which is longer than any other movie I have done. It has costumes, special effects, a huge cast. It is going to be amazing. Then my next thing to be released is probably going to be Beautiful with Julia Ann.
Tell me about your web site which you told me is coming up here on Monday April 21st.
Stormy - FINALLY! I had a little trouble getting a webmaster/designer. Someone that I could work well with who could bring my vision to the computer screen since I am very computer illiterate. So with the exception of checking and answering the e-mails they will be doing everything. But I have been working really hard getting all of the content together and making the site as really cool as I can.
Are you going to have a daily journal?
Stormy - Yes, there will be a journal updated every couple of days. Daily picture updates. I have some horribly embarrassing behind the scenes shots I am going to put up.
Are you going to do any chats?
Stormy - Yes, weekly shows and chats and all that stuff. I haven't got the schedule all worked out but it should be cool.
Where is the next place you are dancing at?
Stormy - I leave Easter Sunday to go to Baton Rouge to dance at the Gold Club and then after that I am off to New York.
Okay that is all I have. Thank you very much.