Getting To Know DoLorian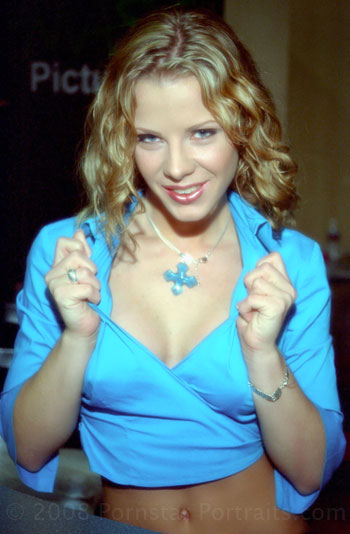 I first meet DoLorian while waiting in line to see jessica drake at the Smash Pictures booth during the 2003 Adult Entertainment Expo. I took some pictures of her while I was waiting knowing nothing more about her than the fact that she was pretty and was standing next to jessica. I was more than a little confused when she took a look at my name badge and got a big smile on her face. What I didn't know at the time was that she was jessica's girlfriend and as such had apparently heard all about me. Even after all of that she agreed to sit down with me during the show and tell me a little about herself.

The next time I ran into her was on the set of the Wicked Pictures movie Without You. She was still as lovely and sweet as ever and even referred to me as "cute" which goes to show how nice of a person she is (and how near sighted as well).

Tell me about yourself.

DoLorian - I am 5'10", 120lbs, 34C-26-36. My boobs are not real. I am from Houston, Texas and have been in the industry for about 9 months and have done about 15 films.

Why so few films?

DoLorian - I have been really selective about who I am working for and I want to make sure I am comfortable with everything I do so I can make this a long term thing and not burn myself out really fast in the beginning and do 100 movies in 9 months because it is possible but I wouldn't be sane.

What are the things you do on screen and what are the things you don't do on screen?

DoLorian - I do girls and boys. But I haven't worked my way up to anal yet. Still working on it.

So it isn't out of the question you just haven't done it yet?

DoLorian - I haven't started doing it really in my private life yet. I have to master it there yet so I have to work on it before I try it on camera.

One of the directors in the industry recently said that the reason he thought anal sex is so popular is because it is so hard to fake it. Do you agree with that?

DoLorian - I absolutely agree. From the one anal experience I have had I apparently really enjoyed it but it is one of those things that if you weren't enjoying it I don't think I could fake it.

Why did you get your boobs done?

DoLorian - I am very tall and I am very curvy. But I was always flat chested so I had the body of a 20 year old and the chest of a 12 year old. So they fixed me up and now I fit.

So it was your choice?

DoLorian - As a matter of fact I was told not to do it so many times. People saying they would pay me a couple grand not to have it done. But it is something I really wanted to do. I wanted to fill out my body so I did.

What is the favorite scene you have done so far?

DoLorian - It was in a movie called Friends & Lovers from Jill Kelly Productions. I did the scene with Chris Cannon. We had worked together several times already and so we were just getting to the point where we got really comfortable with each other. I was really horny and he was really horny. And we both had bad days so we were both in really bad moods. So we get down there and act really pissy with each other. I am like "Fuck You, we are going to Fuck" and we just started tearing things up. Really, ripping cloths off each other. Cash Markman was directing and he had to tell us to take it down a few notches because he was hitting me, choking me, pulling my hair. So that is my best scene.

Do you think people know you more for your boy/girl work or your girl/girl work?

DoLorian - My boy/girl work absolutely because I am more comfortable on film with a guy because i know what to do. Women are so different that you really don't know what works with a girl on film unless you really know her.

Give me 4 words that describe you as a person?

DoLorian - Loud, Horny, Texan, Lover

How are you approaching the industry?

DoLorian - I am approaching the industry from the standpoint that I really want to do this for 5-8 years but eventually I am going to want to settle down and have a family. I have to have other goals outside of that. I have already gone to college and have a degree. I got all of that done early. So I have some time to play with. So I am just kind of taking things day by day. If the right opportunity for a contract with the right company came along I might take it but at the moment I enjoy working for who ever I want. I am enjoying being my own self right now.

What is your degree in?

DoLorian - Kinesiology. Sports medicine. Study of the movement of the human body. Usually that is the degree most PE teachers have.

Do you plan of using your degree late on or?

DoLorian - I am using it now doing massage and stuff like that. Every time I get on the set someone is usually hurt but just not on an income basis.

The industry has gotten a lot more "hardcore" then it used to be. What do you think about the path the industry is on?

DoLorian - As long as all parties involved are completely okay with what they are doing I think it is great. I think that places like Europe pornography of that nature is very accepted because that culture is very accepting of sexuality. I think it is great that people are coming out of the closet and making that type of stories.

So do you like movies like Beast and Fashionistas that combines hard core sex and S/M themes?

DoLorian - Absolutely, I love it as long as you can tell that they are really into it. There is nothing I hate more than an S/M movie with a girl that really isn't into S/M.

Have many pets do you have?

DoLorian - I have two goldfish and two dogs named Skye and Sadie.

Are you computer literate?

DoLorian - Absolutely, I am pretty good on computers. I don't know html but I am in the process of teaching myself Photo Shop.

How is www.DoLorian.net coming along?

DoLorian - It is good. Actually it is really new and most of my fan base is from Texas right now since I haven't been in that many movies yet. Right now it is people who knew me as a house dancer and now know that I am doing movies so they want to see what I am up to.

How did you become part of the Evan Stone/Jessica Drake family?

DoLorian - Actually the Evan Stone/Jessica Drake family is the reason I got into the business. Jessica was in Houston dancing at the club I was dancing at. She ended up getting sick and I volunteered to take her to the hospital. I told her I was interested in getting into the business and she was like "oh okay, maybe we will see". I kept calling her and finally I came out and stayed with her and Evan for a week. Went home and came back for what was supposed to be two weeks and ended up staying for two months. I went back packed my stuff and and have been with them ever since.

How would you describe your relationship with Evan and Jessica?

DoLorian - Really different and unexpected. I think people have, people (especially my mother) think of me as a home wrecker thinking one of them is going to leave the other one for me. And it is nothing like that. We are three equal people like a triangle everybody has the same amount of space. We just all utilize it in different ways. We are all very different but we come together quite beautifully.

So other guys aren't out of the running? They can live with the fantasy?

DoLorian - Absolutely, they can live with the fantasy but I am quite happy.

What do you have planned for 2003?

DoLorian - I want to build my career and start going out on the road and feature dancing. I understand that I can't do that forever so eventually I want to start doing make-up maybe on the mainstream side as well as the adult side.

What do you want people to know about you?

DoLorian - I want people to know that I am real. I am not some tall spaced out tripped out chick who does drugs and is all strung out and has a really bad attitude. I really love what I am doing. I wasn't abused as a child. I wasn't beat up. I don't have pent up sexual frustrations I just really love fucking.