jessica - Officially A "Wicked Woman"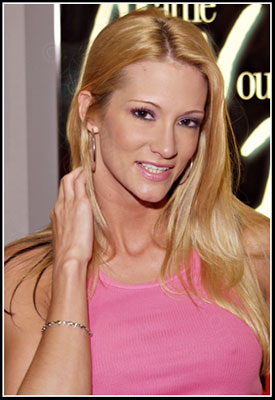 Mrs. jessica drake is one of several Texas natives in the adult industry. Born and raised in San Antonio, Texas. She meet director Michael Raven while dancing at a strip club in El Paso and told him about her desire to get into the adult industry. Michael invited her to ride back to LA with him in his motor home and the rest as they say is history.

It doesn't seem like all that long ago that I meet this beautiful woman at the Adult Entertainment Expo in July of 1999. She was quietly sitting at the Adult Video News booth and I couldn't help but notice she had one of the sweetest smiles I had ever seen. It was the type of smile that lit up her whole face and just made me want to give her a hug. I didn't take the time to learn that much about her at our first meeting but I would correct that next time.

After two years under contract to Sin City and living with Evan Stone. She ended her association with Sin City and married Evan in the summer of 2002. Shortly after her marriage she kicked her career into high gear. She was constantly on the road or filming. If you checked her schedule it would not be unusual for her to be gone for months on end with little or no time off between jobs. Between feature dancing, adult movies, and appearances on Playboy TV this woman was always on the move. Even her vacations tended to turn into excuses to film a scene or take a few pictures for her web site.

Finally on April 4th of 2003 jessica got what she will admit to having wanted since coming into the adult industry and that is she became a Wicked Pictures contract girl. I got the opportunity to sit down with jessica on the set of the Wicked Pictures movie Without You to talk about her new contract, life with Evan Stone, and her plans for the future.

I have been told that Wicked Pictures is a concept not everyone can understand or contribute to. What do you think is the concept of Wicked Pictures and how will you contribute to it?

jessica drake - You know that is probably one of the most unique questions I have been asked about my contract so far. When I first got into the business Wicked was, is also still so elite, you know? I came into the business and said to Evan before, long before that I wanted to be in Penthouse and I wanted to be a "Wicked Girl". I think the concept of Wicked is just everything. It is everything. They have all different types of girls, they shoot very beautiful, highly stylized movies but they are all very different. Each of their directors seem to have their own themes but somehow everyone seems to fit together. Everybody has a purpose and they all work well together and I think I fit right in. I think their was a spot for me. I think it is going to be great for me and for Wicked.

What do you think you bring to Wicked?

jessica drake - I think I bring a separate and different personality and a different kind of girl. I am still really passionate about my scenes. I don't work with people I don't have serious chemistry with. I still do a scorching scene even though it has been 4 years. So my love for sex, my creativity, my willingness to do whatever it takes. I am capable of all. I think I have been groomed for this over the last 4 years in the business. And I bring a cool web site. It is quirky and it has been totally "Wickedized". I also being a really funny guy with me to Wicked. I think it is just the "whole package" thing. I am now at a point in my career where I fit in. Kind of like the cool kids in High School. You know you want to sit and their table and this time they didn't laugh at me.

What are the details of you contract? How many years/movies/etc.?

jessica drake - Right now it is 3 years but I don't plan on going anywhere the rest of the time I am in the business. 7 movies plus the additional scenes here and there.

Anything else specifically in the contract?

jessica drake - My toy line, it will be amazing. It will be with California Exotics and I get to put my suggestions in so if I want purple sparkly toys then they will be purple sparkly toys. And guess what? I think they will be purple sparkly toys.

I would have never guessed that.

jessica drake - I am also going to have a molded pussy and ass. I always wanted those.

When will you start working on those?

jessica drake - The toy line will probably start in about a month or so. Right now we are just working on promo stuff and these first interviews.

In your previous contract with another company your contract specified your first anal.

jessica drake - My only anal actually.

Anything like that in this contract?

jessica drake - No not really. Not that per se though I am looking to expand, broaden my horizons sexually, maybe, perhaps in the future. No details yet announced.

Do you have your first Wicked project set-up yet?

jessica drake - Actually I am going to be in Jonathan Morgan's Space Nuts movie. That is going to be at the end of this month and the beginning of next month. I am so excited. I am going to be an alien. This is going to be huge.

So you are the starring role?

jessica drake - No, no, no, no I am just in it.

So you don't have your first Wicked vehicle set up yet?

jessica drake - No.

You were born on October 14th which makes you a "Libra". The characteristics of this sign are "concern for others, pleasing, fair, and a master of compromise but you wait too long to act and find it difficult to initiate and carry out projects alone." Does this describe you?

jessica drake - It absolutely does. I am a procrastinator of sorts but lately since I came out from under contract in the last place I was at. That really changed me a lot in the business sense. I mean I would still rather stay at the beach all day. But business wise I have really become motivated.

Have you ever found your book on "how to get organized"?

jessica drake - Oh that was a cheap shot. And yes I did find it. I organized my office and have shelves all around it. Where I didn't have them before. Before they were just piled all over the place. Right now I have found on my desk a book called "Meditation in 30 Seconds or Less". The point of meditation is to take more than 30 seconds. And I looked at that and went "what was I thinking?". So that is my new theme book.

After your past experiences at being a contract star why go for another one?

jessica drake - While I was under contract before for 2 years. I really thought at the time that it was a good idea. I think at the time their intentions were good. They just didn't follow through. Unfortunately at the end of that second year I was really anti-contract. Not to the point were I said I would never have one again I just felt like it wasn't a very good idea. A couple of companies talked to me after I got done and I told everyone that I was not ready yet. A situation came around with another company that I had done quite a bit of work and promotional work for and with and I really almost signed with them. Steve (Steve Orienstein - Head of Wicked Pictures) said why don't you come into Wicked and talk. The timing was right. Everything that was important to me is important to them. We just completely meshed. There were no discrepancies. It just seemed like the right time. Also I know that I am at a time in my career where I really would like to surrender control of my career to somebody else. I don't want to be the one responsible if something goes horrible wrong the next couple of years. I just don't want that. I want to be promoted properly. I don't want it to all be me anymore. I want people to back me up. I want people to be able to speak for me. I want to be able to have people to field everyone's questions to when I need to. I want that type of ...I just want everything they are going to provide for me. I would like to stay with Wicked for the rest of my career.

Now that you are with Wicked are you going to slow down a little bit or are you still going to be working 27 days a month?

jessica drake - You know me. :) I don't really see slowing down. Because I think that sometimes when a girl gets a contract she takes it for granted that she has that job security. But I have so many different things going on like I do soft core movies, I do print work, I do my web site. It is important for me to work. It makes me happy if I am making appearances if I am doing all that. That is why I am here.

What do you hope to achieve as a Wicked contract woman?

jessica drake - **cough**(AVN Awards)**cough**. As a Wicked Contract girl I want to have better promotions for myself. I want to really broaden the ranges of people that are familiar with me. Wicked really is a household name. I want to have that recognition. I want to have the toy line, I want to have all the beautiful box covers. And when I am done I want to be in the Hall of Fame and years down the line I want people to associate the name jessica drake with Wicked.

One of the things I read about you is that you prefer to have your name spelled in all lower case letters.

jessica drake - Yes, I always have.

Why is that?

jessica drake - The honest answer is I did my first convention when I got in the business (VSDA signing for AVN). And after about a thousand autographs I still couldn't figure out how to sign Jessica Drake and it just really all flows when it is all lower case. It looks better and I just prefer it. I hate jessica drake capitalized, I do, I hate it.

You realize of course that is how submissives..

jessica drake - I do, I do absolutely. Do you think that e.e. cummings was submissive?

I really don't know. I honestly never thought about it.

You have tried your hand at directing. Is this something that is built into your contract at Wicked?

jessica drake - It is something that I am thinking about doing later on. It is something I am interested in. I seem to be kind of okay with a camera to. I don't really know enough about it but I did take DoLorian to Cancun and I shot some stuff of her both video and digital stills and I am just interested in that whole directing/camera thing. No it is not in the contract.

What do you think your directorial debut would be like if you shot it right now?

jessica drake - I would shoot a really fetishy vignette series. Kind of edgy sex, not so much, maybe music video styling is overused but I would just try vignettes because I know from experience how hard it is to direct dialogue. It is impossible. I would never attempt that.

Are you and Evan running a bed and breakfast for new female talent?

jessica drake - I refuse to comment on the basis of incrimination. DoLorian is my girlfriend. I meet her in Houston while I was at a club called "Caligula" and I got really sick where I ended up in the hospital. This was over a year ago. About a year/year and a half. She was a house girl there and not knowing me from anyone she took care of me. I mean really really took care of me. And in my experience house dancers really don't get along with the feature. So it really surprised me that she would take care of me. Then she told me that she wanted to business. I told her to really think about carefully. Think about how you are going to explain it to your parents. How are you going to explain it to your future children. Someone you might marry someday. And after you think about all that if you still want to do it then I will help you. She really did take care of me and I am a really big believer in karma so I told her I would help her. About 3 months later she called me and I said okay fine. We brought her out and she started meeting people and did some soft core stuff and a couple of scenes. She hasn't done a lot of stuff. About 4-5 months into it I started to get really attached to her. And I have only had one other female partner in this business and I really didn't think that is what I wanted. But she ended up being my girlfriend which is cool. And Monique Alexander is my best friend.

You already talked about this briefly but you have gotten into photography recently. Is this something you want to pursue after you get out of the movies?

jessica drake - Absolutely, because I really think I have an eye for it. I would like learn a lot more about it. Right now I just shoot on a horribly inexpensive digital camera but I have taken some incredible pictures of DoLorian. I mean they are really really incredible. I have taken some of Monique as well and Evan and I have shot our dogs. I have no problem shooting people I have strong feelings for but I don't know ...I mean like Suze Randall is one of my biggest idols of all time. She is just incredible. If I could be Suze when I grow up I would. But I don't know if I could shoot someone who I wasn't fond off. I mean I am sure if I learned I could. But it is so much fun to shoot people you have feelings for.

We have touched on this briefly already but you have only done one anal scene in the past do you plan on doing any others?

jessica drake - Yes.

When, where, are we invited?

jessica drake - You would absolutely be invited. I am not really sure. It is not something that is set but I have talked about it before. It is something that enjoy but I am not one of those people that can go "oh I can't eat anymore I have to have anal sex at 8am. I can't do that. It has to be, you know, "I am so horny here just fuck my ass". It has to be more like that it can't be so contrived because I just don't do well like that. So it will be a big surprise. I will make sure you are there though.

You have also said that being DP'd is a fantasy you haven't done yet. Mainly because you need to find a really hunky guy and I am not available.

jessica drake - Damn it! Maybe you could clone yourself?

What are the odds of us seeing this anytime soon?

jessica drake - I want to do it off camera first. I would never do something on camera that I haven't done off camera. Especially after the article I read the other day. Some girl was interviewed and said that being DP'd was like "having babies". I was like, "WHAT!". That is not a sexually appetizing thought. But yes I actually do want to do it though. Absolutely. Maybe I will try it with a girl and a guy first. Have the girl wear a strap-on.

When you play a character in a movie do you prefer her to be the sexual aggressor or do you like to leave that up to your partner?

jessica drake - It is probably 60/40 split. 60 being that I am the aggressor. I require the proper person to be submissive to. I can't be submissive to everyone. I am usually dominate over women though I have worked with a handful of women who I "could" be submissive to. I don't know. But it really depends. Some of the guys that I choose to work with need that female domination. And it really gets them off to be that way. And I get into what the other person gets into. It is a really big cycle. But 60/40 with me usually being the aggressor.

How are the dogs doing?

jessica drake - Oh my God. Skye got so big. She is bigger than Sadie by like 3-4 inches. We had to leave them at home this morning and Skye chewed up about 3 feet of the the guest bed. She is so mischievous. She can't stand to be alone. She just hates it.

That is because you take her everywhere.

jessica drake - I know :(

You have ever since she was little.

jessica drake - You are supposed to. I give her showers, condition her and spray perfume on her.

Give her showers now? Does she wear a diaper too?

jessica drake - No! They use the toilet :) but we have sweaters for them when we go to colder climates.

So what is it like getting the Evan Stone show 24/7?

jessica drake - It is like getting the Evan Stone show 24/7. But you know one of the good things about having a girlfriend is that there is somebody else who gets the Evan Stone Show 24/7. It is really good that there is two of us to keep up with him. It probably helps me out more than I really realize. Every time I get stressed out from a really bad day he tell me something or do something, or I will just watch him and I will feel so much better. Really he is so funny and light hearted it is easy. It is wonderful. I tell his mom all the time "I have it 24 hours a day".

Tell me about your role in Without You?

jessica drake - In Without You I play a character named "Jill" and I play "Amy's" (Stormy's character) best friend. I am kind of a hippy chick. Way laid back. And I help Amy get ready for the big party she has to go to. I have a girlfriend in the movie named "Kate" (Monique Alexander). Kate is a girly girl and we have sex. Amy is still over and we invite her to join in.

What does 2003 have in store for you?

jessica drake - Some amazing adventures with Wicked. And me being happy. And getting another dog.

Another one?

jessica drake - Yeah I want another one.

Is that a requirement for Wicked Contract girls to have multiple pets?

jessica drake - Yeah, I like that. I have a lot in common with all the other girls at Wicked Pictures.

Alright thank you very much.

jessica drake - NO! you are not done. Is that it? How many questions was that? You didn't ask me my favorite color.

Everyone knows that your favorite color is purple.

jessica drake - Isn't that wonderful. DoLorian's is orange.

Bernard Pivot Questionnaire

What is your favorite word?

jessica drake - Huh? That is a strange question. How long does it usually take people to answer this? "Karma" absolutely there is no other word I would pick that would come close.

What is your least favorite word?

jessica drake - Wow there is a bunch. I will be funny and say "mushroom".

What turns you on?

jessica drake - Honest people. Just a pure...it doesn't matter what it is just being in touch with whatever that might be. I don't know if that makes any sense. What turns me on is men who tell the truth. They look you in the eye. They know what they want and are a little bit forceful. I don't mean forceful like "forceful" but you know. Women who are blonde, have round asses, light eyes. I think that about covers it though I am finding out if I like asian women tomorrow night.

What turns you off?

jessica drake - People that lie. People that are deceitful. Really that whole mind set. I can't stand being lied too. But I am not bitter at all. Also overly aggressive people when I am really not into them. People that are really insistent.

What sound do you love?

jessica drake - The sound of the ocean. Any type of water sound. It can be a lake, a creek, a fountain any type of water sound. Except for maybe the faucet dripping that one drip in the middle of the night, hate that.

What sound or noise do you hate?

jessica drake - When the wind blows through the windows at night and it makes the lonely noise. Don't like that sound at all.

What is your favorite curse word?

jessica drake - FUCK! Fuck, Fuckity fuck fuck you fucking fuck. And I am sure DoLorian said almost the same thing.

What profession would you like to attempt other than your own?

jessica drake - Lawyer. Always. Or a Forensic scientist.

What profession would you not like to participate in?

jessica drake - I wouldn't like to be a doctor that was really in charge with someone's life. I would take it so personally if I lost someone I couldn't handle that.

If Heaven exists, what would you like to hear God say when you arrive at the Pearly Gates?

jessica drake - You did it! :) I never thought you would make it. **laughing** "I saw all your movies". No that probably wouldn't be it. He knew I would make it.