Kaylani - The Return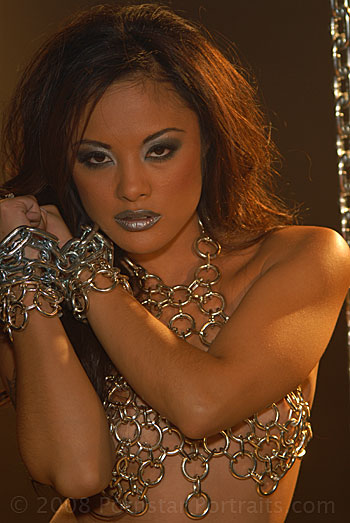 We are here with Miss Kaylani Lei on the set of...
Kaylani Lei - Kaylani Unleashed
That is a working title so that may not be the final one. You have just returned to doing adult after being gone for how long?
Kaylani Lei - One year.
Tell me about the movie.
Kaylani Lei - It is not your usual dialogue scripted big feature movie that we do. But it is done very very well. It is a vignette with back to back sex scenes in it. I have five scenes in it and there are about two others I think featuring other people. So it will be a whole Kaylani DVD. It consists of a lot of music video style type shooting. Rock, lot of smoky eyes, metal wear, leather and shiny stuff. A lot of fun.
What about the shoes?
Kaylani Lei - Great to look at but horrible to walk in. I can't even walk.
Okay tell me about the sex scenes. Today I saw you with Nautica Thorn and Tommy Gunn. Who else are you paired with?
Kaylani Lei - I am not sure yet. That is still in the works. In a couple days I have a three guy blow job scene.
Is that the first time you have done something like that?
Kaylani Lei - It sure is. I wanted to try something new and take it up a notch in this movie.
Does that mean you are doing anal? :)
Kaylani Lei - No, that would be taking it up a mountain.
So what scenes have you filmed already.
Kaylani Lei - We started shooting last weekend and I did two scenes in one day. I worked with Randy Spears who was my very very first actor since I have been gone. He is the most awesome guy to work with. I did a girl-girl scene with Lyla Lei. We started out looking all prim and proper school girls with glasses and the whole pony tail and everything. Then it ends up with the desks all turned over, eyes all smoky and we are very VERY bad little naughty asian school girls.
You are back doing the naughty asian school girls?
Kaylani Lei - Well of course. Look who is the director.
Are you trying to say Brad has an asian thing?
Kaylani Lei - NEVER! :)
The next scene coming up is?
Kaylani Lei - It is a tattoo parlor scene in which I play the tattoo artist but I think I just sit there and look pretty.
Do you have any new tattoos?
Kaylani Lei - Nope
Anything change while you were gone?
Kaylani Lei - Nope.
You have signed with Wicked again for how long?
Kaylani Lei - One year for seven movies.
Any plans for the others yet?
Kaylani Lei - No we are still discussing things. Everything is still in the works. But I look forward to many many more and I definitely look forward to doing some big feature ones because I really like doing those.
I think your last movie was Curse Eternal which did really well.
Kaylani Lei - Right I really loved that movie. It turned out great.
You were her first so I have to ask. Any plans to work for Stormy again?
Kaylani Lei - Yeah. I really hope so.
What about featuring?
Kaylani Lei - Actually I am dancing this weekend in San Francisco. After that I have one in San Jose in the being of December and that is it for now. I just got all new costumes. I have a geisha girl, gangster, cop, angel, slutty pirate and chauffeur. I kept all of my old ones but I wanted to just do some new stuff.
Is there such a thing as a non-slutty female pirate?
Kaylani Lei - I think they were just hoe-bags, weren't they? :)
Obviously you will be with Wicked at the Adult Entertainment Expo in January.
Kaylani Lei - Oh I will be there.
Well this is your first movie back how has it been?
Kaylani Lei - It has been good. What is really good about it is that since it is a vignette style movie I am getting a lot of breaks in between scenes which is really good just coming back. I had almost a week break between this scene and the last one. So today was fun other then the shoe thing. Then I have a day break tomorrow and finish up on Wednesday. Then I fly out on Thursday for San Francisco. I am there for three days come back and have three days of shooting on a soft core movie.
Let us talk about that a little bit. That is what you have been doing since you first got back to California.
Kaylani Lei - I have been back about 6 months and I was doing a lot of soft core work but Curse Eternal did really good. It got a lot of great reviews and I got a lot of positive feed-back from the fans and I decided that I really did not want it to end there. I wanted to make more. You can't get rid of me damit! :)
Well we would never want to get rid of you. A lot of the girls are directing now, you?
Kaylani Lei - I really do not have any interest in directing right now.
We already talked about the anal question.
Kaylani Lei - Not going to climb that mountain.
I seem to recall in One Night in Vegas that Stormy tried to get you to do anal. Is it right for a contract girl who does not do anal to try to get you to do it.
Kaylani Lei - You have to give her an 'A' for effort. She tried.
If she does it will you do it?
Kaylani Lei - No (editors note - There was no hesitation!)
Did you live over seas the entire time you were gone?
Kaylani Lei - Yes I did right up until the time I was back.
How was that?
Kaylani Lei - It was actually a lot of fun. I got to do a lot of traveling. New Zealand was beautiful. I got to meet a lot of people and get exposed to whole new life styles. I really enjoyed it.
Have you done any fetish work?
Kaylani Lei - I did do a photo shoot for my web site where I got tied up by a professional dom and that will be on my site only so you will have to check it out.
There has been some turn-over at Wicked since you left have you meet all the new girls yet.
Kaylani Lei - Actually I have. Kirsten Price is actually a good friend of mine and I think Carmen Hart is just absolutely adorable.
Okay thank you very much for your time. Good luck with you return to the adult industry.