Kaylani Unleashed (Wicked Pictures)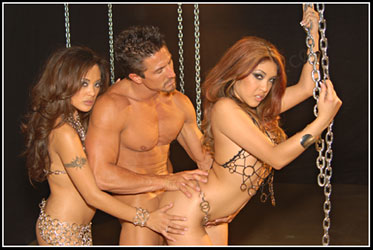 The parking lot is full at the studio so I spend a few minutes circling the block looking for a place to park. I get on set just in time to watch Kaylani do a pretty girl solo dance sequence in a room full of dangling chains. Kaylani may have been gone from the industry for the last year but she is still gorgeous and still knows how to work the camera. Unfortunately for her Brad has chosen a pair of shoes for her that while they may look hot present a few problems as far as actually walking in them goes. Much less dancing.
Once Kaylani's dance sequence is done the crew takes a short break while Nautica gets ready to do her pretty girl solo dance sequence. While on the break Kaylani is telling me about the girl-girl scene she did the day before when Francois chimes in:
Francois: Girl-Girl is too tame even in my personal life.
Can I quote you?
Francois: Yes.
Kaylani goes back to get her make-up touched up while they start shooting Nautica's dance sequence.
Francois: Be slutty
Nautica: I can only be slutty if "Big Daddy" is here.
Brad walking back onto the set: It is okay honey I am here.
They quickly move from Nautica's solo dance sequence into a three-way dance sequence and then the sex with Kaylani, Nautica and Tommy.
Brad: Look tough, look sexy. Nautica do the robot.
Nautica: I can't do the robot.
Brad to Nautica: 3 licks pussy, 3 strokes cock. Keep busy. The dance of love.
Francois to Nautica: Eat her ass. I need more profile.
Finally it is Kaylani's turn to suck Tommy's cock and with-in minutes she has to be warned:
Brad: Share the cock Kaylani. Don't be such a slut.
When it is time for the actually fucking to start they have to bring in an apple box for Tommy due to the height of Nautica and Kaylani's shoes.
Nautica: Damn! You did not want me to just take my shoes off?
Kaylani: Next contract I am specifying boots only!
Nautica is up first again.
Nautica to Tommy as he goes to enter her: That is my Butt.
Brad: Yeah!
Nautica smiles: No.
Brad: Kaylani just keep saying "Oh Brad!"
They have to stop several times through the scene due to "technical difficulties". Namely the fact the girls have no balance on the shoes they have to wear. At one point Nautica even lays on the floor and puts her foot up in the air to support Kaylani's leg who is being fucked by Tommy.
During a break in shooting the following exchange could be over heard between Brad and his crew:
Crew: Here comes Brad, quit smiling. We are having too much fun.
Brad: Oh come on whose set could you possibly have more fun on then mine?
With NO hesitation.
Crew: Stormy's
Brad: That is only because she shows you her tits all the time.
Crew: Well yeah.
Kaylani and Nautica are extremely thankful by the time Brad has a couch brought in for them to do the last part of the sex scene with. Tommy is feeling so sorry for them at this point that he tells the girls they can pick whatever position they want for the last two. Kaylani is up first so she chooses spoon while Nautica follows her with missionary. The sex up to this point has been hot but you can tell that the girls are much more comfortable now. Before long they are ready for the pop shot and Tommy dutifully obliges with one on Kaylani's tongue and Nautica's stomach.
Unfortunately Nautica has to leave but I do get the chance to sit down with Kaylani after she gets out of the shower to talk about life and her return to adult.
They are doing the pretty girl shots of Brooke Haven before the next scene as I pack up my stuff and head to the car. If today's shoot is any indication Kaylani Unleashed will be a fitting comeback for this beautiful young woman.
Movie Information -
Cast - Kaylani Lei, Nautica Thorn, Tommy Gunn, Brooke Haven (for today's shooting schedule)
Synopsis - By today's schedule this is going to be a vignette style movie. The scenes for today are the one pictured and a tattoo parlor one in which Kaylani is the tattoo artist.
Release Date - TBD