On The Set of Fired For Wicked Pictures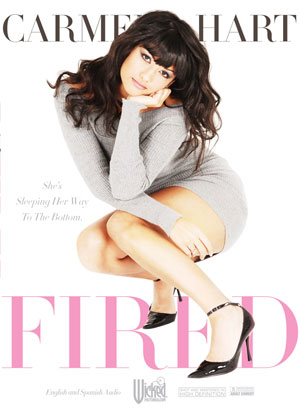 Cast - Carmen Hart, Katie Morgan, Nikki Rhodes, Holly Wellin, Renae Cruz, Alex Sanders, Evan Stone, Voodoo, Steven St. Croix, T.J. Cummings
Director - Jonathan Morgan
Carmen is busy getting her make-up touched up as I arrive on the set. It is still early and Carmen is still wearing her monkey slippers as they are setting up for the dialogue sequence with her and T.J. Cummings prior to their sex scene.
The basic premis of the movie is that Carmen can not keep a job. In the scene I am watching she goes out on a date with T.J. Cummings, has sex and then sleeps through her alarm the next morning resulting in her being fired, again. Within mintues of the dialogue starting I can already tell that this is Carmen's type of movie. First clue was her line "You must be at least 'This' tall to ride this ride.".
T.J. tries to get a little action from Carmen during a break in the dialogue only to be warned off by Jonathan...
Jonathan - Get your mouth off of it. There will be no sex until I say sex.
Carmen - Fine I will just pleasure myself then. (She then disappears beneath the covers).
While Jonathan is busy walking through the morning sequence that ends in Carmen being fired the crew quitely changes the clap board to read that the title of the movie is "Rectum Wreckers 12". Later when I asked Carmen how she preparded for starring in her first "anal" film she just laughed and informed me that she has been a little lax in her training and is back to only one finger knuckle deep.
As we progress in the dialogue to the point where Carmen has to throw T.J. out of her bed and then out of her house Carmen sums up her character with the immortal phrase "I am a mad bitch". One might say Carmen is drawing a little to much on reality here as during both sequences she nearly shoves T.J. down as she is pushing him out of her house. The first time was not so bad as it was just on the upper floor but the second time he was standing at the top of the stairs which could have been bad. And just when T.J. thought he was safe and the shoving was over Carmen almost nails him in the head with the shoe she throws at him as he is going down the stairs.
While setting up for the sex scene Jonathan gives Carmen her motivation for the scene.
Jonathan - You really like this guy. There may be something here. He is not just a piece of meat.
Carmen - So you say.
Second clue that this was Carmen's type of movie comes after Jonathan makes a comment about how things were not staying were he wanted them in the bedroom scene during sex (i.e. hats, bear, etc. are falling onto the floor) and she responded:
Carmen - Momma does not clean-up momma gets her swerve on.
Once everything is in position Jonathan yells action to start off the sex. At which point T.J. looks up at him while Carmen is giving him a blow job and goes
T.J. Cummings - condoms?
The look on Jonathan's face was priceless.
Jonathan - Fuck, well don't ruin my shot just because of your safety.
While the condoms are being brought in Jonathan and Francois are having a conversation about T.J.'s balls, of all things, but Carmen can hear them talking and wants to know if they are talking about her ass (she thinks it is too big). "No" they both reply in unison and all is well for the moment.
After the sex is over the crew breaks for lunch and I get the chance to talk to Carmen, Katie and Nikki about their latest roles and what they have been up to: