Nikki Rhodes - That's True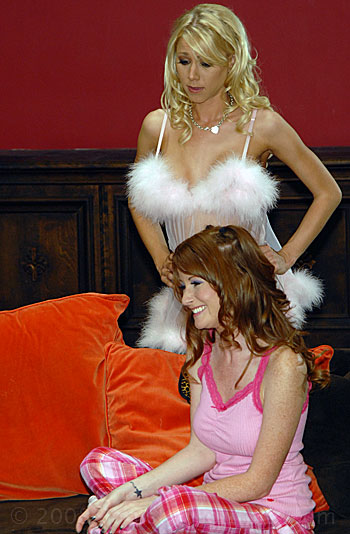 Tell me about your character in Fired.
Nikki Rhodes - I played a ditsy girl friend/room mate to Carmen Hart~ Brandy and Katie Morgan~Bambi and I was Tori...it was tons of fun and the girls are great. Katie and I were trying to help Carmen find the perfect job..she kept having problems keeping one for many reasons. Working for Jonathan Morgan was awesome and I look forward to working for him again.

What sex scenes do you have in this movie?

Nikki Rhodes - I was with Steven St. Croix... he was great to work with and gentle with me so I really enjoyed that scene. I can't wait to watch it ...I was a naughty nurse and my outfit was amazingly hot!

Judging from your current movie list on iafd you have not normally done "Feature" style adult movies. How was your experience on the set of Fired?
Nikki Rhodes - I wish I could do more features!!! that is my goal/dream, I want to be a contract girl. And this movie just makes me want it more! I am heading in the right direction, I love to act and have sex sooo unlike most girls I want to do long days on set and learn tons of lines and add some sex...hahaha...Features are perfect for me and I love doing them and look forward to working on more...

You seemed to have trouble getting into the "weird/not too bright" friend role but eventually hit your groove. How did you think it turned out in the end?
Nikki Rhodes - I wouldn't say I had trouble ...I just had to find the character. I didn't know exactly what Jonathan had in his mind and of course I was super nervous. but I found my character and was happy with the results from what I saw...

Was it what you were expecting when you walked on set?
Nikki Rhodes - Yes and no ...I was super nervous but excited at the same time...the problem with that is that I get shy and quiet and no one talks to me...but by the end of the day I was me and I opened up ...I was treated so great and everyone was amazing...

Did you, Katie, and Carmen ever convince Jonathan to throw in an unscripted girl-girl scene?
Nikki Rhodes - No Darn it!!! We tried...and tried...ugh...he didn't do it cuz he doesn't like g-g scenes...but it would have been the hottest scene in the movie! oh well maybe next time... (fingers crossed)