AVN Adult Entertainment Expo - January 2008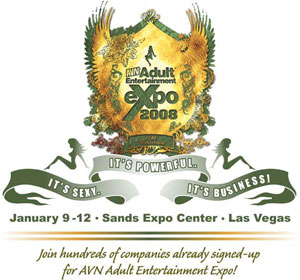 2008 AVN Adult Entertainment Expo Sands Expo Center, Las Vegas January 9 - 12
Pre-Show Information
The Galleries: Adult Video News Awards, Adult Entertainment Expo and Evil Angel Party
I have just gotten done with our annual Adult DVD Talk breakfast as I make my way to the opening ceremony for the 2008 Adult Entertainment Expo. The show is supposed to open at 9:30am but as everyone knows there is real time and there is porn time and it is about 9:45 by the time Tera Patrick has arrived with Sasha Grey, Teri Weigel and Jayme Langford to cut the ribbon and open the show.
By the time the ribbon cutting is over I am already late for my first two interviews of the show at the Wicked Pictures (Booth #3000) however jessica drake and Carmen Hart are still patiently waiting for me to arrive when I finally get there. I had ran into both of them at the bar the night before and while jessica was on her best behavior Carmen is currently regretting staying out so late. I take the opportunity to tease her a little bit about her being "too busy" to have dinner with me the night before when it turned out "too busy" translated into "too busy chasing Sunny Leone's hot body". Not that I blame her mind you I would choose Sunny over me any day of the week.
After I get my first two interviews knocked out I have a few minutes to walk the convention floor before going to my next appointment. For those of you who have been here before the layout has not really changed all that much over the years though I will admit they are doing a lot better at putting more room between the booths to prevent some of the traffic jams that happen during fan hours. This is not to say that they do not occur but it is 1000 times better then what it used to be.
I run into Nikki Benz and Gianna Lynn at the Naughty America (Booth #4013). If there is such a thing as a conservative porn star then Gianna Lynn would probably be it. Not in her movies mind you but the way she acts and carries herself in person. She is extremely lady like most of the time. She also provided me with another amusing story from the night before when I tried to pay for her a drinks.
Digital Playground (Booth #7000) is near by so I go by only to see Stoya in a rather interesting outfit that seems to be made more out of electrical tape then anything else. Not something you would normally see at Digital Playground but then again their choices of Adrianna Lynn and Stoya as their latest contract stars seem to be unusual choices for them.
Digital Playground is next door to Vivid Entertainment LLC (Booth #5001), not one of my usual stops at the show, but since the inception of Vivid Alt this is where I can find Kimberly Kane. Not that I partial to smart, beautiful women or anything but you could say I am somewhat biased when it comes to Kimberly.
I always try to knock out Evil Angel (Booth #3050) the first day of the show because with a line-up of performers like Belladonna, Brianna Love, Bobbi Starr, Sasha Grey, Gianna, Annette Schwarz, Jenny Hendrix and Roxy Reynolds you know that their booth is going to be swamped once the fan's are let in the door. Though somehow even over the course of four days I somehow never manage to get to meet Brianna or Roxy while at the show. But Bobbi, Sasha and Gianna more than make-up for my bad luck. Unfortunately Bobbi is married and Sasha just plain scares most men but Gianna is looking for someone to spoil her so guys start lining up.
Next I have to tackle one of the toughest things I have done at this or any previous Expo, namely Pink Visual (Booth #3025). Most companies, even the ones with contract stars, limit the performers they have at the show. For one thing if you have ever tried to coordinate the schedules of a group of young women you know where the phrase "herding cats" came from. But Pink Visual has thrown logic to the wind and gotten 29 performers to represent them at the show. I make an effort to talk to as many of them as I can but have to keep them short due to the sheer volume of them. This literally takes the rest of my first day at the show and I by no means got all of them but by the time it is over I have gotten to talk to the likes of Brooke Banner, Kylee Reese, Lexi Belle, Priscilla Milan and Sammie Rhodes just to name a few. Strangely enough most of the women at the booth did their Her First Lesbian Sex scene with the aforementioned Sammie Rhodes though when asked why that is all Sammie does is smile like the cat that ate the canary.
Day Two, up early to swing by the Silver Sinema suites to try and catch up on some interviews that were missed the day before. After that I am running to the convention floor in order to make my photo shoot time at the Digital Playground booth. Some where in there I miss my scheduled interview with Kimberly Kane to talk about her new movie Triple Ecstasy but we manage to make that up in short order and then I am off to talk to women at Red Light District. Michelle Maylene is signing for them again even though she has not done an adult movie in almost a year but any chance to talk to and shoot pictures of Michelle is a chance you take. By the time I get through all of them and can finally stop to catch my breath it is well past noon and the fan hours are quickly approaching.
Fan hours at the Adult Entertainment Expo are kind of hard to explain if you have never been there. The closest thing I can come up with is think about the crowd at your average pro sporting event. Now imagine all those people were on the playing field while the game was in progress and you probably get a good idea of what fan hours are like. This is not to say they are a bad thing because they are not. If it was not for the fans this industry would have been shut down a long time ago. But it does re-invent the phrase "organized chaos" each year.
I walk around and shoot some pictures as I wait for appointment with Teagan Presley to talk to her about life after Digital Playground and what we have to look forward to from her in 2008. Teagan (as she prefers to be called now) is, as always, gracious and really excited about the opportunities being a free-agent have now presented her with. We do our interview standing at the front of the show and soon attract a rather large crowd, especially once the picture taking commenced.
If I had a slow day at this years show then Day Three would have been it. Naughty America, Forbidden Novelties and SexZ Pictures were the only things on my schedule.
Forbidden Novelties gave me the opportunity to spend some time down in the B2B Section of the show. They had made a big splash in the months leading up to the show by signing the likes of Shy Love, Mya Luanna, Olivia O'Lovely and Katja Kassin to toy contracts so I wanted to go down and see it for myself. Mya and Olivia could not stop talking about how much they loved their "Glow Daddy" (a glow in the dark dildo) while Shy preferred her magic wand. Katja had to leave before I could talk to her but not before Shy spent a few minutes feeling her ass and commenting on how hard and toned it was.
The SexZ Pictures booth did provide me some respite from the crowds as I got to sit and talk to Paulina James about the upcoming release of her first anal scene in The Perils of Paulina and Kylie Ireland about whether of not she actually did blow a stage hand because he found the mirror ball she was looking for during the Upload shoot.
I am on the floor as it opens for Day 4 and there is almost no one here yet. I stop by the Evil Angel booth to drop off Karen Stagliano's birthday present. While there a beautiful skinny blonde woman walks by me. I look at her and she smiles. It is the smile that makes men extremely nervous. The one that tells you that you are supposed to know who she is because she knows who you are. She keeps on walking by and I go into "stalker mode" as I follow her to her booth. She walks into the URentDVDs.com (Booth #7095) which is of no help to me. I stand back for probably about 10 minutes just staring at her trying to place where it is I know her from. Finally a glimmer of recognition begins to form.
No, that can't be right. The build is all wrong. Way too skinny to be her. But I look more closely and slowly approach as I am becoming more certain that it is indeed her. I cautiously step up to her booth and she says hello knowing that her British accent will give her away and ease my confusion, it is Hannah Harper!
She has most certainly changed since I last saw her. Notably in the weight department, she has lost a lot of it, not that she needed to. I admit to having not even recognized her and as we talk she admits to not realizing how much weight she had lost and how different she did look until people starting bringing her old pictures of herself. To make up for my manners I run get her a cup of hot tea since she, like everyone else, is starting to get sick after four days in a room packed with thousands of people. Shortly I have to let Hannah get to work and I start wandering around the show floor again.
Things are starting to pick up and I swing back by Evil Angel to see if Karen has arrived and gotten her present. I immediately regret leaving it unattended as I see Sasha Grey posing of pictures with Karen's teddy bear and she is strangling the poor defenseless stuffed animal. I walk up to Sasha take the bear from her and ask what she is doing? She smiles and says I should know better then to leave a "plushy" animal near her. She is right. I should have known that.
My last day at the show was designed to be a slow one. Everyone is gearing up for the awards tonight so I have left only Adam and Eve to do along with Kaylani Lei and Stormy Daniels at Wicked. Things start off badly when Stormy does not make it into work until after I have to go over to the Adam & Eve booth. The women of Adam & Eve make up for it though as I get to "officially" meet Kayden Kross and Bree Olson for the very first time. I start off talking to Carmen Luvana about her announced retirement at the end of this year (she promised me she would be at next years show though) and Ava Rose about the slew of upcoming big releases she has in 2008. Then it is on to Kayden and Bree. Even after the interview I do not have a real good feel for Kayden as she seems somewhat reserved around people she does not know. Bree on the other hand is anything but. She is all over the place and really excited about being with Adam & Eve and about her new web site. If she chooses to stick around I get the impression Bree will have a very long career in this industry. She has that certain something that just makes the crowds love her
By the time I make it back to Wicked booth Stormy has arrived and I manage to get her interview done before I move on to Kaylani. I finally get to talk to her about how the shoot for Predator 2 ended up going after I left the set and what is all this talk about possible sequels to Operation Desert Stormy. At the end of the interview she wanted to talk about how upset she is with Penthouse magazine and the way they did their Pet of the Year on-line voting. It seems that in-order for her to even be eligible she would have had to void her Wicked Pictures contract (something she has no interest in doing) so she was never actually in the running for Pet of the Year. But that did not prevent them from putting her picture on the site and charging her fans to vote for her.
Kaylani has the good fortune of being my last interview of the show and she is actually pretty happy about it. By this point she is very tired and my being there means she gets off the floor early and can leave when we are done. We talk about her Jonathan Morgan movie Next and about the fact that in her latest Wicked Pictures PR photo we are both fairly certain the doberman was actually bigger than she was.
Before I am done with Kaylani the show is starting to shut down and we all have to get to our hotels and get changed for the awards show tonight.