25th Anniversary AVN Adult Movie Awards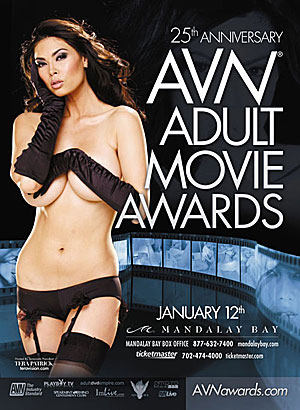 The 25th Anniversay AVN Adult Movie Awards, hosted by Tera Patrick and Greg Fitzsimmons, was held on January 12th at the Mandalay Bay Convention Center for the second time in show history and was being aired live for the first time ever on the Showtime Cable Network.
While the venue's has changed in recent years the show's format has been fairly consistent. Opening dance act (this year featuring Nikita Kash), stand-up routine (this year featuring co-host Greg Fitzsimmons), the Chi Chi LaRue song and dance number featuring all the women in the crowd who want to get up on stage, plus the awards themselves. Each year there is also something special done and this year it included an original dance routine coreographed by John Stagliano featuring The Fashionistas Dancers and a montogue of clips from previous award show musical numbers.
As with any venue change there are bound to be changes in the way you do things and this year was no exception. The red carpet, this year, was away from the main entrance of the awards and access to the carpet itself was restricted to people nominated for awards or appearing in the awards show. Plus a limited number of other passes. It was so restrictive that a lot of the young ladies could not even bring their dates down the carpet, they had to meet them inside.
Over the years the show has tried to go with a more "polished" look but as is usually the case the fact that this is the "Adult Movie Awards" shines through to give us some truely memorable moments. Among my favorite highlights were:
Jenna Jameson thanking the industry for all it had given her and then saying she "would never spread her legs for this industry again".
Stormy Daniel's (during acceptance speech for Jenna Jameson Cross-over Star of the Year) saying while she greatly respected Jenna she was going to keep spreading her legs a while longer.
Penny Flame (during acceptance speech for Best Actress - Film) thanked Vivid for letting her pretend to be "one of their bitches".
Jenna Haze (during acceptance speech for Best Interactive Title) thanked all the guys who jacked off to her.
Sasha Grey (during acceptance speech for Performer of the Year) started to cry and then reacted by saying "fuck I don't even cry when I am being electricuted".
and my personal favorite...
John Stagliano (during acceptance speech for Best Director - Video) thanking his wife Karen for making him want to be a better man.
General comments on the show (which will hopefully not get me banned from future shows):
The new red carpet set-up:
I liked the fact it moved a lot better than last year and was 100 times more organzied but I still miss the old days of the long hall where you had access to everyone. While everyone is here for the awards a big part of previous shows was all the women getting dressed up for a night and showing off, nominated or not, the current set-up eliminates that. I also realize those days are gone for good.
The Awards Themselves:
Moved more quickly then any one I have ever been to; perhaps a little too quickly. Several key awards were not given out they were merely announced at the end of the show on the video monitor. While I understand the time constraints, espcially now that it is broadcast live, by the end I could not help but think they spent a little to much time on dance numbers and video clips and not enough time on actually giving out the awards.
You will find a complete list of the award winners HERE.