Kaylani Lei - Last Call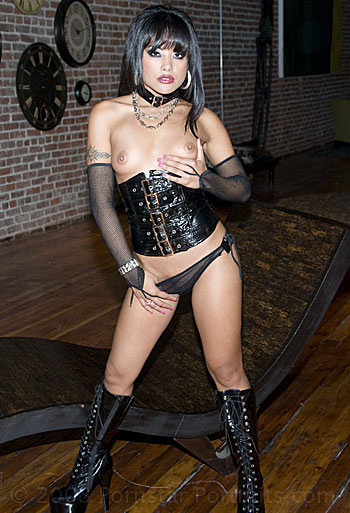 One last question to you like the smell of armpits?
Kaylani Lei - I do. It is more like the natural scent of a man. With a woman not so much. With women I love the smell of her hair where it meets her neck or the smell of her lip gloss on her lips but with a guy I like his natural scent and usually it comes from the armpit. I do not like B.O. though I like their natural pheromones not like the freshly showered deodorants smell. Just their natural scent. It is yummy... I LOVE IT. When I cuddle with a guy I like to put my head right there under his arm.
Shelby - She also likes the smell of all day balls.
Kaylani starts laughing.
Okay what is "all day balls"?
Shelby - ADB
Kaylani Lei - When they have been hanging around all day and not been washed. That I can do without. But arm pits YUM.
What sex scenes do you do in this movie (Last Call)?
Kaylani Lei - I did a sex scene yesterday with Brad. Oh can I tell you this is Brad's movie he is allowing me to be in it. I may even get to be on the box cover but I will be in the back the front will be Brad's face. Today I'm having sex with Randy as part of a group sex scene while Brad will have sex with a Alektra Blue and Mikayla Mendez.
Are you in only two sex scenes in this movie?
Kaylani Lei - Uh Huh
So this is Brad's movie?
Kaylani Lei - I mean I'm not kidding when I say that. He is literally in every scene and I'm not just talking the sex scenes you just see a lot of Brad in the scenes just walking, sleeping or whatever. And the thing is I have not had new meat in a long time, seriously. I mean I am trying to be a good sport and not being a contract girl that has only like four guys on her list. I want to be able to venture out and try out some of the new boys you know for little variety. I keep telling them I want to do a scene with this guy or that guy just to try them out. But no, I'm still left doing scenes with Randy and Brad and Chris Cannon. Not that I'm complaining, I am to saying. There is an upside to working with the same guys all the time. You get used to working with each other and the scenes do just come out better than. I did add like a handful of new people to my list. The acting thing is also a big issue you know the main key guys in the roles are usually written for them and their acting ability and it is really great working with them because they are so good at it.
We were actually talking about that before you came on set today. Some of the new male talent is actually pretty good but no real actors in the group.
Kaylani Lei - But if they got some practice they might be able to do it.
Are you doing any more movies this year?
Kaylani Lei - I actually only have one more movie to do this year.
Really? You must have been very busy the first six months.
Kaylani Lei - Yeah, I actually was not supposed to do this movie. I mean I was supposed to and then it was going to go to someone else but when I heard that I got really bummed because I was used to being so busy. Then it all worked out in the end and here I am. I will say this though this year has taught me that I am up for more of a challenge as far as character acting goes.
Do you have a favorite project you have done so far this year?
Kaylani Lei - Probably Accidental Hooker, but then again The Wicked is coming out and Michael Raven is just ecstatic about it and that is usually a very good sign.
Tell me about The Wicked.
Kaylani Lei - it is myself, Stormy Daniels, and it is like the best cast ever. all the guys in it are hot and all the girls are grade A talent. It was awesome. It was shot in the desert over a period over 8-9 days. We lived in trailers