Kaylani Lei - Last Call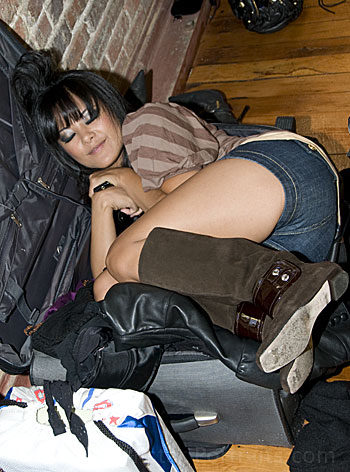 Are you trying to ruin the guys fantasy here. :)
Kaylani Lei - I tried hard to make it look as real...wait don't say that..It was real :)
Of course every woman gets really hot and bothered in a cold, damp, dark basement with smoke and flashing lights. It just makes you cum like...THAT!
Kaylani Lei - Francios and I wanted to go for a very erie European grimy cold dark look hence the lighting and the type of style and genre we shot this movie in. So I figured I wanted to match that particular solo masturbation scene to the rest of the movie. And he even said "don't worry about doing insertion shots and legs spread open just try and make it look natural" so I did. It was kind of one of those pull the pants down and get on with it up against the wall kind of things. I don't know the way he shot it looked really cool. I was really happy with that scene. It does not really count as a masturbation scene because of that but I really liked that scene and the movie.
Tell me about Oracle.
Kaylani Lei - I play a charlatan who turns out not to be a charlatan. I am pretending to tell people's future along with my boyfriend played by Barrett Blade. Then Brooke Banner's character comes along and she wants to talk to her husband. Then I come across the necklace, the oracle, that gives me these powers. Which is given to me by Randy's character. And it gives me the power to really talk to the dead.
Have you ever had sex in a car wash?
Kaylani Lei - No... I have not, huh.
In Accidental Hooker you said "I am not blowing the director (David Stanley)...wait a minute I am blowing the director (Brad Armstrong)." So why is it okay to blow Brad but not David?
Shelby - WOW, where do you start on that one.
Kaylani Lei - I know there are like 50 different things I can throw in here...just kidding. Well in that scene David was just being used as an actor so we were not having sex. Then they started joking about me doing a blow-job scene with David Stanley and I am like "no I am NOT". Because I have never seen David naked nor does he act as a performer so it would have been weird for him. I said, before I caught myself, "That would just be weird blowing the director...wait a minute I am" because Brad was in a sex scene with me and he was the director. For years we have seen Brad performing so he can be either or where as if I all of a sudden got booked for a blow-job scene with David I would think I would be a little shocked.
Do you always bring your own heater to a set?
Kaylani Lei - Not always but I did that day because it was so freezing in that loft. I did not know they were going to have all those others so I brought my own so I could call dibs on it.
Do you have a Tommy Gun and Brad Armstrong fantasy?
Kaylani, Alektra and Shelby - **start laughing**
Kaylani Lei - just write 'giggled'
Do you know why I am asking you that question?
Kaylani Lei - I have no idea that was just so random..
Because of the scene where Brad is showing you and Tommy how to do it and..
Kaylani Lei - Oh you mean the two of them getting it on...YEAH that would be awesome. HELL YEAH. I would have preferred it if Brad was doggie style and Tommy was doing him but Oh yeah! I love it when the directors are showing us how to do it, and they don't even realize it, but they put their legs up and go like THIS and like THIS!
What was it like playing a vampire hooker?
Kaylani Lei - I really loved it. That was one of my favorite roles. Because I got to, it is not your average every day character, which i like. I like doing movies where I am just playing a nice girl getting laid or whatever but this was a nice extension where I be creative with my character and actually go there. It was a nice challenge for me. Not every day are we like showing are fangs and wearing weird contacts. It was a nice little step into another genre. The sitting down and talking thing was a lot like a documentary because I was playing a hooker who was also a vampire so I could be very dark and cocky. So I had to portray that and I had not had the pleasure of doing that so I thought that was really cool. I loved doing that.
How were the fangs and the eyes? Did they bother you?
Kaylani Lei - No I wear contacts normally so I was used to that. The fangs were crazy because we actually used super glue so when they dried and we inhaled we inhaled the fumes.
Me to Shelby - So you turned our little girl into a puffer?
Kaylani Lei - Yeah right we were getting high off glue! And the blood we were using we had to use foam shaving cream to get it off. So all the BTS stuff was really cool on that movie. Overall that whole movie was done really well, shot awesomely I don't know I am really excited about it. I was glad to finally have the opportunity to play that kind of character. Even if it was something so simple as sitting there and talking I had to do that as a totally different person so that was cool.
Did anyone get hurt attempting to have sex with the vampire teeth in?
Kaylani Lei - No way... but in the DVD bonus scene with Marcus London where he is wearing that very with all those blades? Well those were real blades they were not props and they were sharp so I kept getting cut and stabbed. So when I was bent over and Barry was eating me out and Marcus was in front of me and Barry is getting all excited because he thinks I am getting really turned on because I am going (demonstrates a sharp intake of breath) really exaggeratedly but it was not like I was in ecstasy it was because I was getting FUCKING stabbed by the knives. So as I am doing that Barry was going "oh yeah" and digging in more. I recently just saw that sex scene and I was going "that is an unusual noise" I don't usually make that noise and then I remembered that was because I was getting stabbed with the fucking knives.
Do you normally here the phrase on set "Wake up bitch I am about to bang you within an inch of your life!"
Kaylani Lei - No, where did you hear that?
On the BTS in the sex scene where Brad recruits you. Apparently you had fallen asleep on the bed and he says that to you.
Kaylani Lei - Really? That was in the BTS? No no one has ever said that to me but if anyone ever did it would be Brad.
What is the penalty for cumming in your eye?
Kaylani Lei - Oh yeah he was a bad boy. Because he always cums someplace inappropriate like up my noise or in my hair or in my eye. And particularly with that scene because I had warned him in advance "DO NOT cum in my eye" and of course he cums in my eye. So that is why in the BTS you see him going "I am in trouble" and I go "YOU FUCK" and spit his cum back at him. I was so mad.
How did the alternate ending to that movie come about? Was it always planned?
Kaylani Lei - Yeah we shot it that night.