Kirsten Price - Natural Beauty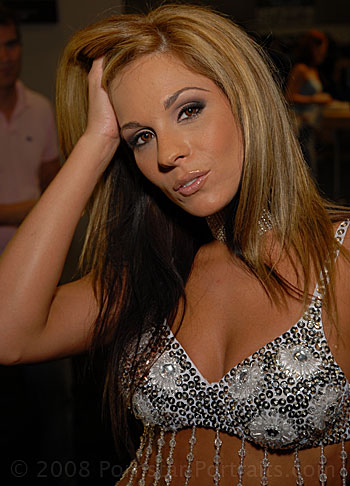 What kind of camera do you use?
Kirsten Price - A Canon Rebel XT. I am learning.
Just how big is your porn collection?
Kirsten Price - Extensive. Very, very extensive. I have the big racks at least two or there full that are all porn and then there are boxes. There is a lot and then there are some that are not in the cases and there are stacks of those.
So how many would you say?
Kirsten Price - Probably about 500.
Favorite movies in your collection? (Don't be PC and just list the Wicked ones)
Kirsten Price - What it the name of it? It was actually a Zero Tolerance one. I know I should say Wicked but it was...Wet Dreams Cum True (Zero Tolerance) I love it.
I actually wrote a note here to tell you not to be PC and just list the Wicked ones but what is your favorite Wicked title?
Kirsten Price - I do not know I kind of like all of them. Carmen's Rendezvous is really good. I liked that one.
You have said on the Behind the Scenes and in the commentaries that you do not like to watch your own movies. So whose movies do you watch if not your own?
Kirsten Price - I don't like to watch my own. I generally do not watch to much porn anymore. My little sister is actually staying at my house right now so I haven't really watched ...actually if I am going to watch porn with my husband or to masturbate I actually do not want to watch porn with anyone I know. I will actually watch European stuff.
Have you gotten over watching yourself have sex on camera yet?
Kirsten Price - No. Nope still hate it. Won't do it.
Have you overcome your allergy to the sound booth so you can do commentaries?
Kirsten Price - Hopefully, I am hoping that I have. I have to go back there on Tuesday actually so I am going to take some Allegra and take my inhaler because I am the allergy queen. I don't know if you know that.
No I did not.
Kirsten Price - Yeah I am allergic to everything.
What is it about you and movies in which you are forced to have sex out in the cold?
Kirsten Price - I do NOT know. Oh my God it is like every movie it is like get in the back on a van for Carmen's movie Honky Tonk Girl, in the back of a pick-up in the The Visitors, Coal mining scene in Country Style. I think they just like to see the skinny girl suffer. They are like all right you are little so get out there. But the product is really good so you can't complain that much.
You said you like "watching and receiving anal" so when is your first full on anal scene?
Kirsten Price - Well I did not really did too much in Manhuntersbecause I was not really warmed up. I really did not know I was going to do it until the day we got there. Jessica was going to do a DP and she wanted someone else to do anal. She knows I do it at home but I have not done it in a really long time but I was like I will try. There was like a little strap-on and I was like okay. It was not uncomfortable but I just do not think I could have handled it for a long period of time. But for my first full on boy-girl anal scene I am a little scared. Of course to do it I would have to work with my husband but we have to work with condoms at Wicked and that may hurt my booty.
Some of the girls I know who do a lot of anal have equated doing anal with a condom as equivalent to stuffing a dish rag up their ass.
Kirsten Price - Yeah, it is not a good feeling and my husband is really thick. So I will probably stick to girl-girl anal and I will let you know. I will let them DP or whatever. :)
What is the "two finger surprise" and why are you all about it?
Kirsten Price - :) I am all about the two finger surprise. The two finger surprise is ...Carmen Hart has never done anal and we are trying to break in her butt and she is telling us how her boyfriend put a finger in her butt while they were having sex and it felt really good. So we told her we were going to give her the two-finger surprise which is when you are fucking her you slip two fingers in her butt. We are working on the three finger surprise next. Coming soon from Carmen Hart.
Why is "the face the best place to put it"?
Kirsten Price - Cause it is hot. It is sexy. I mean who does not want to cum on my face. Or anybody's face for that matter. I think that it is just the best place for it. Where else are you going to put it...the boobs, boring done it, the butt, boring done it. And I am not really into internals because I like to see it. I think it is HOT! I don't know there is just something raw about...eat it bitch! :)
Exactly how do you manage to get a horse to bite you?
Kirsten Price - I did not do anything it just bit me. I had food and I was feeding it, which was Brad's idea, and then he was like put you arm around it and take some pictures with it. And I guess he got mad because I did not have any more food and I was touching it and it just turned around and bit me right in the leg.
Okay here is a line from your movie Duality "My jaw hurts. Can I just whack you off tonight?". Would that line ever work?
Kirsten Price - No, that was just to show what a prudish little bitch I was in that character. Even though I did not even give him a blow job I was still going to go gargle afterwards just because of the thought of his dirty cock in my mouth. My character was just very anal. She would never do anal but she was very anal.
In Duality you played a girl who worked in a massage parlor. Did jessica take you "jack shack trolling" in preparation?
Kirsten Price - I wish she did but no. After that she offered to but no. I have yet to go but some day.
Anything else?
Kirsten Price - Actually I do not have any appearances coming up but I would like to promote Manhunters coming out in September and Supernatural coming out in October. Those are my two big-budget features. And my web site kirstenpricexxx.com and keep a look out for me dancing really soon. This month is kind of crazy but I am working on it so hopefully in August I will be hitting the road. I am practicing my pole work.