Kirsten Price - Natural Beauty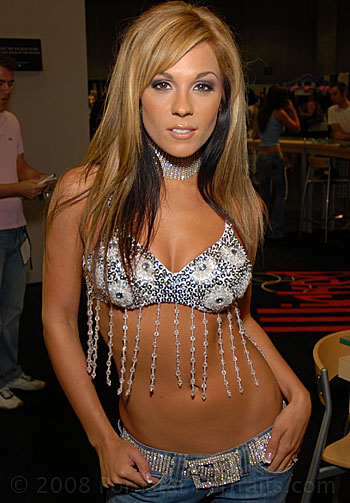 You are all natural do you plan on changing that?
Kirsten Price - Maybe sometime in the future. I am thinking about it.
Tattoos?
Kirsten Price - I have two. One I am getting removed hopefully. You know I am just kind of over the whole tattoo thing. I got them when I was very young. I got one when I was 16 and one when I was 17. I have a sun on my lower back and I like that one but I have another one that I am just kind of burnt out of so I figured just get rid of it. It is better then just getting something bigger over it. I do not think Steve O. would like that.
Piercing's?
Kirsten Price - Right now just my ears. I used to have my belly button and nose pierced but I took those out.
College?
Kirsten Price - I attended Fischer College in Boston for a little while but I did not graduate. Then I did go to cosmetology school. I am a licensed cosmetologist but I do not use that.
I have been told that Wicked Pictures is a concept that not everyone can understand or contribute to. How will you contribute to the concept that is Wicked Pictures?
Kirsten Price - I feel that.. I do not think Wicked Pictures is a hard concept to get. It is mainly couples and women oriented. I can act I think. I think I have that to bring to the table. I do not know. I am not sure I understand the question.
Basically it comes down to why do you think they chose you as a Wicked girl vice someone else.
Kirsten Price - Cause I am cute and I can act. And I think they were kind of going for an all-natural kind of girl. You know the girl next door type and I think I have that. Plus I am sweet.
You said you want to act. Your first movie was Country Style, not a lot of acting in that. Have you done a movie yet that requires a lot of acting of you?
Kirsten Price - I did Duality and Just Like That both of which required a little acting but then I did a movie called Supernatural for Michael Raven and in that movie you will definitely get to see my acting skills. I cried, I screamed, I mean emotions across the board. It is kind of like a ghost movie. I have not seen it but from what I hear it is turning out really well so we will see.
Who was the friend that took you to your first adult movie set?
Kirsten Price - Jesse Jane
What was the name of the movie?
Kirsten Price - Loaded . That was where I met my husband.
What was it about that experience that made you think you could do this for a living?
Kirsten Price - I always kind of knew I could do this for a living. I was always kind of interested in the industry and it took me a while to get up the nerve to do it. But once I did it was on.
You did only g-g for how long?
Kirsten Price - About 6 months. Shot a lot a movies in that 6 months.
Why start doing b-g at all?
Kirsten Price - Brad Armstrong came to me and told me that they were looking for new contract girls and that if I was willing to do other guys then he would like me to sit down with him and Steve O and talk and see if it was something I was interested in. I then got to pick a small list of guys and it just seemed like a natural progression to me. It is all people I have known who are friends of mine so I was comfortable with them. So there was nothing seedy about it.
Is it true your mom learned about you doing boys from seeing you on the cover of Who's Your Daddy 6 (Zero Tolerance)?
Kirsten Price - Yes, she sure did. Very embarrassing for me. Thankfully it was just my husband I was working with so it was not that bad. She is very cool and understanding so she is okay with it.
Explain how one goes about losing their virginity in a hotel room bathroom.
Kirsten Price - Where do you get this shit from? I was like 16 and I was like the last one of my friends to loose my virginity. I had a crush on this boy who was cute, I guess, and I was drunk and I just wanted to have sex. So I was like come on let's just go fucking do it in a bathroom. And that was how I lost my virginity. St. Ides special brew and a Motel 6. Oh yeah, that is hot.
It was a hotel. You couldn't have found a bed?
Kirsten Price - There was a lot of other people there. It was a party we were at a hotel party. I just wanted to be like one of my friends. The last one of my friends lost her virginity a few days before and I was like you know what I am just going to fucking do it. Like ripping off a band-aid. Let's get it over with. It was so much hype. But it really was not that big of a deal. He had a pretty small penis so it did not hurt or anything.
Explain the "North Carolina" connection. Both you and Carmen hailed from there at one point and both ended up as Wicked Girls yet it isn't exactly a state known for producing porn stars.
Kirsten Price - I lived in North Carolina for about 5 years. I do not know. It is nice down there. It is nice, clean, no smog but I don't know.
You have said "I will never quit" about the adult industry. Is that a wise statement?
Kirsten Price - Yeah, I mean I will be in the industry forever whether it is in front of or behind the camera. I am working on my photography now and I think that when I am done being in front of the camera forever I think I will move onto working behind the camera. I can do make-up and a lot of other things in this industry that can keep me around for a while. You will never get rid of me.
Is there any place we can see some of your photography yet?
Kirsten Price - No, not yet. I have not taken any pictures yet ...I have been doing mostly pictures of bands. Like my friends bands, I will go out to shows and shoot them. I guess my friends my space page might have some of the pictures I have taken on them. The band is called "It's Revenge" and their page might have some of the pictures I have taken up there.