Sex Trials (Wicked Pictures)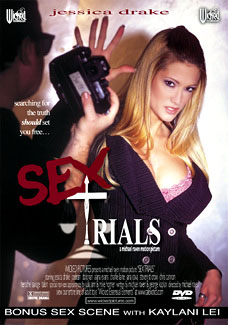 Cast: jessica drake, Julia Ann (non-sex role), Alana Evans, Jana Cova, Joelean, Charlie Laine, DoLorian, Steven St.Croix, Herschel Savage, Chris Cannon, Mike Horner (non-sex role)
Directed by: Michael Raven
Release Date: February 19, 2004
I am in Chatsworth California and totally lost. By the time I finally find the set shooting is in full swing so I quietly sit back and watch Julia Ann and Alana Evans go through a dialogue scene. This is the first time I have ever been on a Michael Raven shoot and I must say I like his style. He is all over the place trying to get the shot he wants and he is not above picking up a camera and doing it himself if need be. There is actually a little story behind the casting of this movie in that it was originally planned to be one of Julia Ann's features for the year. After Julia read the script though she was interested in playing a character in the movie who "gasp" doesn't have sex at all. So the script was sent around to the other Wicked women to see who would be interested in playing the lead role.
jessica drake was the one who decided she wanted to play the lead but unfortunately she is out sick today so I won't get to talk to her about the movie until later but Daniel has picked a great day for me to be on the set because I have Julia Ann, Alana Evans, Jana Cova, Charlie Laine and Joelean to work with. It will be rough but I think I will get by.
The first scene they are shooting is a park scene between Alana and Julia with Julia up to her usual tricks as she makes such comments as "who wears heals in grass" and sticks her tongue out at the behind the scenes crew. Today the shooting is frequently interrupted by planes nearby but Michael takes it all in stride and eventually gets all the shots he is looking for. While the crew sets up for the close-ups of Julia and Alana I take the opportunity to talk to Julia about her latest project, being married and what the future has in store.
Once the close-ups were done everyone broke for lunch while the crew moved everything inside to set up for the Talon/Jolene shoot. Unfortunately I wasn't fast enough to stop Julia and Alana from changing into something a little more comfortable prior to me taking pictures of them but Julia still looks beautiful in and out of her sweats. Plus you have to love Alana's big pink fluffy Marge Simpson slippers. Though lunch did raise the question of why with all this food around did Julia opt for only a peanut butter and jelly sandwich for lunch. While that was going on I patiently waited my turn to interview the other women on the set. Today was actually a very busy press day in that there were no less than three sets of reporters and two other film crews on the set. Playboy's Sex cetera was on the set doing a piece on AVN and Zalma King (Red Show Diaries) was on the set to shoot some stuff for an undisclosed project he is working on.
Due to the tight quarters inside I stayed outside during the Joelean and Talon scene but don't worry I got plenty of pictures of Alana, Jana and Charlie to make up for that. However, my day on the set ended on a sad note when I had to leave before they shot the Jana Cova/Charlie Laine girl-girl scene. As you can tell from the pictures these are to very beautiful women and I am sorry I had to miss it.
With Daniel's help I finally managed to get a short interview done with jessica about her latest role: