Julia Ann Takes Us Thru Some Sex Trials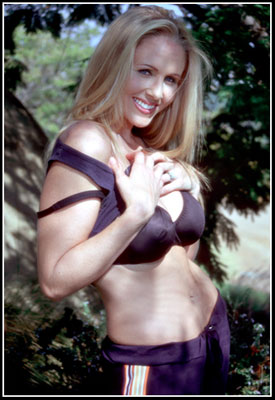 What is the basic plot of the movie Sex Trials?
Julia Ann - The hypocrisy of our very nation. Well I probably should say our nation. We have a group of Senators who are fighting something that they themselves enjoy which is pornography. So the plot is really about that hypocrisy being exposed.
What is your role in this movie?
Julia Ann - I actually have a non-sex character which has never happened to me before. But my character is an attorney and I am the one who is going to bring forth all the bad dealings of the Senators in the movies.
What movies have you done this year?
Julia Ann - I shot Beautiful, The Assignment, Never More (ed Note: re-titled to Love & War after this interview), The Way You Kiss Me and Michael Raven's Pin-ups. I hope I am not leaving anything out but I don't think I am.
Anything scheduled for the rest of the year?
Julia Ann - As of right now I have no other movies scheduled for the rest of the year. I still have 5 movies to do left on my contract so there will be more movies being done but at this point nothing is set. Also since I am doing a non-sex role in this movie it doesn't count. This is just a team effort to make a really good movie.
How is married life treating you?
Julia Ann - I love it. I love it but I am lucky to have found the right person. It can really be your own hell or your own heaven and I am lucky enough to have found the heaven. I am married to a wonderful man and we fit well together.
How was the honeymoon?
Julia Ann - We actually didn't have a honeymoon because we are working so much on our business's and everything going on. We just found that with all the effort and everything we put into the wedding we felt that we would not have been able to really relax and enjoy a honeymoon at that time. So we decided to hold onto that thought and we will do it when we are a little more rested.
Children?
Julia Ann - None yet. :) We are practicing birth control so none yet.
Michael Raven - We are practicing the rhythm method.
Julia Ann - The rhythm method? I don't think that works. :)
Why does everything have to be "when I was 18"?
Julia Ann - Because I have found that in hosting Playboy's Amateur Home Videos that very often when you are telling a story you have to say you were 18. No matter what you had done or when you have to let them know that you were of age.
By the time you were 26 you had been in Penthouse, featured with Janine and done several movies. How could you not have realized you were beautiful before that?
Julia Ann - You know there are a bunch of men out there who probably think I am average at best. There are men out there that don't like blondes. There are guys that don't like big boobs. There are guys that like shorter girls, larger girls so I don't think it ever really occurred to me. I realized I was beautiful to some people and happily those were the people I wanted to be beautiful to. As a younger girl I was the youngest person in the crowd that I hung out with. Because of that it was very hard for me since I didn't feel right about myself. You know when you can't do your make-up as well as her or your cloths weren't as good or didn't fit as well. No matter how hard I tried to be hip or cool I always felt that I hadn't done it right or I had missed something. It was a very hard time for me so it took a long time for me to feel like I had anything to offer.
Why is it your boyfriends got to share you and Janine but hers never did?
Julia Ann - I don't know I think I just forced the issue more than she did. :) (laughing)
Anything else you want to talk about?
Julia Ann - I did commentary for Never More (ed Note: re-titled to Love & War after this interview) with the director Toni English though I do call it a "limp dick" commentary because you have two very opinionated women who aren't 18 years old and who have many opinions on why it is women feel the way they feel. And why things are the way they are in our society. It was so heavily expressed that I am sure there will be plenty of guys wanting to shut it off when they here us. But it was more educational then it was sexy. It will be fun to see what the guys have to say about it. I would also really like to see Beautiful do well at the AVN Awards. We put a lot of effort into that one so it would be really great to see something comeback from that. The Assignment was also different in that I tried to be a lot more natural in my look which I don't usually do. It definitely had a more mainstream angle in that the girls really look like they are just at home hanging out instead of looking like they just got back from a night out. I hope that worked and it looks great and everyone doesn't go "you were wrong. this is porn you are supposed to look great all the time."