jessica drake Has Some Sex Trials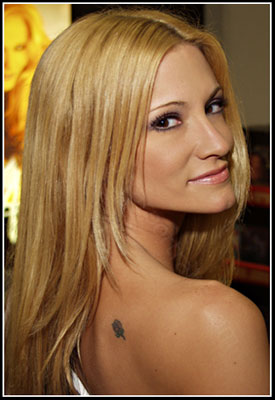 What is the basic plot of Sex Trials?
jessica drake - Sex Trials revolves around some senate sub-committee hearings in the late 50's where a young woman testifies as to her involvement in that which is deemed "pornographic".
What character do you play and how does she fit into the movie?
jessica drake - I'm Terry, a young single mother who goes from posing for stills, and then moves on to sex on film. The movie is shot with a documentary feel to it, so you also see my character later on in the 60's.
What scenes are you doing in this movie?
jessica drake - I had an amazing scene with Chris Cannon and DoLorian, and another with Steven St. Croix. WOW.
What movies have you done so far this year?
jessica drake - Devinn Lane Show 5, Without You, About a Woman, Improper Conduct, Suspicious Minds, Space Nuts, Angelique, Sex & Romance, Wicked Sex Party 5, and Sex Trials. (you did mean for Wicked right?)
When are we going to see you first Wicked movie on DVD? (Editor's note: Suspicious Minds is out on DVD now)
jessica drake - Not soon enough! Check with Daniel for this info.
Why do you like close-ups of sex?
jessica drake - I get off on penetration shots......not only that, but I know everyone and it can be distracting to say, oh, I remember what I had for breakfast the day I went to that location and had sex with that person's ex and they found out how great it was, and so on, and so on......
How rough is too rough during sex?
jessica drake - I like being with someone who knows the exact moment to stop choking me so I don't pass out. I like hair pulling (from the nape of my neck) Some light smacks in the right places, and only circumstance can dictate the right places. I love to be dominated by a man. I love to dominate women.
What do you know about "jack shack trolling"?
jessica drake - This is one of my favorite past times. I wish I could be a man and have this experience, but since I'm not, I'll still do it. A jack-shack, for anyone that doesn't know, is a massage parlor with a happy ending.
What uniforms do you have a thing for?
jessica drake - Police uniforms. It comes from a scene I did for Wicked. I love police uniforms.
Why is any type of sex good for your daily mood?
jessica drake - Boosts my seratonin levels. I even promote lazy sex. It's better than none.
What do you have coming up?
jessica drake - Some new content involving my ass on my web site! I'm also going to East Coast Video Show for the first time at the end of the month. I have a lot of dance bookings coming up soon too, including a rare local booking at VIP on Victory Blvd. here in LA. on October 3rd and 4th.
Anything else you want to talk about?
jessica drake - Karma.