Adultcon 5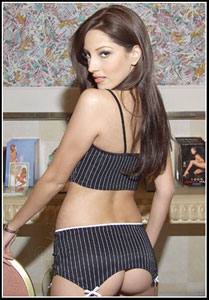 It is November 23, 2003 and I am at the LA Airport Westin for the 5th installment of Adultcon. As I walk down into the hall there is already a line of people forming to get into the show but most of the exhibitors are either not present or still setting up as the deadline for the start of the show approaches. This years show was sponsored by Jill Kelly Productions so of course they have the first booth as you walk down the hall towards the main hall. They have decided to cover all the bases as they have Jenna Haze and Cindy Crawford covering the front booth. With Ashton Moore and Alexis Amore at a booth inside the main hall. Tyler Faith showed up later in the show but was feeling a little under the weather so no photographs of her this time around. For those of you unaware of JKP's products you don't know what you are missing. I also took this opportunity to sit down with the lovely Jenna Haze for the first time.
Metro Interactive was represented by two of their most popular contract stars with Ann Marie and Gauge on hand to promote not only themselves but their studio as well. Gauge was even selling copies of her very own 2004 calendar which she is currently selling on her web site if you didn't pick up a copy while you were at the show. I got a chance to sit down and talk to both Gauge and Ann Marie during the course of the show.
KSex Radio on air hosts Lisa Sparxxx and Felicia Fox were on hand to give the fans what they want as well as be their usual attention grabbing selves.
While very few major video companies had booths of their own at the show that didn't stop several of the larger companies contract stars from coming out and meeting their fans. Metro Interactive, Sin City, Video Team, Adam & Eve, Vivid and Legend all had contract girls in attendance.
The stars and companies in attendance are too numerous to mention with out blinding you with all the B.S. but I will be adding a link page to this article in the future that will include as many of the company names and web addresses as I can possibly gleam from my notes. Though some of the women in attendance were Gia Jordan, Jessica Jaymes, Lainey X, Gen Pandova, Rachel Aziani and Vanilla DeVille, Adriana Sage, Mercedez, Anika Fox Productions, Jodie Moore (who apparently won't be at AEE), Tanya Danielle, Keiko, Angel Cassidey and the list can go on and on.
For attendance and stars this show just keeps getting better. On the down side is that as the locations move on to nicer venues the amount of flashing and nudity has gone down to almost nothing. So while the fans may miss the almost unbridled antics of Avy Scott and Belladonna at the Compton show there is definitely more talent to choose from. All in all this was a good show for both the fans and the stars alike. Though the event was marred by a group of people who decided it would be a good idea to assault Ramona Luv's boyfriend at the end of the night.
While they were technically there representing themselves two of Sin City's contract stars, AVN Performer of the Year Aurora Snow (she is nominated for it again this year folks) and Penthouse Pet Hannah Harper were on hand to meet and greet the fans. Hannah however didn't come alone in that she brought seven of the women from her modeling agency LA Direct Models along with her. Aurora was her usual friendly self but she did provide me with one of my few disappoints of the day when she sold out of copies of her directorial debut DVD Assploitations before I got one.
Adam and Eve's first contract star Carmen Luvana and her friend Kitten were onhand to give out meet and greet the fans as well as give away a trip to an Adam and Eve set where the lucky winner will get to see her have sex live and in person. Carmen was probably one of the most popular girls at the show if the line at her booth was any indication. I had to wait till they were closing down her booth
before I could get a chance to sit down and talk with this beautiful woman.
One of my personal favorites at both the Adultcon's and Erotica LA is the clothing designer Mofo and his Mofowear booth. These girls always aim to please and Mofo is generally acknowledged as being one of the "coolest" guys by every woman who has ever worked for him. This time around he was scheduled to have Avy Scott and Reina Leone at his booth. But later in the evening Rhiannon Bray showed up and spiced up the show a little bit as you can see by the pictures. One of the things I left out was most of the reaction shots of Avy as she watched herself have sex with Lexington Steele on DVD. You want to talk about some classic facial expressions. But I promised her I wouldn't post them in the article for that very reason. For anyone interested in Mofowear you can find it on his web site at www.mofowear.net. The girls web sites are here: Avy Scott (under construction), Reina Leone and Rhiannon Bray (under construction)