Ann Marie Rios - Perfect Toes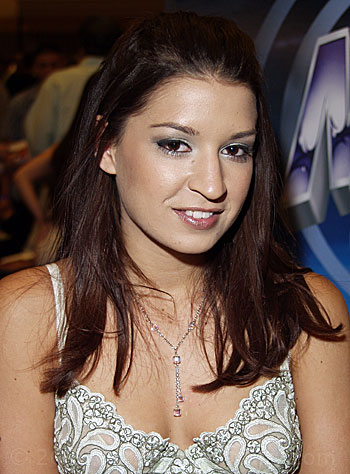 Alright say something.
Ann Marie - Something something.
Why get a contract with Metro Studios?
Ann Marie - Because I gave good head. :) No I am just kidding. I had done a lot of work for Metro and I really loved working with their feature director James Avalon. I just realized that I didn't want to continue making 40 movies a year and that I wanted to stick with someone I was really comfortable working with. They were looking so we just kind of hooked up.
What projects have you done recently? Any one in particular you want your fans to keep an eye out for?
Ann Marie - We just finished shooting a movie called Impact which features me doing some boy-girl which I haven't done in about a year. Which is really exciting. I did one scene with Herschel Savage, one with Eric Masterson and one with my fellow contract girl Kelly Erikson.
A lot of people refer to your "girl-next-door" looks. What does that mean to you?
Ann Marie - It means to me that when I am walking through the grocery store people don't look at me and know I do porn. That I haven't augmented my body in any way. I am just your average girl but I do porn.
Why didn't you perform oral sex when you first came into the industry? What changed your mind?
Ann Marie - Well I had never done it before off film or on film so I wasn't going to. But seeing it so much on sets and things like that I kind of got over the fear. I just didn't want it anywhere near my face. It just kind of freaked me out for some reason. And the whole cum thing ...I was just ahhh! But seeing if over and over again I got over that and I decided to try it out. Now I think it rocks and here we are today.
Have you gotten over that "whole cum thing"?
Ann Marie - I am still a little cum shy but not like I was before.
Do you think growing up in Southern California gave you a different outlook on the adult industry?
Ann Marie - Possibly because growing up in Southern California people are wild any way whether they are in the adult industry or not. As opposed to Idaho or some place like that. But I never really thought about the adult industry until I was in it.
What sports were you active in growing up?
Ann Marie - I was in gymnastics, karate, I did softball for 6 years and I did volleyball and boxing.
Talk to me about the transition between real estate agent and adult film star?
Ann Marie - I was working all day every day. I was wearing big stuffy suits and hanging out with boring people. I just needed a little excitement so I got caught up into porno. I enjoyed it so I just kept coming back and I decided what the hell am I doing real estate for. So here I am.
Whose ad did you answer to get into the industry?
Ann Marie - It was the one for World Modeling
Tell me about your first acting job in Babes Illustrated 13.
Ann Marie - It was a lot of fun. It was directed by James Avalon who is a phenomenal director. He is always able to pull whatever he wants out of me as far as acting or carrying on goes. It was fun because I got to have sex with six girls in that movie. Don't ask me who because I won't remember. And I got to play a prima donna, bikini model chick who was a diva. It was fun to act that way and be wild and go off into a character that isn't really me.
Tell me about "Spice Clips".
Ann Marie - Spice Clips is interactive sex on TV live. I do it two days a week. I have a lot of fun and we get a lot of cool callers. You know it is fun too because I get to watch all of the porno clips and see who is doing what. Plus it is a great place to work.
Do you have a foot fetish?
Ann Marie - I do. Actually my web site caters primarily (50%) to foot fetish because I enjoy it. I seem to have a lot of people who enjoy my feet so I try and mix that in.
Exactly why did the Greeks consider a Morton's toe a sign of beauty?
Ann Marie - I don't know why. I have actually tried to research it on the internet and I can never find any information outside of medical stuff.
Talk to me about "Tales of Tail".
Ann Marie - Tails of Tail is my show on Ksexradio. It is great and I have a great co-host named Daisy. We just have fun, talk to the callers and we do the second half of the show naked. And we just talk about sex, tell stories, talk about our own encounters and have a good time.
How exactly do you come up with a piece of signature glass from Phallix?
Ann Marie - Well I had seen a design of Phallix that I really liked but there were a few things that I wanted to change about it and just kind of "Ann Marie" it a little bit. So I did that and it is the Ann Marie signature juicier which is a whole lot of fun to play with but I am in the midst of doing another piece for them. I am actually meeting with them to check out the prototype. It is like nothing they have done before but it is kind of more something you can use every day. I know my piece is kind of like it is fun to look at but every day you wouldn't use it. So that was kind of just to have fun and this one is for your every day get off.
What have you learned since being in the industry that you wish you had known from the start?
Ann Marie - Not to let people push you around and not to believe what other people say. Because opinions are like ass holes everybody has got one.
What advice would you give to a woman either thinking about coming into the industry or just coming in?
Ann Marie - I would tell her, before she gets in, to make sure that this is what she wants to do. Because once she has done it, it doesn't matter if you have done one or it doesn't matter if you did 100 somebody is going to find it. Once you do porn you have life before porn and you have life after porn. Porn kind of becomes your life.
Tell me something about yourself that would surprise people?
Ann Marie - I don't know. Really with all the stuff out there what really surprises people anymore. I don't know just that ...maybe the fact that before I got into porn I had never seen a porno or seen a vibrator or seen a dirty magazine or anything like that until it was my own.
Give me 5 words that describe yourself as a person?
Ann Marie - Friendly, outgoing, cute ..I get that word a lot. I think cute is a puppy dog but I get that a lot so I will go with that one. Affectionate and spicy.
Give me 5 words that describe your ideal mate?
Ann Marie - A good pussy eater, understanding, very secure, romantic and funny.
Have you found him yet?
Ann Marie - I think so.
Give me three things you think you can't live without?
Ann Marie - My hairdryer, my doggie and pink cotton candy.
What is your doggie's name?
Ann Marie - Pebbles. And she is the Princess.