Tori Black On The Set of
Reality Blue's Superstar Showdown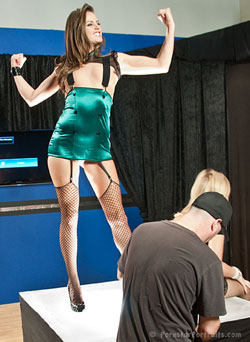 You have a couple of big things coming up here in January one of those things is that you are going to be the co-host…
Tori Black – YEA!
for the AVN Awards. How did that feel when you found out you were going to be the co-host?
Tori Black – You know, I got this phone call in the middle of the day and my Agent was like "Tori, I am really glad you picked up do you have five minutes?" And I am like "Yeah, I have five minutes. What is going on?" and he goes hang on let me patch somebody through. And it was Paul and Renee (Paul and Renee Fishbein – AVN Publishers) and they were calling to say "Hey we would be really honored if you would do this". And it caught me totally off guard. This is the day I am running errands and I was like "OH MY GOD, YES! Yes, why are you asking me? Just tell me that I have been chosen, that I am the chosen one. There is no reason to ask me. Of course I am going to say yes. That is exciting and I am honored." After the year I had last year I just feel like AVN has done so much for me I just feel like I want to give back a little and I want to make this show as good as possible. I know a lot of people outside the industry watch this show and it is an opportunity for me to really come across and present our industry in a different sort of light. I know there are certain things they want me to say and a certain way they want me to be but my personality is definitely going to come through and I feel like if more people got to know people's personalities, in this business, they would have a better view of who we are. So many people in this business are completely "normal people" they just love to have sex and they found a way to get their sexuality out in a helpful way. Helpful for themselves, helpful for other people. It is an empowering industry if you let it be and I feel like this might be an opportunity for me to show the world that you don't have to be crazy or whatever the stereotype is for porn girls. You don't have to be like that to be in the business. You can be just… I was a college girl. I was in school. I tried that and I could have a job in the 9-5 category. I could do that but I don't want to. This is what I choose to do because I can.
You also recently won Favorite Female Starlet at the FAME Awards…
Tori Black – Yes, I did (big grin on her face)
As well as Performer of the Year and about 17 other awards at the AVN Awards and XBIZ Awards. How does it feel to know it was the fans voting on that one?
Tori Black – Well obviously being named Female Performer in any arena is amazing. AVN and XBIZ were both… that was my peers and the companies around me acknowledging me and that in itself was amazing because I know they see so many girls and there are so many girls with different styles. Beautiful girls, charismatic girls and to have them recognize me as the Female Performer was just shocking. It is almost like choosing between apples and oranges and for me to be chosen I was like… Oh! I am the Apple. YEA! But at the FAME Awards I felt like I was more acknowledged for the fact that I love my fans. You know what I mean? When I talk on my Twitter or when I go feature dancing or when I go to events like the AEE show. I love talking to my fans. So when they come up to me I always have a big smile on my face because that half of what excites me. I want to know how I have touched your life. I want to know how I have changed your views on sexuality. I want to know how I excite you so I get very excited. I get very excited when I meet my fans so I felt like it was not just my scenes. I mean, I might have taken it the way I wanted to take it but I kind of felt like it was… we are all in this together. You are my fan and I am the performer but without you I couldn't do me and without me you wouldn't have X, Y, and Z. So I feel like they just acknowledged me for acknowledging them.
Okay one last thing on a side note really. While doing research for this I read that you were a vegetarian.
Tori Black - Yea, I have never had any type of meat or seafood in my life.
What type of vegetarian are you?
Tori Black – I do my best not to eat too much dairy. Just because it is not really good for you. Most places you get dairy from it is not like high quality and they do a lot of weird things with food and I like to be healthy. I am not worried about being skinny. I eat a LOT of food but I do my best to be vegan but I LOVE cheese. Cheese is amazing. I can't seem to stay away. I don't eat ice cream or drink milk or anything like that. Eggs, I love eggs. Whenever I feel bad or I am hungover I eat some eggs and the whole world starts to look better again. I am like "oh my God". So yeah I have never had it in my life so I don't crave it. I don't miss it. I crave cock. That is my meat.
You crave cock?
Tori Black – Yes.
Is there anything else you have coming out or anything you would like to talk about or promote.
Tori Black – I have a couple of other Tori Black projects coming up. I have Tori Black is Pretty Filthy 2 coming out. I had a couple of different name ideas for them but they wanted the fans in particular to know that it was a continuation of the last one and I am doing my first DP and that is coming up in two days I think actually.
Do you know who the lucky guys are?
Tori Black – Yeah, I think it is Mick Blue and James Dean. They are the same combination I had in Pretty Filthy 1 when I did the Boy-Boy-Girl. They are both guys I am very comfortable with… I am actually working with James Deen today. They are two guys I am very comfortable with. They know me very well. They know my sexuality. They know this is a big deal for me and they are compassionate. They love to fuck. They are patient. With a DP you have got to be a little bit patient. They are not greedy guys. I mean they are greedy in the right moment. They know when they can take their liberty and do what they want because I give it to them. There are moments where I am like "take me do what you want". But they are very understanding and so I am excited. Mason really understands me. So I think the combination of the four of us… because I really feel like this is a project where we are all involved. If I had somebody behind the camera that I was not comfortable with or that I did not trust like I do her it might not be as good. But I really feel like I can let my hair down which is why I think Tori Black is Pretty Filthy 1 is such a success because I really felt like I could just be me and take myself to new heights as opposed to… Tori Black is still a persona. It is still a character but it crossed into my personal life and I took me to a different level and I think that is what people responded to. Another project that we are going to start working on is "T is for Tori" for Evil Angel for Jonni Darkko and then there are always new projects that are coming up that I can't talk about because they don't want to break it until the press release comes out but definitely some really fun things going on.Yea, my life is just going crazy right now and I love it. I love every minute of it and I am going to continue to work as hard as I can because my work really isn't work so that is what is going on with me. ToriBlack.com is up and running and showing you all the things other people don't want to show you so check it out.