Sasha Grey - Fuck Junkie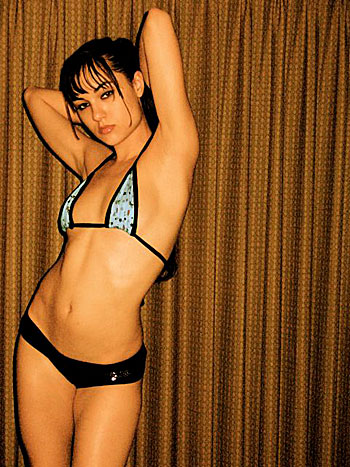 Tell me about Fetish Fanatic 4.
Sasha Grey - It was my first girl-girl scene and it was with Belladonna. It was actually one of my first scenes as well. It was my third or fourth scene. It was a VERY exciting experience for me. It was the first time I had ever had sex with a woman. It was something I had been wanting to do and I even got to do it with the lovely Belladonna. So that was...I mean you could put it right up next to Fashionistas Safado as to where my head space was. Everything just felt so good. Everything I took in. It was just so new to me. It was just such an amazing euphoric experience for me. It is out now and I think it is a very interested scene in taht it starts out differently then most scenes. It is almost...it is behind the scenes is the start of the scene and I guess when they edited down it kind of just tied in so they put the Behind the scenes as the start and I think it worked very well.
Tell me about The Awakening of Sasha Grey.
Sasha Grey - There are six scenes in that movie. I am not going to tell you too much about it because you will have to wait to see it. As most people know I got to fuck a teddy bear plushy costume and that was VERY exciting for me. And I got to have Claire Adams dominate me. I think those were the two most memorable experiences of that. And the hot days we spent shooting the dialogue. It was very different from most sets in the way that it was laid back and fun. But it was a great experience and I am very lucky to have had it. I can't wait for it to come out so I can talk about it some more.
Fucking a teddy bear?
Sasha Grey - YES! I have a little plushy fetish. It all came from Terry Richardson. This photographer there is a picture of him dressed up in a teddy bear costume. Originally I had made it a dog just to make it a little different from where my original fantasy had come from but I don't think they could find a dog costume so we switched it to a teddy bear. I think it ended up being even more exciting then if it had been a dog.
Did you understand going into Fashionistas who John Stagliano was and what it would mean to be a part of Fashionistas Safado?
Sasha Grey - I knew who John was and I knew about Evil Angel but I did not know about the impact of Fashionistas. I knew about the stage show in Vegas. Just because of his name alone I knew it would be something big but once Mark talked to me about it more THEN I understood all the way. I have a lot to live up to then. It was an exciting time for me.
Did you watch the first one?
Sasha Grey - Yes, they gave a copy of it to watch the day I came in here in order for me to get a feel for the movie.
What did you think?
Sasha Grey - I liked it. It was different then most of the porn that I used to like to watch but then again I do not watch as much porn now because I am doing it and that is more exciting.
What is a "plethora" - from Vinh
Sasha Grey - Many, a lot. I think he thought I used the word out of context in my blog and even sent me a link to Wikapedia but if you look at the bottom it says the word can be used that way. I think that is what he is talking about.
Let's start at the beginning. You said before you got into porn you had a partner who encouraged you to grow and explore. First off how did that start?
Sasha Grey - Probably the second or third time we had sex it started with slapping and hair pulling. The first time he slapped me it kind of freaked me out and then I slapped him back and then we just recipracated from there. We explored that part of our sexuality together. But then the more I pushed him and wanted to go further the more he resisted. He was more into the lighter side of S/M. He did not want to fully explore it in the day that I did.
Since you were just past 18 when you can into the industry to "further your exploration" should I ask how young you were when you started?
Sasha Grey - I was 16. So compared to most of my friends I had a late start.
What exactly is wrong with, as you say, "pedestrian sex"?
Sasha Grey - There is nothing wrong with it. If that is what you are comfortable with then do it but pedestrian sex is just boring. I do not want to fuck in just one position. There is a majority of people who have never had anal sex, they have to have the lights off or their eyes closed and that is just not exciting to me. There is just no passion in it.
You said you looked into dancing first but decided not to do it once you "found out what it was like". What does that mean?
Sasha Grey - I had a friend of a friend who was a stripper and on my 18th birthday I went to the club and saw her dance. Then I went to San Francisco the following week for a friends birthday and we went to a couple more strip clubs and it was just the atmosphere. I just did not enjoy it at all and I kind of got the feeling myself, before I even saw it myself, a few months prior when I would always talk to that girl about what it was like.
Does that mean you have no plans to feature?
Sasha Grey - Not at all. It is just I do not want that to be what I do for the next 4-5 years. I do want to feature dance because something I can do for my fans. It is a way for people who do not know me to find out about me and a way for the ones who do to get a chance to meet me.
You said that when you first thought about coming into the industry you started doing research. Why?
Sasha Grey - Oh because I wanted to know everything I could before I started. I wanted to be as knowledgeable and be able to face the odds that I would face and be able to deal with the short comings of the industry. Have a little bit more sense of how things worked before I got in and I am glad I did it. There were still a lot things that shocked me personally but less then would have if I had not researched it.
What shocked you?
Sasha Grey - The scheduling. Where you sometimes you do not know the day or time you are going to work until the night before. That was hard for me because as you were told I am NOT a morning person.
When you started doing research did you ever imagine that Belladonna would be your "mentor"?
Sasha Grey - Not at all. I was surprised I even got to work with her when I did. When I was 17 I was actually going to write her a letter and tell her how I wanted to be in the industry but then I thought about it and realized that was not fair. To say that to someone since I was still a minor. I did have every intention of trying to work with her once I had gotten into the business and worked for about a year. I wanted to track her down and try to work with her then. But the day I came to the Evil Angel offices and met John Stagliano and his wife Tricia she was actually here so my agent introduced me to her. And she was like "Oh, can I book her now Mark?". I was stunned. And I was SO happy. Oh God.
You have said "once in porn, always in porn" yet you still decided to make the leap into the industry. Why?
Sasha Grey - Because I knew I was going to be exposed and after I got over that initial fear of everybody knowing then it really did not bother me anymore. If I want to explore my sexuality and I feel comfortable doing that then I should not be afraid of what people think. That is something I feel VERY strongly about. You should not be afraid of what people think. If this is what love to do. If this is what you want to do. If this is your career then you should not be afraid to tell people. That was the initial fear. At first I thought I would wear wigs and no one would know but after thinking about it for a month or so I went "that is ridiculous, what are you thinking". You know I really thought about it numerous times before I made my decision and it did not bother me after a while. It especially did not bother me after I told my sister and my mother. That was really hard but once I told them and got over that hump I knew I could tell anyone. That was really hard because I knew they would be judgmental.
What had you thought about doing before you decided to make the leap into porn?
Sasha Grey - I was actually going to school for film. I was either going to major in film history or business. At that point in my life, when I decided to do this, I was kind of on the fence on what I wanted to do with my life. Cause I had always known I had always wanted to do something that had to do with business and that had to do with art. Once I graduated high school and started going to college it got kind of blurry. That was another reason to do this because I was not quite sure exactly what I wanted to do. I did not want to go to college for six years and then end up hating what I do.
What are the "long term effects of the industry" as you put it?
Sasha Grey - Everybody is going to know that you are a porn star. Well not everybody but a lot of people are going to know. Your image is going to be out there for a long time to come. I do believe a lot of people do have emotional issues after they get out of the business. That is a reason they have the clinic at AIM which offers counceling. But I do believe that is something stems before they even got in the business in taht more people should be aware and try to get help before you enter the business or while you are in the business. STD's. That is a big issue. What else? Oh God there are so many.
You have said that "main stream porn" has lost its edge. Has it really lost it's edge or have we just become so jaded about what we see that we keep looking for more and more outrageous stuff such as what is going on with horror movies these days?
Sasha Grey - I do not think it has to with people being jaded. I think it has a lot more to do with the legality issues. Cause there is a lot more that we can explore in mainstream porn as well as gonzo porn. If you could read my mind. I have so many ideas that would never sell because of the legality issues but I have a lot of ideas that can be filed down that would be really good to. So no I do not think people are jaded. I think that some people are de-sensitized and always want more. There is always going to be that group of people that always want more for whom it is never enough.