Roxy Jezel - One REALLY Dirty Talker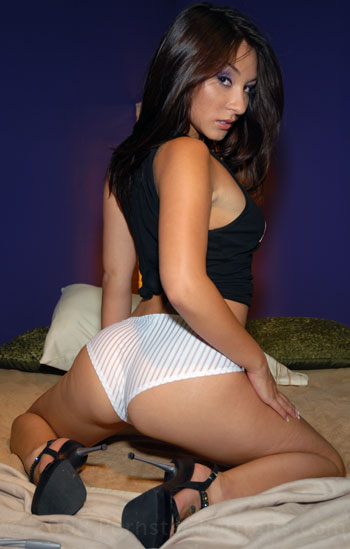 Single or married?
Roxy Jezel - I was single up until about 3 months ago and then I got myself a civilian boyfriend who is really really cute and the best boyfriend in the whole wide world.
Technically still single then.
Roxy Jezel - Technically I am NOT single. I am happily in LOOOVE!
Do you wear glasses?
Roxy Jezel - Actually I do now. About a month ago I found out that apparently you can see street signs before you actually get underneath them. So yeah I found out I need to wear glasses now. I am near sighted.
Do you have a web site?
Roxy Jezel - It is still being built. It is roxyjezelxxx.com (not up yet) and the person that has put up a web site called Club Roxy Jezel or Roxy Jezel Club or some such and is calling it an "official" web site is lying. It is not my official web site. I do not okay that. Club Roxy Jezel is a piece of shit.
You have never done a gang bang.
Roxy Jezel - Yes I have actually. One time. It helped pay for the deposit on my home. That is why I did it. I have not done inter-racial for about a year and I just retired anal as well. Roxy's ass is off limits.
Really?
Roxy Jezel - Yeah for almost a month now. Roxy's turning very softy, vanilla but still very passionate. No gug gug gug.
And you never did double anything.
Roxy Jezel - Hell no. I just do not find that very natural. It is very natural to do a gang bang.
It is just not natural to take 2 cocks up your ass. That is just fucking weird.
Bukkake you never did.
Roxy Jezel - No I thought that was gross to.
Have you heard about that Gokken movie?
Roxy Jezel - What is a Gokken?
It is like a Bukkake but all the guys jack off in your mouth and you swallow them all.
Roxy Jezel - Oh I think I have done that.
With like 70 guys?
Roxy Jezel - 70? No, I have done like 5 or something like that.
No this was 70.
Roxy Jezel - Ewwww. But wait a minute how can you hold like 70...
No, you swallow it each time. A girl just did that.
Roxy Jezel - Really? Was she not sick every where and really ill?
Apparently not. Everyone told her she would get really sick and that would be okay but apparently she did not get sick.
Roxy Jezel - Ewwww, EWWWW! I would throw up.
Coffee or Tea?
Roxy Jezel - I like them both but I am British so I have to say tea.
What type of tea?
Roxy Jezel - PG Tipps
How many men outside of England have just asked you to talk dirty to them?
Roxy Jezel - Outside of England? Too many to remember. Before I ever got into the industry I was 17 and I used to be a chat line operator. And I used to speak to men from around America and Ireland. And I backpacked around the world and they like the dirty talking. They like the accent.
Are you the perfect woman?
Roxy Jezel - Far from perfect. I am so far from perfect it is like on the other side of the sky. But I have seen some really bad ones so I do not claim perfection. If I was perfect I would be really annoying.
Explain this conversation:
Interviewer: Want to settle down, get married and have kids?
Roxy: Yeah, in my worst fucking nightmare.
Roxy Jezel - Did I really say that?
Yes, it was on the Behind the Scenes of Whoriental Sex Academy 8
Roxy Jezel - Really I said that?
Yes you did
Roxy Jezel - How long ago was that...wait that was a few years ago. You know what. I got older. I am 24 now. In fact it would probably be the opposite now. I do want to one day get married and...wait I am married now sorry. I would like to you know settle down and have A KID, not kids, no plural there just one and live happily ever after. But I still want to fuck for a living because it is great. Until I look a bit to old and then I am not going to drag it out and be like... I am not going to even say it everyone knows who I mean. I am not going to be a granny fucker.
In the same interview you said there was no such thing as "the perfect man" do you still agree with that statement?
Roxy Jezel - You know I do not think there is such a thing as a "perfect man" but I do think there is such a thing as the perfect man for you. That you can accept that they are not perfect, that you are not perfect, that no one is perfect but that you still fall in love with regardless of their imperfections...OH MY GOD! I sound like ...I am going to vomit on myself.
Now is he British?
Roxy Jezel - He is an American. But he has Scottish in him so kind of a little bit.
Tell me about Blazed and Confused.
Roxy Jezel - That was one CRAZY week. In fact that may have been two weeks. You know what I am not even sure how long that was for. That was a couple weeks of crazy crazy getting stoned. Driving all around the Bay Area, Humbold, Santa Cruz, Red Wood Forest. I did a blow job scene inside the red wood tree that was pretty damn cool. We smoked shit loads of weed and I ate shit loads of weed candy and went camping in red wood. Went hiking in some mountains. It was really fun. Penny is really great and comical and full of crazy energy. Which is really surprising considering how much weed she was smoking.
Do you consider yourself an outdoor person?
Roxy Jezel - Yeah. I like the out doors. I mean like some people, my friends say "I can't really imagine you as the out doorsy type camping person" but I love all that. Camping being out with nature. It gives you a great excuse you do not have to like bother putting make-up on or getting dressed up. You can be very laid back and earthy.
Many consider you one of the sexiest women doing adult. What does that mean to you?
Roxy Jezel - And Who The Fuck Said That, Eh? That is really flattering and nice and much appreciated. What was the question?
What does that mean to you?
Roxy Jezel - What does that mean to me? It means a lot. It is very nice to be appreciated and to have people think such nice things of you.