Julia Ann - Hardcore Rapture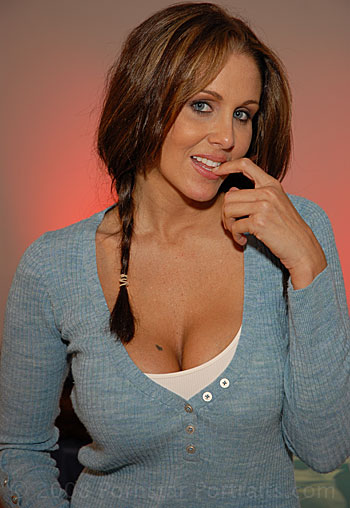 Okay we are here with Miss Julia Ann on the set of...
What is the basic premise of this movie?
Julia Ann - It is a husband and wife that are having problems so they decide to get divorced. Then in a dream like sequence I am basically lead through doors (a' la A Christmas Carl) of past things that have happened and what could become of my future if I do not warm back up. I have gotten a little icy in my relationship. So I am being forced to accept responsibility for my actions.
What is your characters name?
Julia Ann - Margo.
How many scenes are you doing in this movie?
Julia Ann - I am doing three scenes. One is a girl-girl-boy with Roxy DeVille and Tommy Gunn, then I have a boy-girl scene with Randy Spears and I do not know who they have gotten for the blow-job scene coming up.
You do not know if he is on your list?
Julia Ann - You know what, after I filed for divorce I lost my list. The dog ate my list. :)
So it has been over a year since I last saw you. How have you been and what have you been up to?
Julia Ann - I have been great. Been doing some really great movies. I just shot one with Jonathan Morgan called Hardcore in which I get to perform with a bunch of people I had not gotten the opportunity to work with before. Which was part of what I wanted to do. I wanted to get away from the list that the dog ate. Plus I got to do a bunch of things I had not gotten to do before. I got to do anal with Manuel which I had been interested in doing it since I saw Katsumi thank him at the AVN Awards saying it was easy because it was with Manuel. So I had to see what that was all about. So I found out...NOT THAT EASY. It was really fun but not that easy. Got to do a scene with Sean Michaels which I have been wanting to do as well. We actually shot something years ago but it never got used so we re-shot that scene which was really great.
Looks like they need you on set. We will continue this later.
Julia Ann - Okay I am back. I think we were talking about the movie Hardcore. I also did a D.P. with Randy Spears and Tommy Gunn. I had no idea he was that large, Tommy Gunn. No one warned me when I picked him for a D.P. So when I went down to blow him and saw that is when I informed Randy Spears that he was doing anal in the D.P. Not that he is small but if I had to pick... I did a POV scene with Julian and I did a girl-girl-girl with Roxy DeVille and Gia Paloma. Which they basically beat-up on me for 30 minutes. I think that is about it for that movie. So I am really excited about it being released since it is a movie with a bunch of things I have not done with a bunch of people I had never worked with.
Julia Ann - I also did a movie for Francois called Around the World in 7 Days. It is basically my going to different countries, in fantasy, in theory, it is just basically gives us the chance to do things in the atmosphere of each countries. It gave me the opportunity to work with Katja Kassin which I had been wanting to work with for the last couple of years. Unfortunately as much fun as I wanted it to be sometimes we get stuck in those scenes where we get a little hampered and it was just not very conducive to us having a blast. We did a Russian atmosphere scene that had us in a faux snow machine and if anyone has ever been in those faux snow machine they are actually a foam that gets shot out into the sky and it comes down looking like snow but it sucks all the oxygen out of the room. So when you are trying to do 69 and you are underneath the girl and snow is falling in your face and every time you inhale you loose oxygen it makes it does not exactly make it an easy scene. Unfortunately I did not get to enjoy it as much as I really wanted to. I did get to do a GREAT scene with Mr. Marcus where we did Africa. I did a scene with Manuel Ferrara and Roxy DeVille at which point we did a grape smashing scene in old Italy style with peasant dress's and everything which was just beautiful. I did French set-up where there was a chef, food and wine and such. Just all kinds of different scenarios. So that was great.
Julia Ann - I just did a Randy Speaks directed movie called Touched. And you know that is always just so much fun to work with him because I consider him a friend of mine. Somebody I care about very deeply. And to be able to be there with him and help him and collaborate with him on this on a different level was really interesting. Plus he was also the lead male in the movie so he had to play both roles of director and star which is a very challenging thing to do and he did it really, really well.
Julia Ann - Now I am on the set of Rapture in Blue with David Stanley. Who has a certain Clock Work Orange feel about him. I think he may be the Andy Warhol of the adult film industry. There is always stuff just being thrown in there and you do not know why or where it came from. But it has been a lot of fun and he is a really going guy. Love listening to him talk because he just comes up with stuff out of know where that blows me away and makes me laugh hysterically. So this has been a really great experience working with him for the first time. And there is more coming up. Again I have another idea of mine that we will be hopefully working on by the end of the year so there is a lot happening.
I understand that in this movie you are playing a kind of frigid wife and Randy is playing the guy who is not getting any.
Julia Ann - There is a shock
Is that type casting for you in a Wicked Movie?
Julia Ann - Am I frigid? I am always some sort of bitch in the ones that other people write. In the ones that are my idea it is usually like "Yea, we are having a slumber party. Let's go get the pajamas". Whether it be Jonathan Morgan in The Assignment which you know again. A woman who is obviously not thrilled with love or Beautiful where I am just wretched and Killer Sex and Suicide Blondes where I am basically mutilating people and subtle (not so subtle) that I am slaughtering them and possibly eating their body parts. You know Paradise Lost where again my relationship is deteriorating and my husband can not handle the fact that he failing as a man. Yeah! I am thinking ...Hercules, I am trying to kill Evan Stone. This is NOT making me look good. So definitely there is always some sort of drama going on in one way or another.
Did you ever get to work with Evan?
Julia Ann - The only thing we ever did a scene together on is Killer Sex and Suicide Blondes.
Are you still dancing or did you quit?
Julia Ann - No, No I am still dancing.
Didn't you recently do a charity event?
Julia Ann - Not recently the last charity thing we did. Janine and I decided to get together again and do Blondage and we put on a show at the Spearmint Rhino in the City of Industry along with Dyanna Lauren, Shay Sights, jessica drake, Stormy Daniels and just a lot of really great people in order to raise money for people during the HIV moratorium. So much of the industry was out of work when we shut down for three months and we were kind of sitting around my house and I do not want to say we were joking but we were going "Man this really sucks. Good thing we have a contract." Which we were not meaning to be rude but it came out of our mouths in such a way that we went "Wow, we should be much more fortunate and humble about the situation then that last statement suggested." That was when we decided to get together and put on the benefit. I think we raised about $7,000 dollars and the Spearmint Rhino even gave the door money, which was really fantastic.