Rapture In Blue (Wicked Pictures)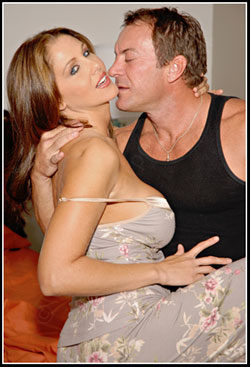 October 25, 2006 - As I pull up to the location of the new David Stanley movie for Wicked Pictures I know things are not going as planned before I ever get out of the car. The house's security alarm is going off and you can hear it from a block away. As I enter the house I find the Production Manager in the closet trying to get the alarm to shut off while calling people to let them know what is going on.
Once the alarm is disabled they get back to shooting the dialogue between Cherokee (the Nurse) and Eric Masterson (The Doctor). Wendy Divine is playing the "old woman" on the bed who is supposed to be Julia Ann's character on her death bed. After a few takes David finally get's what he needs and tells Wendy to exit the set so they can shoot the sex.
Wendy to David - Eric and I do not usually do 3-ways together but I will if you put Cherokee in a scene with us. She has a great ass.
Wendy to Eric - I want to fuck her with your dick.
Eric - Okay. I want to fuck you both.
David informs her not today but he will keep it in mind.
Once the sex starts David starts hamming it up as the "drunk angry director" with such statements as:
David - You call that a penis
and
David - Your mother did not love you enough and I am supposed to fix that?
Fortunately Eric is no stranger to this because he responds in kind.
Eric - Hey you insensitive bastards, how are we doing?
The sex scene goes smoothly and in short order Eric is popping on Cherokee's tongue and everyone is heading for the showers. Unfortunately Cherokee has to leave right away so I do not get the chance to talk to her before she runs out the door.
Next up is a sequence of dialogue scenes between Randy and Julia Ann to set up the history of their characters all the way from College sweet hearts to present day. Including a little scene with Julia naked in the bathtub. Normally this would have been an easy scene but the room was a little cramped and someone came up with the idea of having flowers floating in the water. All was well until Julia came out of the tub to find herself covered in sticky layer of pollen. What followed were several rather amusing shots of people trying to clean off a naked Julia Ann. I would love to show them to you but I promised Julia they would never see the light of day.
After several sets were put up and taken down it is getting dark and we are running way behind. Julia's sex scene with Randy was supposed to take place during the day and the extras for this evenings party sequence have already started showing up.
While they are moving everything up-stairs for the Julia-Randy sex scene I step outside to find a rather beautiful young woman having a cigarette. It turns out her name is Brooke Scott and she is going to be in the blow-job scene later that evening during the party. She is something of a last minute replacement and as such has no idea who she needs to talk to. I take her out on the balcony and point her in the direction of David. Once the introductions are made David smiles. He had apparently seen her in the living room with the extras a little bit ago and remarked that it was too bad she was not doing a scene.
Things are getting pretty hectic as they try to get going on Julia's scene while setting up for the party sequence and dealing with a house full of extras so I decide it is a good time to get out of the way.
Juila Ann Interview On the Set of Rapture in Blue
Movie Information -
Cast - Julia Ann, Cherokee, Brooke Scott, Randy Spears, Eric Masterson (on this day at least).
Synopsis - Randy Spears and Julia Ann are a married couple having problems (read Julia's character is a B*tch) until Julia is shown the error of her ways by her favorite teddy bear.
Release Date - TBD