Ava Rose - Totally Rad!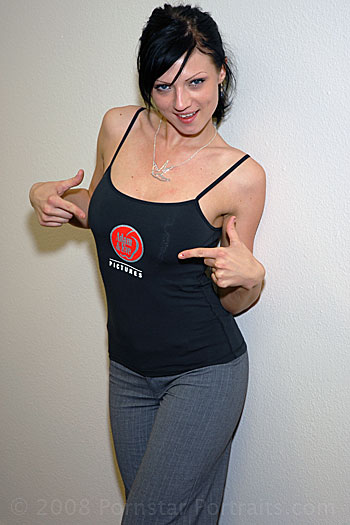 We are here today with?
Ava Rose - Ava Rose
You are the new contract girl for?
Ava Rose - Adam & Eve
Since we have never really met let's start off with the Profile Sheet.
You do not do anal correct?
Ava Rose - No
Any plans on doing so?
Ava Rose - (After a pause) No. (Very hesitant) Not really.
That is okay. Look at Carmen she waited for years and I was still surprised when she did it.
Ava Rose - Yeah Carmen has such a huge fan following. It is just incredible.
Do you have a fetish?
Ava Rose - Not that I know of. I do not think it constitutes a fetish but I like a guy in nerdy glasses.
Well actually I am fairly certain that does.
Ava Rose - Really? SCORE! :)
There are fetishes for everything and I sure that would qualify.
Ava Rose - Cool! Plus it is really hot!
Is bondage something you are interested in?
Ava Rose - I find it very intriguing.
Why?
Ava Rose - It is crazy how you can make bondage beautiful but you can also "frek" it up so easily.
Do you not like to swear?
Ava Rose - I try not to on these things but like on radio it just slips out and I don't understand why. But I try not to.
What was it like growing up in Sutton, Alaska?
Ava Rose - It's rad. I do believe the first 10 years in Alaska were ...growing up in a city is completely different. I mean riding horses, snow shoeing to school it was great. We moved away when I was 10 to Nevada but I would have preferred to stay in Alaska when I was younger.
Do you want to go back or are you pretty much a city girl now?
Ava Rose - Oh no I am pretty much a city girl now. I want to go to London.
Why London?
Ava Rose - I do not know but lately that has been on my mind. It seems like every time I talk to someone they are like ...I just got back from London. So I am like "What is in London?" I really have to go now to check it out. Have you ever been?
No I have not. Do you want to go because you like the guys accent?
Ava Rose - Oh, God yes. It is so sexy. Plus I like the rain. I wish it would rain almost every day.
What did you like to do growing up?
Ava Rose - I like to ride horses.
Did you own horses?
Ava Rose - Yeah my first horse was a palomino. My parents actually adopted horses before they were sent to the glue factory. So we had all of these retired horses who were missing an eye or had foot problems or something like that.
Do you have any horses now?
Ava Rose - No :( I wish.
Do you want to get one?
Ava Rose - It depends on where I go. I do not know if I want to buy a house. I want to travel around and with a horse you pretty much have to buy a house and have the land to board them on.
Once you moved what else did you like to do?
Ava Rose - I was kind of depressed actually. We went from Alaska to this little town in the desert where there was nothing around and it never rained. My sister and me both we just sat around the house and watched TV. Which is kind of funny now because I never watch TV. I have not watched any in the about the last two years. I prefer to be a little naive about all the bad things going on in the world.
What was school like for you?
Ava Rose - The high school in Carson City was kind of over populated so my sister and I started skipping school a lot until we finally got kicked out. Then we got sent to this "special" school near our house that was supposedly for the "bad" kids but we were not really that bad. We ended up doing really well from then on because the teachers really took the time to teach you since there was such a smaller ratio of kids to teachers. So from my Sophomore year on school was pretty good. So I only really screwed off like one year.
How old were you when you lost your virginity?
Ava Rose - I was 16.
How old was your partner?
Ava Rose - He was 18.
So not that bad. Looking back do you think you should have waited or was that a great time?
Ava Rose - :) I would not say that was a great time. But I would not say I would have waited. It is all in the journey. I do not understand how girls fall in love with the first guy they have sex with. It was not a huge thing. I really do not understand it.
Exactly how many guys did you sleep with before coming into the industry?
Ava Rose - :) I do not know about 85 or so.
Why so many?
Ava Rose - I think it was a lack of anything to do.
Do you think the statement "Small town kids are more sexually active at a younger age then big city kids due to a lack of other things to do." is an accurate statement?
Ava Rose - Yeah, I do believe so. It is crazy. A lot of kids were doing drugs, partying and drinking. I was not partying and drinking but I was having sex.
Was it a quantity over quality type of thing?
Ava Rose - Oh yeah. You know I stopped having sex with so many people when I was 18. I do not understand why but I was like "I have slept with a lot of people" so through the next year I was really chill. Well ...compared to what I was.
How did a small town girl from Alaska end up stripping in Reno?
Ava Rose - You know that is a really good question. I do not know it was a wild hair I guess. My friends were like we went to this strip club last night and we talked to the house mom and she said we could come back and show the manager what we can do to see if we can get hired. And I was like "You want me to do what? I can't do that I am so shy." But it is a completely different thing when you get up in there and are dancing on stage. You do not quite realize. So I was an awful stripper in the sense that I did not make any money because I hated ...I always thought that "well Gosh if he is looking at me he should come up and talk to me. I should not have to go hustle." I could never take people's money. I would always get talking to them and never go "Hey do you want a lap dance...blah blah blah". So I only made money on stage if I did make any money because I only worked on the weekends. But I am going to be doing the Spearmint Rhino here soon.