Adrianna Nicole - Beautiful Submissive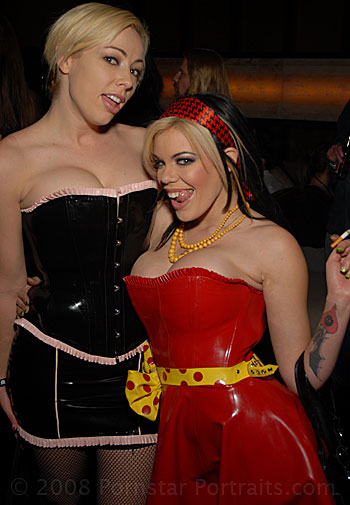 Had you seen the first Fashionistas?

Adrianna - Not the whole thing. I had seen bits and pieces of it. Scenes here and there while watching porn with friends. I still have not seen all of it. But I did like the scene with Belladonna. Because of the name and how well met the first one was I was quite excited to do it but then again I would be quite excited to work with John on any project he wanted to do.

You were quite insistent with Rocco about him pulling your nipples is that one of your likes?

Adrianna - **she laughs again** Yeah I like stuff like that. And I really, I mean REALLY wanted to fuck Rocco.

How many orgies have you been part of outside the industry?

Adrianna - I had group sex at home in my personal life even before I was doing this.

How was your orgy in Fashionistas Safado?

Adrianna - I LOVED it. It was all anal. I think the only thing that could have made it better would have been the addition of Manuel and Rocco to the orgy or at least to my ass.

Do you like not knowing whose dick is in you?

Adrianna - On a personal level? It used to be that I would find out who I was working with and frantically search the internet to find a picture of what they look like. Now I do not really care. I mean I get the name of the person but it is not as important to be to know upon walking into the room for me to know who I am working with.

Explain the quote "You can choke me but do not pull my hair too hard."

Adrianna - My hair was feeling very sensitive for a little while. It kind of went through this period where all the curling irons, flat irons and washing every day was being very hard on it to the point that it was breaking off. So I was going to loose it and since I really like my hair and am very attached to being a blonde I had to have people lay off the hair for a while.

What is a rough BJ scene?

Adrianna - Throat fucking where you start to gag and your eyes really water and maybe you need a popscile afterwards because you throat really hurts.

You also mentioned something about puking while giving a BJ.

Adrianna - Oh God yeah that is kind of like a porn set horror story, but not really. I was lined up with a few girls and our hands were tied behind out backs and one or two guys were just going from girl to girl getting a blow job and the girl before me puked all over the cock and with the site of it and the smell of it I just had to call cut.

Tell me about working with Jake Malone.

Adrianna - Have you ever been on one of his sets? Well it is challenging but I think the end result is very worth while. So I am looking forward to seeing Fuck Slaves and Gang Bang My Face but I will tell you he is not an easy director to work with. But sometimes the most challenging situations turn out the best. I mean when I was a kid I went to Germany with my Dad and my Uncle and I remember after two weeks in a hotel room with them I did not feel like talking to them for the next couple of weeks. That is the way I feel when I get off of Jake's set. If I do not talk to him for a few weeks it is perfect.

How do you prepare for a scene like in Fuck Slaves?

Adrianna - I clean my ass and that is about it. I do not mentally prepare for it.

In a lot of ways this is the type of scene that worries me because of how the uneducated person can perceive it. What do you think?

Adrianna - Oh wow, well...

Because you seem to enjoy it.

Adrianna - I do enjoy and that is the thing and I guess what can compare it too. The first thing that came to my mind is that at the beginning of the movie and the television series Jackass is a warning "do not attempt this at home". A little bit I feel that way about it but then again I feel that if this is not really your thing I am not sure why you would pick it up randomly because I think porno is a very personal thing. I think you are going to purchase what is going to get you up and off. There are another 12,999 titles to pick up and get off to. I would not purchase a porn that had an act in it that I am not really into even if it had a performer I really liked because maybe that is not how I want to see that performer portrayed.

"Tell all your friends to rape my ass". Was that line your idea or someone else's?

Adrianna - **busts our laughing** It was a collaborative effort.

Is it normal for you to give the director a hand job?

Adrianna - Well if they ask :) It is not normal that they ask and I do not really do a lot of hand jobs. Blow jobs are more my thing.

Okay briefly lets talk about some other movies. I found four movies that really put S/M and B&D into the forefront this year and that was Fashionistas Safado the Challenge, Fuck Slaves, Slave Dolls and O the Power of Submission and you were in all 4 of them.

Adrianna - Yeah Slave Dolls.

Yeah that was one of the first things I saw you in and your scene was totally opposite what the rest of the movie was about.

Adrianna - That was all nice and pretty and sweet. I have this good friend of mine and she is an asian so I have this joke where I point to me and say "angel" and point to her and say "devil" I looked so pretty in the white sheets with my blonde hair and pale skin. Though you know you left out Corruption.

I have not gotten a hold of a copy yet (don't worry I got one shortly after this interview).

Adrianna - I was not in that one and I really wanted to be. Like all the movies you have mentioned I loved being in all of them but I can not help but... there is a Kylie Ireland movie which I do not think it is Nasty Dreams but it was another one and it was a scene with her, Christian and I think Sandra Romain and I was sick that day. Reading all the reviews of how good it is really makes me pissed to this day because I am like "Man I really should have been in that" and I feel the same way about Corruption.