Jesse Jane - Walk My Plank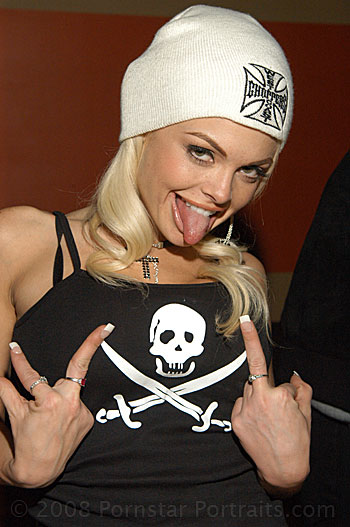 How has that response been?

Jesse Jane - Jack's Playground from me doing that has really helped me open up to the Gonzo fans. And they are like cool. Especially Jack's Playground 10 when I did Ben English and we just went Hard Core and went at it. And I got great response from that and I got a new fan base. It was pretty much ...everybody's basic like perception of contract girls is that they are lazy. They don't fuck. Everything is just pretty ...Right? And so I took on the challenge. Ben English was like "Contract girls can't fuck." And I was like "BULLSHIT" and that was why I took on the challenge and I am glad I did.

Have you watched the Story of J ?

Jesse Jane - Yeah I watched it. We did the audio commentary for it. I liked it. It was very stylized.

Did you like that type of porn...Or do you even watch porn?

Jesse Jane - You know what. I used to watch porn a lot. Now that I do it. I know everybody. I really do not watch porn. I mean I watch some porn but...

Now you are in Teagan's new movie Teagan Erotique, briefly. Did you have to teach her how to hula hoop?

Jesse Jane - She was like I do not know how to hula hoop and I was just like all you have to do is stand with your feet apart and you just move your waist. It is a really small movement. And she picked it up right away. I did not have to teach her at all.

What is the max number of hula hoops you did at one time?

Jesse Jane - I did all four

On the Behind the Scenes on Teagan Erotique it showed you playing around with a very large handgun. My question is ...Should a woman who can't figure out how to cock a shotgun be allowed to play around with a very large handgun?

Jesse Jane - Oh YES. :)

Also on the Behind the Scenes it showed you trying to get your tassels to spin in unison. Did you ever get them going?

Jesse Jane - I did. I did. It took a minute but I got them going.

Now are you going to use that skill...You have started dancing on the road right?

Jesse Jane - No I have not started yet. I will start this year. Probably more towards summer because I am pretty busy almost through July but this year I will.

Why is it Jesse Jane will "never do anal"?

Jesse Jane - I do not like anal personally but you never know I may surprise you.

Is Teagan going to help you with that phobia?

Jesse Jane - She just might help me with that phobia. She seems to like it.

Speaking of you and Teagan. I was going through some reviews on Contract Star and a lot of people seemed disappointed with your first girl-girl scene together. It seems a lot of people expected it to be nastier considering the way the two of you normally are. So are we going to see a re-match?

Jesse Jane - There will be a re-match. It was Teagan's first time to meet me and my first time to meet Teagan and they kind of wanted it just kind of SOFT. So we will leave more to the imagination. And everyone was like...MAN! Jesse is nasty and Teagan is nasty. What was that! So yeah we will get nasty.

Tell me about Pirates. What do you do in this movie?

Jesse Jane - Pirates is almost based on Pirates of the Caribbean. There is a lot of fighting. There is a Pirate ship. Digital Playground and Adam & Eve got together to do it. HUGE production. The biggest budget ever in porn. Just there is a lot of work and A LOT OF SEX. Really good SEX. I had sex with everybody. I had sex with Janine, I had sex with Carmen I had sex with EVERYBODY.

Did they let you play with a sword?

Jesse Jane - Yes they let me play with a sword.

So we will get to see a little swashbuckling scene with you?

Jesse Jane - Yes you will get to see me do some swashbuckling. (giggle)

Give me 5 words that describe you as a porn star.

Jesse Jane - Fun, Energetic, Dominate, Kitty, Playful

Is it true that "a sexual encounter with Jesse Jane will leave you a broken man"?

Jesse Jane - Yes (softly with a smile)

Have you already filmed a scene for Teen America?

Jesse Jane - No we have not done it yet. I have just been SO busy. Pirates is just such a huge production. I have been doing that. I shot my new Playboy show. I just finished the new season of Naughty Amateur Home Videos which airs in July. So I have been really busy but soon.

Okay last question. Something that came up after this years show. A contract girl from another company made a comment after this years show that the fans were getting out of hand at the convention and that we needed to do more for security. What do you think?

Jesse Jane - I think that fans are excited. Of course we want to be protected. I mean I have security. We always have our own security so I am always fine. You just have to know that fans are going to get very excited when they see their favorite porn star and if you feel that strongly about it then you should hire your own security.

Anything else you want to talk about?

Jesse Jane - I have Naughty Amateur Home Videos on Playboy TV. I am doing the DVD for Pimp my Ride on MTV and Pirates which is going to come out by September.

Okay Thank you very much.

Jesse Jane - Thank you.