Jesse Jane - Walk My Plank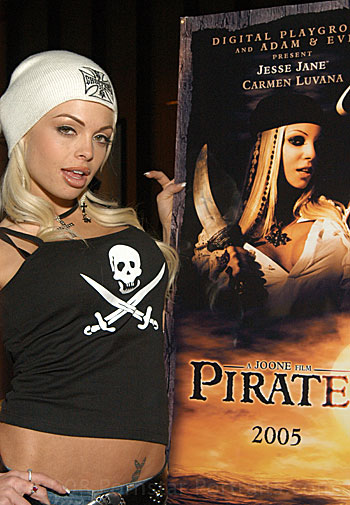 I just love being back in LA.
Jesse Jane - You just have to love LA. We went to Disney Land yesterday. I have a friend in from back in Oklahoma so we went to Disney Land yesterday and the longest line we waited in was 10 minutes.
That is because everyone is back in school.
Jesse Jane - I know isn't it great.
Okay let's start at the beginning here we are going to talk about your movies.
Jesse Jane - Okay.
First up is Loaded. How is it you can not know how to cock a shotgun?
Jesse Jane - Because no one ever showed me how before. I had to fake it.
I noticed that in a lot of your movies you ride motorcycles. Do you actually ride?
Jesse Jane - Actually I do. I had a crotch rocket before. I used to ride on some Harley's. I prefer Soft Tails. But I do not have a motorcycle now and it was not me riding in the movies because they do not want me to get hurt on set. I even throw fits trying to get them to let me ride but they keep saying no.
Why were you scared of Lee Stone's cock?
Jesse Jane - Because it was big and had a curve and I was just going...How is that going to go in and hit me in the wrong way depending on what way it went in. Actually we ended up having an amazing scene. It only hurt me in like two positions and I can not even describe the positions because my legs were in every which way possible. Bent, behind the head, and crazy. But it was awesome.
When is "Loaded – Miami" coming out?
Jesse Jane - You never know. It is "To Be Decided".
How do you feel about the Best Actress nomination?
Jesse Jane - I was actually very honored. That was my first acting role. I never really acted before. The only things I had ever done was Baywatch and Starsky & Hutch and those were not speaking parts so there is not a whole lot of acting involved. I tried really hard to put some effort into it and do my best so I was just really happy to be nominated.
Would you rather be nominated for acting or sex?
Jesse Jane - Sex :)
Tell me about your dance off with Evan Stone.
Jesse Jane - (Laughing) Okay we were at this little resort and the Tahitian people did this little dance. So we decided that we wanted to go dance. So we started dancing. Evan used to be a Chippendale's and I used to compete in dance so we just started to throw down. So then the Tahitian people decided that it was mean that we were competing so they started competing against us and it turned into everybody watching us on the dance floor. Everything just got crazy and people were just getting mad but Evan and I won.
Is it true all the contract girls choose Eric Masterson because he is small and relatively harmless?
Jesse Jane - Ah NO! I love Eric Masterson because he is very good looking. He is good in bed and he is very sweet.
Can you show me how to "do the octopus"?
Jesse Jane - Huh? What is the octopus?
Remember on Island Fever 3 you caught a guy....
Jesse Jane - (screams) He was like this...
On the Behind the Scenes they called it "the octopus".
Jesse Jane - I do not know why they called it that. Oh my God it was so weird. They were doing a sex scene and all of a sudden there is this guy laying on some rocks by the water masturbating. And it was like "Dude we can see you."
So when can we get to see you live out your school girl fantasy?
Jesse Jane - Hopefully relatively soon. We are working on a big movie right now called Pirates. We got together with Adam & Eve and I am working with Carmen Luvana. Then we are going to do another Island Fever but then hopefully around June or July we will start shooting one.
Was your waterfall fantasy all you dreamed it would be?
Jesse Jane - YES! Oh it was amazing. It was freezing cold. I mean REALLY cold. We were purple. But it was still so amazing I would like do it again in a heart beat. I loved it. It was awesome. I have never been so horny.
What is the "Mark of Stone"? On the Behind the Scenes you kept referring to it but never explained exactly what it was.
Jesse Jane - I got the "Mark of Stone" while having sex I got scrapped ...WELL. And I had a fantasy lived out for, both of us, which is actually came about this Pirates movie, which nobody knows. It was a whole like rape thing. He broke into my hotel room put a knife to my throat, put me in a closet and we had sex. It was great. He was like "Don't scream little girl nobody will hear you."
Why does Robby D have to tell you to let the guys fuck you?
Jesse Jane - Because I FUCK! I am not lazy in bed. I like to fuck and I like to BE fucked and I get so into having sex I get into my scenes. I do not care about the camera I care about getting off and having a good time. And they are like..."No you need to let the guy fuck you." and I am like "that is just NO fun".
So in a Hispanic movie how was it having only one cast member who actually was Hispanic?
Jesse Jane - Oh it was hilarious. We laughed the whole time. It was so hard to keep a straight face through most of the scenes because we were all trying to have a Hispanic accent and of course it does not sound like it. That is the point to be funny. And I could not keep a straight face. And with Evan and Eric together they are just so hilarious. Seriously it took so many takes because we were changing things and laughing so much.
So from Jack's Playground...do you really do Robby D's laundry?
Jesse Jane - Yes, I do Robby D's laundry ...Right.
What was it like for a woman with your personality to star in a movie about submission?
Jesse Jane - That was so hard. I did not like it actually. I am not a submissive person. They constantly had to stop because I would get into it and start having sex and they would be like. "No Jesse! You are submissive!" and was really hard for me. I had such a difficult time doing it and it kind of made me uncomfortable because I was like "Wow I do not like being submissive". But I like the outcome of it. The story it portrayed because it was the Story of O basically.
Would you ever submit totally to a man like that?
Jesse Jane - Every once in a while. I do not mind being fucked but not all of the time.
Compare doing a movie like Story of J to doing a video like Jack's Playground. What is the difference to you and which do you prefer?
Jesse Jane - The difference is The Story of J is more of a vignette. There is a story but it is told through actual actions. It is told through the pictures. So you have to really kind of act out the scenes. Like in The Story of J I had to act towards the camera to show that they were taking over me. Jack's Playground is just fun and you are yourself. You do not have make-up artist's come in. You just come in and go Hey! and then you fuck however. I like both I do not really have a preference.
Since you have always been a contract star a lot of the Gonzo fans do not really watch some of that but now that you are in things like Jack's Playground, and hopefully Teen America soon...
Jesse Jane - Yeah hopefully. I want to wear the tiara.