Who Is The Princess?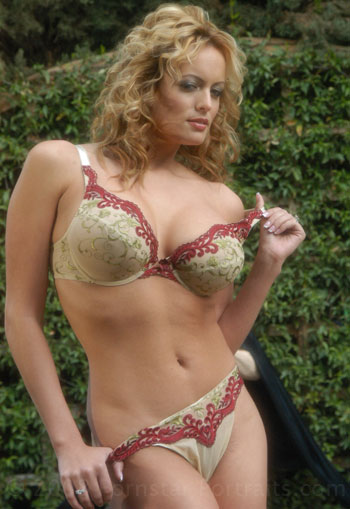 Where can I find shots of you bathing in your tiara?
Stormy Daniels - Ooooh :) in Shelby Stevens house. She has a good one actually of me in my bathtub when we were in Vegas. We have copies. They do exist actually and I need to post them on my web site.
What type of casserole do you plan on taking over to Julia Ann and Michael Raven's house?
Stormy Daniels - You know I only know how to make one and that is green bean casserole. It is good though. I owe Nicole and Voodoo one too actually.
Voodoo dolls?
Stormy Daniels - How do you know about...you know everything. I am from Louisiana so I know how to make voodoo dolls and I have some. Michael Raven actually gave me one for Christmas.
He gave you a voodoo doll for Christmas?
Stormy Daniels - Yes, it was a voodoo doll love kit. But I prefer to make my own.
Who do you make voodoo dolls of?
Stormy Daniels - I am not telling you. That ruins it. Anyone who is mean to me. But you know that is a misconception because voodoo dolls can be for good things to.
I thought you usually kill people who were mean to you in your movies?
Stormy Daniels - I do that too.
What did you love to do as a child?
Stormy Daniels - Ride horses, climb trees and talk to myself. :) Like before I actually had horses I pretended my bicycle was a horse. I built it a stall in the garage and everything. I was such a dork. :)
You have said that you tend to name the people you have to kill off in your movies after people who were mean to you in High School. So what was High School like for you?
Stormy Daniels - Horrible. I was really smart and I was editor of my high school paper and in the 4H club. But I was very ugly and unpopular. All the boys were mean to me as were all the popular girls. So HA!
So what type of girl were you in high school? Were you a band geek?
Stormy Daniels - No, I was a Goth chick. I was on the dance team too but we didn't have sports so it wasn't like the cheerleader type dancing. The dance coach at my high school also ran the Baton Rouge Ballet Company so it was all really classical dancing. They didn't even call it dance team they called it "Dance Ensemble".
What was your favorite TV show growing up?
Stormy Daniels - You know what I so don't watch TV but you are going to laugh at me. It was Dukes of Hazard because of the car.
What jobs did you have before you started stripping?
Stormy Daniels - Nothing. I cleaned stalls to pay for my horses board but I started stripping while I was still in high school.
What projects have you done recently?
Stormy Daniels - Portrait which has wrapped today and the last thing I did before that was Cargo which came out three days ago.
Tell me about Portrait.
Stormy Daniels - It is the story of a kind of geeky janitor guy who works in an art warehouse who falls in love with a portrait of a girl. I am the girl in the painting. In his head she comes to life and brings him into her sex filled porno world.
Who is your co-star in this movie?
Stormy Daniels - Pat Myne.
And he is...
Stormy Daniels - My husband.
Are you going to be scenes with other guys or are you two going to be...?
Stormy Daniels - Nope, we had just never worked together before so we wanted to do this. He is actually in another movie I wrote specifically for him and I to do together. But no we are going to work with other people.
Now is he going to agree to do another movie after having to run outside naked in the cold?
Stormy Daniels - That has yet to be seen. We will just have to see if he catches pneumonia or not.
What advice would you give to a woman thinking about coming into the industry?
Stormy Daniels - I hate this question because it makes me so hypocritical but I would say "Don't".
Why would you tell them not to?
Stormy Daniels - It is just that you can never get away from it. Let's just say you will never be president. And your kids WILL see it one day. Other than that I would say talk to other girls in the industry and guys. Be very smart. Be careful who you trust because for every legitimate guy in this business there is another 20 who want you to come audition in their basement.