Eye Of The Beholder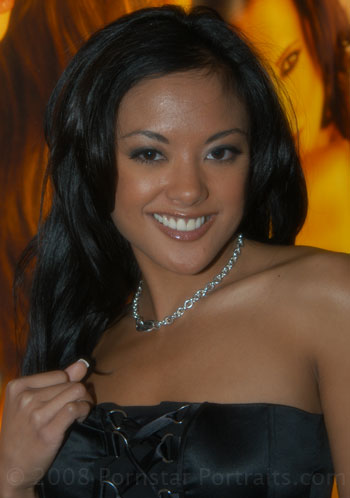 What have you been working on for Wicked Pictures?
Kaylani Lei - The one's we are promoting now are Couples shot by Michael Raven, Sweatshop and Eye of the Beholder shot by Brad Armstrong. Sweatshop is literally set in a sweat shop and is the story of asian girl who wants to bring her family to America so she does things for the boss to get them out here. She engages in extracurricular activities with the boss.
What is Couples about?
Kaylani Lei - Couples is a little vignette movie that shows different couples and the sexual activities they try out. Like three-ways and switching couples. It is about couples that are in different sexual groups.
Kaylani Lei - Eye of the Beholder has got to be my favorite movie to date. It is really good. It is the story of a woman who gets an eye transplant and starts seeing things from the previous owners life. Specifically how she died. It was just a fantastic experience and the effects are going to be really cool. You just have to see it.
Do you have your next project planned?
Kaylani Lei - The next thing I have is my Wicked Sex Party. It is going to be a Hawaiian luau theme and it is just going to be me, a whole lot of people and a whole lot of sex.
I talked to Michael Raven already and he said you weren't going to shoot an Angel X sequel this year.
Kaylani Lei - No not this year. Though we are talking about doing a Vietnam War type of movie that will be really big. We will see.
What did you love to do as a child?
Kaylani Lei - I really liked to roller skate. I loved outdoor activities like the swimming pool. I loved to go to the swimming pool.
What was your favorite TV show growing up?
Kaylani Lei - Wow there are a lot of them. Wait you mean when I was a kid? (Kaylani starts laughing)
Yes. I know that was only a couple of years ago.
Kaylani Lei - I know. I am trying to divide the time and what I like now. Oh I liked all those soap operas like Beverly Hills 90210 and Melrose Place.
What jobs did you have before you came into the adult industry?
Kaylani Lei - Mostly retail in high end department stores.
Any performances / scenes that you have done that you think came out really well?
Kaylani Lei - Yeah the one in Space Nuts with Randy Spears. I thought that one came out really well. Another one I shot for Michael Raven that isn't out yet called Mood Ring and it is with me and Steven St.Croix. Any scene with Evan Stone and me tends to be really good. It really depends on the guy.
What advice would you give to a woman either thinking about coming into the industry or just coming in?
Kaylani Lei - To always stay herself and not to do things just because you may be supposed to. Like what is expected of a porn star. Be the you who is a porn star. Porn star is just a name you are given after a while. I still don't call myself a porn star. I say Jenna Jameson is a porn star. Asia Carrera is a porn star.
What, if any, are the differences between you as a person and Kaylani Lei?
Kaylani Lei - Me as a person, not that I do crazy things on camera, but I am just a plain regular person at home. I don't go out every night. I just hang out with my girlfriend's and have quite dinners together. Stuff like that.
Have you started feature dancing yet?
Kaylani Lei - Not yet. I am supposed to start in August though.
How about Hawaii?
Kaylani Lei - I know tell me about it. If they could set on up I would be there tomorrow.
Do you have a hard time finding little boys to feed you pineapple on the beach?
Kaylani Lei - *laughing* That would be great but actually it would be coconuts. But I have never asked anyone. I am way to shy for that.
Have you had many volunteers to help you learn what to do with your hands during a blow job and how to jerk a guy off?
Kaylani Lei - I practice with everybody I work with and I watch other people. They do that little twisty thing.
What was it like doing special effects acting sequences when you couldn't really see how it was going to turn out?
Kaylani Lei - That was when you really had to use your imagination. I had to put myself in my little girl world and just imagine what i was doing.
Why are clit rings so sexy?
Kaylani Lei - It is like jewelry for the pussy. It adds a little something and makes the pussy always look wet.
On your commentaries you are continually pointing out who "your girls" are. How many "girls" do you have?
Kaylani Lei - My girls? Like my girlfriend's? Well yeah I have my girlfriend's in the business and a lot of them are the cute little asian girls so a lot of times Brad or Michael Raven likes to put them in so when I see them I like to point them out. I am proud of them. Charmane Star, Lilly Thai, Nyomi Marcela and Avaena Lee. Those are my girls. MY girls. :)
Were you surprised by your best new starlet nomination?
Kaylani Lei - Oh my God yes. I don't know why I just didn't think that I was at that level. But it was great to see my name along side the likes of Stormy and Jesse Jane.
Tell me something about yourself that would surprise people.
Kaylani Lei - I actually have a hell of a temper. I have got MAJOR road rage and have no patience for when I get lost. Anything that has to do with transportation I am just horrible. But very few people have really seen me just burst out.
Give me three things you think you can't live without.
Kaylani Lei - Sex, Food and cute clothes. My ex told someone that I loved shopping more than him.
That would be true for most women I imagine.
Kaylani Lei - Not when you are always shopping for the men.
That is because we just don't buy ourselves anything.
If you could be any cookie in the world, what kind of cookie would you be?
Kaylani Lei - I would be an eclair. It is not a cookie but I am not crazy about cookies I like more pastries. I would be an eclair cause I am...
(Kaylani stops to think about what she is saying)
Kaylani Lei - Ewww!
This could be SO wrong right now. :)
Kaylani Lei - *laughing* Because I am brown on the outside and nice and creamy on the inside. And I taste great. ;)