A Perfect Stormy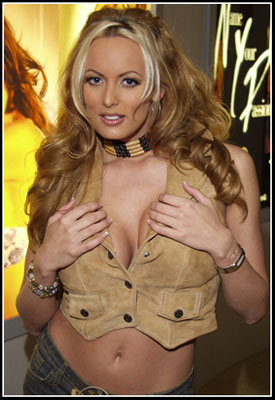 Okay so the title is not exactly some of my best work. But then again I kind of find a take off of a movie about the perfect storm somehow appropriate when talking about Wicked Pictures little southern red head. This is going to be one of my shorter introductions since I have only had the privilege of meeting the lovely Stormy on two occasions. Once when I first interviewed her at the Wicked offices back in November of 2002 and then again at the 2003 Adult Entertainment Expo where this interview was conducted.

Stormy was born on March 17, 1979 in Baton Rouge Louisiana. Kind of appropriate considering she is half Irish. With her stunning 5'7" 36DD-25-36 frame topped off with a cascade of red hair it is no real surprise that she draws a lot of attention where ever she goes. But it is her eyes that I love the most. They are a deep blue that just draw you in. And when she turns on her southern accent well it is pretty much over at that point.

She is a professed music groupie and has even hit the road with a few bands. But before you think she is a delicate little southern flower just ask her help in restoring your old 1974 Plymouth Barracuda (her dream car) and watch her go. Because she is apparently just as at home in a garage as she is in front of the camera.

To date I have only seen two movies with this lovely lady. "Heat" (her first boy-girl) and "Class Act" (girl-girl with Julia Ann) both from Wicked Pictures. She was great in her scene with Julia and while you could tell "Heat" was her first time she did an admirable job and I am looking forward to seeing her mature in front of the camera as a performer.

I would like to thank Daniel Metcalf at Wicked Pictures for setting up this interview for me.

You can find my interview with Stormy from 2002 at A Conversation with Stormy.

How is your first show going?

Stormy Daniels - My first show is crazy. Nothing like the Erotic Dancer Conventions I have done. It is way bigger and more elaborate, and a lot more people. I am very excited to be here. It is a little overwhelming but still a lot of fun.

Give me 5 words that describe you as a person.

Stormy Daniels - Emotional, intelligent, creative, determined and romantic.

What have you been up to since I talked to you in November?

Stormy Daniels - I have done two more movies for Wicked. I did Jonathan Morgan's Not A Romance and Brad Armstrong's Skin Deep. And I have been feature dancing twice a month. Once a month in and around town and once a month out of town. I did my Penthouse lay-out too.

In what issue will your lay outs appear?

Stormy Daniels - My boy-girl lay out with Brad is out now (February 2003 issue). It is very beautiful not just me but the photography and Brad too. My Pet lay out is due sometime this year. Probably early summer.

Now that you have had some time to get acquainted with the industry what do you think?

Stormy Daniels - I still think it is great. There are some things that are a little stressful, like today. You have so many people pulling you in different directions it is very important that you keep your game face on. Other than that so far so good. I have more new friends. I have done more movies so I am a little more comfortable and more confident. I am getting a good reaction from people. There is one guy...but any way. Other than that it is all good.

Have you disproved any of the stereotypes?

Stormy Daniels - I hope so. I hope people come away thinking she is pretty intelligent and well spoken. Nice and not all "cracked out"

How was it working with Jonathan on your first feature? (Interviewer's note: While Heat was Stormy's first Wicked feature it was done prior to her being under contract with them).

Stormy Daniels - I had more dialogue. There was less action for me. He is a completely different director than Brad. It was probably I would say ...I don't know. It went well. I didn't have the pressure I had in Heat to prove myself cause I was already signed but more pressure since it was my first official movie. My first one with Jonathan, you know...It was long.

Was it easier having Jonathan direct you than Brad?

Stormy Daniels - Actually I think it was easier with Brad. Nothing against Jonathan as a director it is just because I am closer to Brad. I understand more of what he is saying. We connect more since we are together more. So I have the advantage of when I work with Brad to get what he is saying.

Did you put a lot of pressure on yourself to succeed first time out?

Stormy Daniels - There is always a lot of pressure but Heat was my first boy-girl, my first dialogue so there wasn't that pressure. But there was a lot of pressure to prove Steve Orienstein's faith in me and that he doesn't want his money back.

What do you like most about this industry and why?

Stormy Daniels - As far as what I like about my job ...there is a lot of freedom. I make a lot of my own decisions. I don't want to say that it allows me to be irresponsible but I can definitely schedule stuff around what I do so I have more time to enjoy myself. I have a job where I get to look beautiful and have sex with gorgeous people and get paid a lot of money for it, so that is great. I have a job where I get to dress up and be someone else for a day or two, when I am on a movie. That is fun. I can be a bitch one day and I am totally not like that in my real life. I mean I would never hit somebody but in Jonathan's movie I had to slap Brad. And it was so funny because we had to do so many takes because I couldn't do it. Everyone was laughing at me because I would get really close and then say "I can't do it". But I got to yell at him and stuff. It was fun to be someone else. Now I understand what the whole attraction is to be an actress.

So all those takes weren't just because Jonathan wanted to see you slap Brad on screen?

Stormy Daniels - You know I think he did have an ulterior motive because I finally got mad enough at Jonathan to give Brad a really good whack and he still did another take.

What do you like least about this industry?

Stormy Daniels - I don't know. There is a lot of stuff. I really don't know. I am having a good day so I can't think of anything. I mean you have your bad days of course when you don't feel pretty and you have to go out there and smile and look pretty. That is always hard. You are in an industry where everyone is always looking at you and some days you just feel like saying "Don't Fucking Look At Me" but you can't do that. You have to get in front of the camera. Some days you have cramps and you have to have sex. But it is just...you know. All that stuff there is no hiding from it I guess is what I would say. And I know it is only going to get worse because the more I am around the more recognizable anyone in the industry is going to be. It is just pressure to look good all the time. That can wear on you definitely

How do you think people perceive you when they first meet you?

Stormy Daniels - I have no idea you would have to ask them. I know what they say when they first see me. They usually say that they thought I was going to be kind of stupid or stuck up. I guess they think I am going to be stuck up because of what I do or stupid because I have big tits but I try to be a little nice to everybody. I can be a little shy if I am overwhelmed especially if I am put on the spot. I will freeze. I just want to be nice. I try to be inviting.

Is this accurate or not?

Stormy Daniels - No I am not stupid. What are you trying to say? I am just kidding.

What did you/are you doing on 7 Lives Exposed?

Stormy Daniels - I played a character called Penny. I was one of the main 7 characters (Wendy) sister. I played a real bitch. They called me a "cunt" a lot. Basically I come into town and turn the whole house upside down. I have always been more popular than my sister so I come in and take all the attention from her. We get into two really big cat fights. Then I leave with her boyfriend.

Are they going to have you back?

Stormy Daniels - I don't know.

Being from the south were you raised in a religious background or not religious?

Stormy Daniels - The south is very religious. Southern Baptist or straight Catholic and I did go to a Baptist Elementary School but in my personal life I never went to church. I was never raised going to church.

Did you have any issues with the script for Falling From Grace?

Stormy Daniels - Any issues? Absolutely not. I am not a religious person in that sense. I am a spiritual person, don't get me wrong. I have a lot of beliefs and morals but I don't follow any faith. I think the script turned out really well. As Daniel will tell you I kept throwing in my two cents.

Was the horse in Class Act yours?

Stormy Daniels - No the horse I rode in Class Act was rented. That movie was shot right after I moved here so I didn't have any horses here yet. But I do have three horses here now. At that time I only had one horse and it was still in Louisiana.

Are you going to compete again?

Stormy Daniels - I want to but of the three horses I have none are ready yet. One is in training, one was bought for Brad to learn on and the other is just now old enough to learn how to jump.

Are you videotaping Brad learning how to ride?

Stormy Daniels - No but I have some pictures. In Brad's defense he was a natural.

What toys do you have coming out for your "Wicked Essentials" line?

Stormy Daniels - I only have three things right now for my toy line. I am still doing some research on what types of things I want to offer. Though I do like things that light-up. I am kind of like a racoon in that I am attracted to flashing lights. So right now I only have a couple of vibrators out that I really liked. I will have some more things coming out later in 2003. Just keep checking the California Exotic Novelties web site www.calexotics.com

Any closer to getting your dream car?

Stormy Daniels - You know what. I am getting there. Brad has started bringing home fliers and pulling them up off the internet. He keeps saying "you know if you sold a couple of horses you could have one.". But by the end of the year I will have one. That is my goal for 2003.

Are you going to restore it yourself?

Stormy Daniels - The problem with that is that once I have it I am going to be too impatient I think. I am going to do some tweaking I am sure but I don't want to start from the ground up. Unless you can do it yourself and you have a garage; I don't think Brad will let me set-up shop. Hopefully I will get one that is pretty close to getting done, at least drivable. I want a convertible so I will probably have to get it chopped and I have to have that Plum Crazy Purple.

Now is Brad a motor head to?

Stormy Daniels - No he will tell me here is my mechanics number.

What does 2003 have in store for you?

Stormy Daniels - I have five more movies to do. One of them is coming up and is going to be a huge production. It is going to be a six day shoot and will probably be my biggest movie of the year. It is going to be shot sort of like "Paradise Lost" It is going to be weird. Plus I get to have sex with Julia Ann. Other than that I am going to be hitting the road again and getting my new web site going. I ditched the old one and the new one is going to be www.stormyxxx.com. I am working on the stuff now but have not estimate on when it will be up and running.

Well thank you very much for your time. I look forward to seeing what 2003 brings for and from you.