Everything is Coming Up Daisy's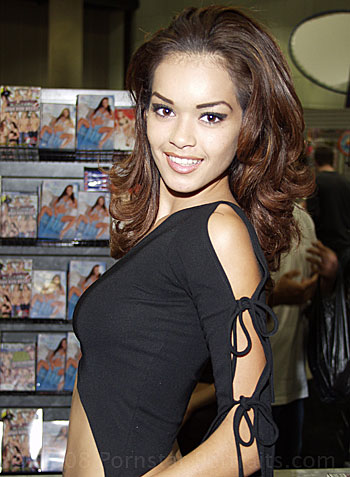 I met Daisy for the first time at this years Erotica Los Angeles show and I remember not knowing much about her other than that she was Video Team's new contract girl. I was immediately taken by how beautiful and sweet she was in person. So when I finally arranged for an opportunity to interview her I was very much looking forward to it.
What I found over the course of the interview was a bright and funny young woman who made me laugh and smile with her honesty and outlook on life and the industry.
I highly suggest you check out some of Daisy's latest movies from Video Team which include Driving Ms. Daisy, Mamacitas 2, Mamacitas 3, No Man's Land Latin Edition 3 and United Colors of Ass 10. I would like to thank Christian Mann, Scott Stein, Maricela and Daisy at Video Team for making this interview possible; as well as Steph at Adult DVD Talk for putting up with me.
Okay let's start off fairly simple. You are now going by "Daisy". Have you ever gone by any other name?
Daisy Marie - Yeah I did. I used to go by Daisy Marie because of confusion with another "Daisy" in the industry. But now I am just Daisy with Video Team.
What is your ethnic heritage?
Daisy Marie - I am Mexican.
Tell me about growing up in East LA?
Daisy Marie - Well there was really not much. It was just a regular life. Really it is just the neighborhood that is different. I just grew up around a lot of gang members and my Mexican people. It was just a different life style than in the Valley where I live now. I actually like the Valley more. It is much calmer.
Did you go to college?
Daisy Marie - No I didn't I just went to regular High School.
Plan to go?
Daisy Marie - Actually yeah I do. I don't know if I am going to go to college but I do want to go to clothing design school. I want to be a fashion designer.
Tell me about your family (i.e. large/small, etc.).
Daisy Marie - I have a pretty large family I would say. I mean everyone has their own little part of the family that they associate with but all together we are a very big family.
Have you told them what you do yet?
Daisy Marie - No. I have told my sister. My mom thinks I do modeling. She has seen a couple of my pictures, magazines I have come out on so I am pretty sure she knows what I come out in.
It is one of those things that you just don't discuss?
Daisy Marie - Yeah, it is weird because I have shown her so many things that she doesn't like really think. Usually someone would be like, what are you doing?
Even my parents don't tend to ask too many questions.
How did you end up in the adult industry?
Daisy Marie - I got discovered by Naughty Modeling. They are an agency, "naughtymodeling.com".
What were you doing when they discovered you?
Daisy Marie - Nothing, I wasn't working, I was doing nothing. I think I was friends with a guy who brought me to one of his shoots and that is where I meet James and Jody from Naughty Modeling. They said they were running an agency and I was their first girl.
So how did that work into adult?
Daisy Marie - Well, I have always wanted to be a model. I am also the type that likes the attention. I like to be "hey, look at me look at what I can do". And in my personal life I am also very, very sexually active. I just have to have it. So I kind of just fit right into it.
Sexually what will you do and what won't you do?
Daisy Marie - I have done almost everything except for anal. Anal is one thing I want to wait for. I am not to.. I tried it in my personal life but it just doesn't feel right to me. Well that probably means you shouldn't do it if it doesn't feel right. Yeah but eventually I will do it because I have done it before. So I have kind of "dealt" with the feeling of it so eventually I will do it.
Favorite sex acts? What do you like to do, what do you like to have done to you?
Daisy Marie - I can be getting fucked any way as long as I have a vibrator in hand for my clit. So it really doesn't matter but my favorite position is doggie or missionary.
What do you like having done to you?
Daisy Marie - Other than fucking, licking, I love getting licked all over.
So not just down there you love getting licked all over?
Daisy Marie - Yeah, everywhere.
Let me guess, the back of the neck?
Daisy Marie - Oh God the back of the neck, the ears, oh all that.
Why a contract?
Daisy Marie - Well before my contract I had been in the business for about a year and a half and was getting a little burned out. I was actually on the verge of not doing porn any more. Just doing like every once in a while shoots because I was getting booked way too much. I wanted to last in the industry so I thought the contract was perfect for me at that time. I don't have to work as much as I used to and I get a lot more publicity.
Why Video Team?
Daisy Marie - I worked with them before and I love their movies and the ethnic theme of the company. I bonded with them the first day I shot with them before my contract. Everybody is cool here as well. There are companies out there that just give you a hard time when you are shooting and they don't. Also since I was friends with the people in the company before I didn't really give it a second thought when they asked.
Can you tell me the specifics of the contract?
Daisy Marie - It is for one year and I think it is 5 movies but I am not sure about that. There are also about 27 or so personal appearances in there as well.
Do you have any appearances coming up?
Daisy Marie - Actually I do. I am going to Chicago on September 3rd to do a store signing. Then I am going to Florida on September 11th for the Night Moves convention in Tampa.
Tell me about your toy line.
Daisy Marie - My toy line ohh...it was my first experience with that actually. I never knew how the whole toy line worked and how they made them and all that. I did my molding and it was pretty cool. It felt weird but at the end when he showed it to me I was like "that is my pussy"? You know I didn't know it looked like that because I can't look at it unless I am standing in front of a mirror but the molding was amazing. To have my own toy line so someone can actually fuck me when I am not there is actually pretty cool. And it is "me", it is my private, my butt hole that they are in and that is pretty cool.