Asia Carrera - Beauty & Brains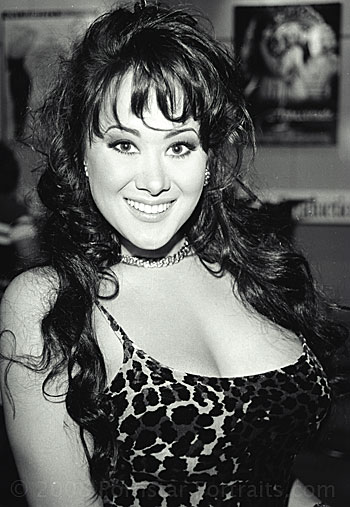 "Asia Carrera" you say the name and certain words immediately come to mind. Smart, beautiful, exotic..the list could go on and on. She gives the impression of being the kind of woman you would love to spend the evening talking to about whatever comes to mind just so you can listen to the sound of her voice. When most men meet Asia they probably aren't looking at her eyes but that is too bad since they are missing one of the best parts. And if you ever get to be the one who makes her smile then you are a very lucky man indeed.
I know I meet Asia back in 1995 but I really couldn't tell you if that was the first time or not. You see Asia began her career a Vivid girl and to be honest I didn't pay her too much attention. The fact she was beautiful went without saying but I don't think I ever saw one of her movies while she was working for them. So needless to say my first real exposure to her was after she had been in the industry for a while. It didn't matter any way since it wasn't until after her time with Vivid that Asia really came into herself both as a performer and as a business woman.
After her time with Vivid Asia did two things that got her a lot of attention. She produced and starred in a little movie entitled "A is for Asia" and she started her own web site. Now "A is for Asia" was a definite departure from the norm for this lovely lady in that she did two things multiple times in this movie that she hadn't previously done (anal sex and facial cum shots). In fact this movie is one of the few that you will find that she has done anal in at all. Then her web site www.asiacarrera.com set the standard for adult stars sites. Not to mention the fact that unlike most people Asia does everything on her site herself.
Since starting up her site Asia hasn't been in front of the camera as much as some people may want her to be but she has still found the time to perform several movies such as the Adam and Eve series "Naked Hollywood" and Wicked Pictures "Euphoria". Asia has also directed and starred in another personal project of hers called "Appassionata". While a much more couples orientated film then "A is for Asia" it still showcases Asia's training as a classical pianist. As well as her abilities as a writer and director.
It can be argued that Asia is unique in the adult world for many reasons. The most touted and highly publicized of these being her high I.Q. but she also stands out from her peers due to her dislike of the "spectacle" (i.e. she doesn't like all the attention). She rarely makes personal appearances and even then usually reluctantly. She is also unique in that she is known to a whole segment of the population (gamers and computer geek's) who have never seen one of her movies and probably never will. But they know all about the little empire called asiacarrera.com and a little a** kicker (a.k.a. megabitchgoddess) who loves to squeeze off a good head shot in the "Unreal" arena.
Okay let's cover some old ground first. A lot of emphasis has been put on the fact that you are a member of Mensa. Which, for those who don't know, means that you scored in the top 2% of the general population on a standardized test. My question is do you really think any standardized test is a good indication of intelligence?
Asia Carrera - Hmm, good question. Yeah, I guess I do believe in intelligence tests, because they test you on your problem-solving abilities, not book smarts. And I make everyone who comes over my house take the test at http://www.iqtest.com just to see how they score, and I can not say that anyone has scored too far off where I'd have guessed them to be, so there must be something to it!
I noticed a couple of things when I paid a visit to the Mensa web site. The first thing was that they had "special interest" groups for members to meet and discuss topics they shared an interest in. Is there one on "Asia Carrera"? And do you belong to any of these groups and if so which ones?
Asia Carrera - No, there is no Asia Carrera Sigs, although there is a Sex Sig. (Sig= special interest group) However I am too shy to ever attend any of the meetings – I only joined for the membership card, myself, and I know a lot of other geek's who have done the same!
Why does not Mensa list "porn star" under the Members by Occupation as an example of diversity?
Asia Carrera - I do not know. Probably the same reason I am not listed as one of their 'celebrity members'! It took me two years to get them to link to my site as a Mensa member site, and they explained it was because of all the children they have visiting their web site. So I made them a special pg-rated Asia page to link to, and everyone was happy.
You have been making some noise about retiring when you are 30 not only from adult movies but your web site as well. Why would a web mistress have to retire just because she is 30?
Asia Carrera - I do not want to grow old in front of the cameras. I want to retire when I am still relatively young and attractive, so the fans can remember me that way, instead of as a saggy, baggy middle-aged trollop who did not know when to hang it up and get out gracefully!
Do you really have the first dollar you ever made? Is it framed and if so what were you doing when you earned it?
Asia Carrera - ROFL!! Who said I still have the first dollar I ever made?? that is too funny! No, the first dollars I ever made were invested in Latin America mutual funds right before the Latin American market tanked, taking 75% of my money with it. And half of my retirement savings got wiped out during the market's recent tech collapse, so while I DO have money stashed away, it is unfortunately not as much as I would have liked.
You won AVN's Performer of the Year in 1994. Should you have won it that year or do you think you have had better years since then? If so which one and why.
Asia Carrera - Hmm. Y'know, I still wonder to this day why I won that award in my very first year. I am glad I did, because it looks nice on the old porno resume', but I must say I do kinda agree with Tammi Ann's take on it at the time: "How could Asia Carrera have won? She does not even do anal!" LOL – she was right. I do not think I have ever been 'out there' enough to win an award that has gone to screen nymphos like Debi Diamond and Bridgette Kerkove!
Was the contract with Vivid Video a mistake? Why or why not.
Asia Carrera - No, it was not a mistake, because it validated my status to the industry as an A-list girl, even though I was a minority, and for that I will always be grateful. However, once I learned the ins and outs of the industry (no pun intended, hahaha!) I found that I could do more for my career on my own, because Vivid always had so many other girls besides me to promote. As a free-lancer I can choose to be in all the biggest movies for all the biggest companies, and reap the P.R. benefits that come with such, but I can also own my own movies, have my own web site, and make all my own decisions without having to answer to anyone else. I like that.
Are you still hoping for that best actress trophy? Do you look at a project with that in mind?
Asia Carrera - Yeah, it is irked me over the years to see girls win "Best Actress" when I knew they could not really deliver a line with Domino's helping them. But that is one of the downsides of being a freelancer – the contract girls will always get the big leading roles, and the freelancer will get the supporting roles, and that is just the way it is. I never even got nominated for "Best Actress" until I wrote a script and shopped the project around and guaranteed myself the lead role! ("Appassionata") After that, plenty of good roles came my way, but I definitely had to open doors for myself first!
You have supposedly always claimed you can't cook so you won't get stuck "slaving away over a hot oven". Do you really believe that there isn't thousands (if not millions) of men that would kill for the chance to cook you dinner?
Asia Carrera - Well yeah, why else would I get away with being such a brat? LOL!!
You starred in a couple of Fetish movies based on books written by Anne Rice (Beauty's Punishment and Beauty's Revenge from Bizarre Video). Are you a fan? How do you feel about bondage in movies and bondage in private?
Asia Carrera - I shot all those S&M movies at once, during a week in New York shooting for Bizarre. We did 2 movies a day for 5 days, so I definitely do not remember which title is which. But I had fun, except for one bondage scene that did not work out so well – they tied me up and much to my own surprise I started panicking! I begged them to untie me, and they said "Let us just shoot this Polaroid…" and I promptly burst into tears on the set! So I have never attempted any sort of bondage stuff since, either on set or at home!
You said in your bio that porn is better than the streets but is it the lesser of two evils or something else?
Asia Carrera - This industry gave me opportunities I never would have had otherwise as a teenage runaway. I owe everything I have to this business, and I will always appreciate that. Where else could a naive young 19-year-old get paid so much to do so little, gaining fame and fortune in front of the lens, while learning directing, producing, script writing, makeup, lighting, set designing, and a million other things in the process! Ok, this industry may not be for everyone, but it certainly worked for me!
In an interview you did with Don Lemmon he asked you for three jokes and every one you told was religious in nature. What is your opinion of organized religions and why?
Asia Carrera - Ooooh… you do not wanna go there… I am such an atheist it is not even funny, and I will punch holes into any religion of you give me half a chance. I think it is sad that people in this day and age can still be bamboozled into believing in "Holy Ghosts" and "Angels in Heaven" and the like. Everyone laughed at the Al-Quaeda idiots who believed they'd be getting 70 virgins when they got to heaven, but cripeys, Christianity looks just as silly to people of other religions! http://www.asiacarrera.com/atheist.txt
| | | | |
| --- | --- | --- | --- |
| Performer Profile | 1 2 | Previous | Next |