The Temp (Adam & Eve Pictures)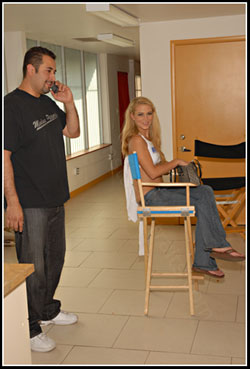 It is 10:30am and we are fairly certain there has been a miscommunication with the studio. Call time was 10am with the first scene at 11am and we are outside waiting for the studio to be unlocked by the owner.
While waiting Mischa introduces me to Andre Madness who is directhing this movie. Once the studio is open Andre takes me around and shows me the sets we will be using and explains the main premise of the movie.
While Andre goes to get set up for the first scene I talk briefly with a new girl in the industry, Ms. Kayla Synz. Kayla is a little older then your average porn newbie but as her scene with Lee Stone later shows she can make up for that. I do not think anyone told her how big Lee actually was but she handles it like a pro right up until Lee grabs her and flips her upside down into a standing 69. She lets out a little scream but is quickly back to the business at hand. Unfortunately this was but the first of many acrobatic movements and before the scene is over they have to stop shooting long enough for Kayla to take the extensions out of her hair since Lee was literally fucking them loose.
While the first scene is going on Sophia Lynn and Cayton Caley arrive on set. They did a girl-girl scene the day before and Cayton is here to do some dialogue scenes today. Sophia is doing a boy-girl scene today as well as entertaining some members of the "mainstream entertainment industry" who will be on set later this evening. They are trying to get Sophia's sex scene done before then so she can be ready.
While Sophia takes her turn in the make-up chair I follow Cayton into the kitchen where I overhear the following conversation:
Cayton - What do you have to eat.
Crew - We have some homemade chili. It is really good.
Cayton - That is gross. It is too early for chili. Though the chocolate cake looks really good.
??
It is later explained to me that there is no such thing as "too early for chocolate" as far as most women are concerned.
Next I am introduced to Sophia Lynn (Adam and Eve's New Contract Star). What follows is a rather interesting series of conversations about porn, religion, feeding the homeless and just life in general. All of this was discussed between smoke breaks and trips to the make-up chair to get ready for her scene.
By the time I get the interview completed it is already past time for the "mainstream" crew to be on set and they have not even started Sophia's sex scene yet. I stay long enough to get some "pretty girl" shots of Sophia then I thank Andrea, Sophia and Mischa for putting up with me and head for the door.
Movie Information -
Cast - Sophia Lynn, Kayla Synz, Cayton Caley, Lee Stone (for today's shooting schedule)
Synopsis - Sophia Lynn is running a temp agency for male assistants and when times get tough she starts using her male talent to take care of "all" her customer's needs.
Release Date - TBD