Sophia Lynn - Church Lady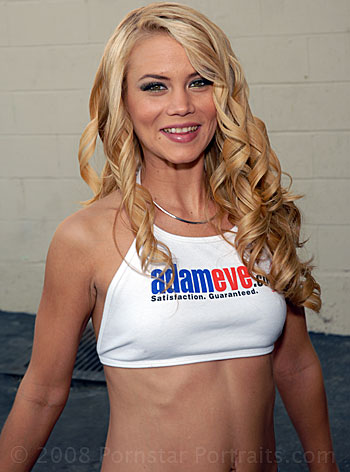 We are here today with...
Sophia Lynn - Sophia Lynn
You are the new contract girl for?
Sophia Lynn - Adam & Eve.
Single?
Sophia Lynn - Thank GOD!
We are on the set of?
Sophia Lynn - The Temp
Who do you play in this movie?
Sophia Lynn - I am Margo the sassy business woman.
What is the plot of this movie and how do you fit into it?
Sophia Lynn - I am running a temp agency and when business hits a little lull I go to my sorority sisters for a little help and start placing temps for other reasons. And I have an arch enemy from another temp agency named Mr Randall who runs the Randall Agency and I put him in his place and let him know how things are going to be. I use my feminine ways to seduce him and record it for his wife if he does not behave.
So totally out of character for Sophia Lynn?
Sophia Lynn - Well maybe not totally. I am very persistent. I do not know the word "no" so maybe not so out of character.
How many sex scenes do you have in this movie?
Sophia Lynn - I have two scenes in this movie. Both are boy-girl. One with Steven St. Croix and one with Marco.
What type of music do you write?
Sophia Lynn - Mainly like Janis Joplin like rock to country.
What are you working on your general contractors license for?
Sophia Lynn - For residential development in Florida hopefully. Condominiums, mix use parcels, residential, commercial.
Tell me about your first movie for Adam & Eve?
Sophia Lynn - It is called Big City Nights. I just recently did it. Small town girl goes big city, go figure. I got to wear my Elle May outfit as we called it. It was really cute. I was in pig tails and everything.
Have you done any fetish work?
Sophia Lynn - I will do some fetish work. I like it. It is kind of cool.
What kind of fetish?
Sophia Lynn - I don't know.
:)
Sophia Lynn - I am really new. Be nice to me! (with a little pout on her face). Like I do not really have any fetish's really.
So you have never tried any bondage or anything like that?
Sophia Lynn - No bondage is really cool but I have not really gotten to try any one set. The cute blonde really is not the one in the bondage gear dominating everyone.
You could be the submissive.
Sophia Lynn - That I could do. That I would be really cool with. But I have not yet.
In your personal life?
Sophia Lynn - Yeah a little bit but not too much. The really light stuff you can hide really quickly. You do not want your family walking in and seeing nice leather straps and stuff. That is not cool.
I take it you have not seen those episodes of the Family Guy?
Sophia Lynn - Oh my Gosh, :) I have seen some of them. They make me laugh hysterically.
You grew up in Florida. What was that like?
Sophia Lynn - I grew up on a farm originally and I loved it. I am a Southerner.
What did you raise?
Sophia Lynn - We did everything from cattle to chicken to turkeys to pigs.
Did you have to milk cows growing up?
Sophia Lynn - I did have to do that occasionally but not too often. I was lucky in that respect being the "girl".
Your brothers had to do it?
Sophia Lynn - No, my Dad and Uncles' mostly. But I did have to get up and feed them at 6 in the morning. Sometimes 5.
So explain this transition: Sunday School Teacher, EMT, Med School, Model, Porn.
Sophia Lynn - I got a divorce. I was working at a Law Firm and I was working 60-80 Hours a week and I was just not at home with my child. So I quit the Law Firm and then I started doing legal work for the Development that I still do work with back at home. The problem was is that I was doing Federally regulated stuff and the problem with the government is that you can not rush them. As much as I love them you can not rush them. So I wound up doing some glamour modeling. You know, lingerie, swim wear stuff. My manager at the time basically, because I was not getting money regularly at the time and I had a child to support and bills and things like that. So I wound up taking an offer for a scene that he made me that was supposed to be a one time deal but ended up being a lot more than that. So that is how I got into it.
Did you do any research prior to making that decision or did you just jump right in?
Sophia Lynn - I was only supposed to come out ...I had talked to the person who I had done the scene with and he gave me a lot of great advice. About tests and stuff like that. Because I knew nothing about the industry. Absolutely nothing. He gave me a lot of great advice and within about a week after that he sent me to California and I met Derrick at LA Direct and I was only supposed to be out here for a week and it turned out to be much longer than that.
So your first scene in Florida went well?
Sophia Lynn - Yeah it was for internet work. It was a POV so it was kind of like being alone but not really. The guy was really great though. He helped me out a lot and I probably would not be here right now if it was not for that. My parents probably want to beat him in the head for that though.
Did you plan on your parents finding out?
Sophia Lynn - I did not plan on my parents finding out when they did. But they did. They are actually... surprisingly because they are Christian and I thought they would have a really bad attitude and hate me. They went through the "why me stage" and then they got to the "Alright, you are our daughter and we love you and support you no matter what you do.". So they are really supportive and that is cool.
How sexually active were you growing up?
Sophia Lynn - Not at all. Get this I had slept with seven people before I got into the porn industry. Isn't that amazing now a days. People are like going 45 and I am going seven.