Stiletto (Wicked Pictures)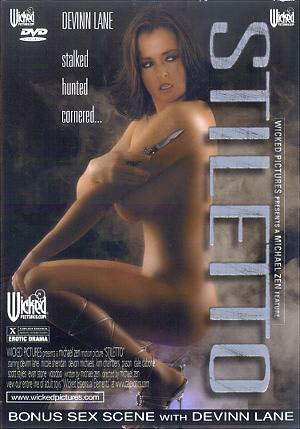 Cast: Devinn Lane, Nicole Sheridan, Kim Chambers, Pason, Devon Michaels, Evan Stone, Dale DaBone, Voodoo, Scott Styles
Directed by: Michael Zen
Written by: Michael Zen
Release Date: April 14, 2004
I arrived on the set of Devinn Lane's latest Wicked Pictures effort to be greeted by Devinn, Brad Armstrong and Laurent taking a break in the garage. Laurent, as usual, immediately commenced giving me a hard time for always showing up on his sets. Devinn on the other hand is telling everyone about her recent trip to Jamaica and how she got stung by some jelly fish when she went swimming. To prove her point she opens her robe to show everyone the stings. Which also reveals she has nothing on. I love my job.
Stiletto is the story of a porn star (Devinn) who is doing a movie about being stalked while she is being stalked in real life. While this sort of dramatic role is nothing new for Devinn her other role today is and that is the Producer. Devinn is going to be very busy today as she is in every scene as well. After her short break she checks on the status of Voodoo's make-up. He is still in the chair and is going to be in drag for a lot of today's shots. I watched them briefly shoot a nude dialogue scene with Devinn in the bedroom before everything is moved outside to shoot some stuff in the driveway as well as some actual car shots on the road. The car segment provided some excitement as Devinn almost got in an accident when a car ran a stop sign as she was turning into the driveway.
Even though Devinn was very busy she was gracious enough to forgo lunch so I could grill her about her latest project as well as things in general.
After lunch Devinn, Nicole and Voodoo start shooting the climax of the movie where Devinn finds out who is stalking her and sex ensues. While Voodoo looks better in drag then most people Devinn still can't help but laugh during a few takes when he flashes her. Then there is also Nicole giving her husband pointers on how to act like a sexy woman. This is my first set with Nicole and Voodoo and I must say I am very impressed with the level of professionalism that they both display. It takes a while to get all the shots necessary for the scene to work but we finally reach the point when Devinn can say "Are we having sex yet?".
Right before the sex starts Heidi Pike-Johnson from AVN stops by to cover the set as well as interview a group of Devinn's fans who asked to visit one of Devinn's sets in exchange for a donation to her favorite charity. So A.I.M. got a sizeable donation and a group of fans got to watch Devinn have sex. After the photographers are done shooting all the single girl stuff we finally get down to Devinn having sex with Voodoo and Nicole.
Though anyone who says porn isn't dangerous didn't see Nicole almost fall over the back of the couch as they are performing oral sex. Then there was also the humor of watching Voodoo embarrass Heidi because he is talking dirty to her as she is trying to take his picture.
Unfortunately I have to leave before they get into the actual sex but it has been a very interesting day none the less.