InterNeXt 2005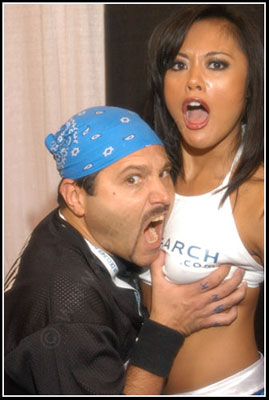 KSEX D.J. assaults Wicked Contract Star!!
Security forces at the 2005 Internext in Las Vegas were called to escort KSEX disc jockey Wankus out of the area after he lost control of himself and attacked Wicked contract star and fellow KSEX disc jockey Kaylani Lei.
Wankus was dragged from the hall after several guards were forced to pry him off of the beautiful asian star and was overheard repeating again and again "Me So Horny! Me Luv You Long Time!".
Sources close to the popular radio disc jockey said that the episode was probably brought on by stress, lack of sleep, alcohol and a complete lack of connection to reality.
Wankus was back on the floor the next day apparently no worse for wear and a little more subdued. Which may have something to do with, as one person remarked: "How quickly you can get prescription drugs over the internet."
Follow-up Report: Assault @ 2005 Internext