International XXX Star Tanya Tate
To Make USA Signing Appearance At eXXXotica LA!
For Immediate Release: July 7, 2010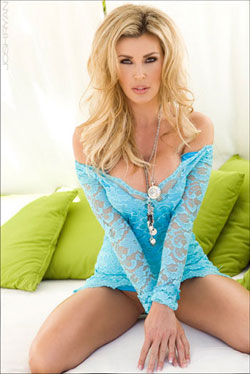 "Porn Queen" Tate will also be presenting at The 2010 F.A.M.E. Awards.
(Hollywood, CA) Adult entertainment superstar Tanya Tate (www.TanyaTate.com) makes her eXXXotica Expo (www.eXXXoticaExpo.com) debut this weekend. For Tate, the last month has been a roller coaster ride. News broke that her starring series for Television X, "Tanya Tate's Sex Tour of Ireland", featured one of Ireland's hot up and coming pro athletes in an intense sex scene with the Liverpool born beauty. The sex scandal made the front page of papers like Sunday World - Ireland and The Irish Sun, while news sites and blogs blazed headlines like "Greg Jacob, Tanya Tate Sex Tape." The incredibly popular Irish site, www.Joe.ie, hailed Tanya a "Porn Queen." This weekend the multi-award winning Tate makes her triumphant return to Los Angeles for a special signing appearance at eXXXotica L.A. Held in downtown Los Angeles at the L. A. Convention Center, the eXXXotica L.A. expo will feature virtually all the biggest stars in American adult entertainment. Tanya will be there appearing at the Fantasy Island booth.

"I've wanted to attend an eXXXotica show since I started in the Adult Industry," said Tate. "This is very exciting for me. I look forward to meeting all my American fans!"

Tanya will be signing autographs and taking pictures with fans as well as making available her latest DVDs mega-hits. DVDs titles like Cheating Housewives 7 from Smash Pictures and the superhero/sci-fi epic from Television X, Powergirls. Powergirls features an incredibly intense sex scene from Tate in a Predator inspired armor as "The Huntress" that is sure to be remembered come award season. "If it was me underneath the mask, Arnold Schwarzenegger's movie would have had a very different ending!" laughed Tanya. "For fun, people should watch my scene before going to see Predators this weekend and let me know how my hunting techniques compare." The trailer for Tanya's Powergirls scene can be found on-line HERE: http://www.youtube.com/watch?v=kA_19qqks5o

Tanya will also be a presenter at the 2010 F.A.M.E. Awards. The F.A.M.E. Awards (Fans of Adult Media & Entertainment) will take place Saturday night at eXXXotica and showcase the fans' choice in porn. "When asked if I would present at the F.A.M.E. Awards, of course I said 'Yes'!" exclaimed Tate. "The idea of standing on stage among the biggest and hottest adult stars in The States, is very thrilling." The F.A.M.E. Awards begins at 8pm on the eXXXotica L.A. main stage. Fans attending eXXXotica are welcome to watch Tanya present as well as take pictures of the blonde beauty as walks the F.A.M.E. Awards red carpet.
Meet "Porn Queen" Tanya Tate this weekend as she makes her exciting debut at eXXXotica! Then watch the sexy star as she takes to the main stage as a 2010 F.A.M.E. Awards presenter!

About Tanya Tate:
Being one of the top Adult Stars in England & Ireland wasn't enough for sexy blonde Tanya Tate. The multi-award winning star has made the leap "across the pond" and has began to make her presence felt in the States with her scorching hot sex scenes that made her a popular performer in the U.K. While Tanya has only been in the U.S. a short time, she hasn't actually been in adult entertainment that much longer. The Liverpool born beauty made the transition into porn only a year and a half ago. The former office worker decided on a whim that she wanted to spice up her life.
From her first sex scene shot, Tanya has been in high demand from both reviewers and fans alike. While Tanya had been already receiving an abundance of press, it was her "Tanya Tate's Sex Tour of Ireland" for Television X that propelled her to the front page of English and Irish news papers. The video series featured Tanya in a wild romp with one of Ireland's pro-athletes. Leading to headlines that rocked news sites and blogs with the scandal.
Testament to Tanya's sensual and exciting sex scenes, earlier this year she was nominated and won two British SHAFTA adult awards. Tanya took home trophies for Best Sex Scene (for her exciting performance in Mummy Mia) and MILF of the Year. Since Tanya's impact has been felt in America with nominations in the F.A.M.E. Awards and NightMoves Adult Entertainment Awards.
Tanya Tate is unstoppable! From England to Ireland, now to the U.S., Tanya Tate is on a rocket ride of success.
Tanya Tate can be found on www.TanyaTate.com and Twitter.com/TanyaTate
For more Tanya Tate, please visit the Tanya Tate network:
www.TanyaTate.com
www.TanyaTate.com/blog
www.myspace.com/TanyaTatexxx
www.twitter.com/TanyaTate
www.VoteTanya.com
www.BookTanya.com
To interview Tanya Tate for your Website or Publication;
Please contact Alexander (Monstar) Raymond

Alexander@TheStarFactoryEnt.com

A press release by
www.TheStarFactoryEnt.com