Sunny Leone Wins Top Honors For Her Spectacular Set
For Immediate Release: July 16, 2010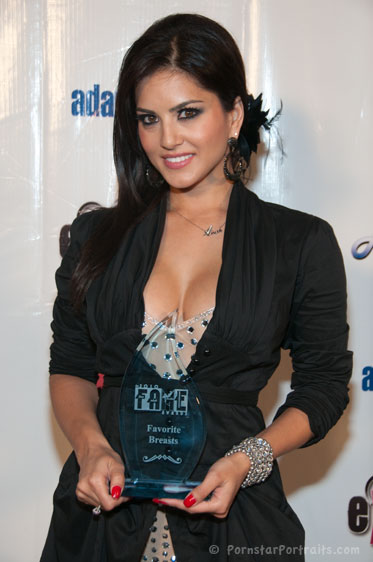 ( LOS ANGELES, CA ) - Adult entertainment superstar Sunny Leone was on stage hosting the 2010 F.A.M.E. Awards last weekend when she got some unexpected and wonderful news. Voters in the fan-based awards chose Sunny over a collection of some of the most beautiful women in the adult industry. Proclaiming she has the most bodacious boobs in the "Favorite Breast" category.
"I am flattered and honored by this award," Sunny remarks. "It was totally unexpected! I was happy to be nominated with these incredible women. Check out the list. There are some incredible boobs there. I would be happy to let my girls spend some time with the other nominees!"
The fans have spoken and they have selected Sunny's breasts as the very best in the business!
In addition to continued her success at the F.A.M.E. Awards, Sunny will be in Chicago this weekend for the Exxxtacy Show 2010.
For more Sunny Leone visit her at http://secure.sunnyleone.com/track/NzE2MC4zNS4xLjEuMC4wLjAuMC4w/

About Sunny Leone
Sunny Leone's adult entertainment pedigree is second to none. Since 2001 she has gone from top erotic model to one of the most popular adult film stars on the planet. Sunny has graced the pages of the biggest adult magazines from Penthouse to Hustler from Swank to High Society. She has also adorned such mainstream publications as FHM, Front and Jane Magazine.
Since making the jump to adult films, Sunny has risen to the top of her craft in no time. She has starred in huge hits from Vivid like Sunny in Brazil, The Sunny Experiment, Sunny Loves Matt and the award winning Virtual Vivid Girl Sunny Leone. Securing her status as a cross over sex symbol Sunny starred last year in My Bare Lady 2 on Fox Reality and has appeared on MTV, E Entertainment and VH1. She will also star opposite Will Farrell in a feature film due in theaters June of 2010.
About SunLust Pictures Inc.
SunLust Pictures was founded by superstar adult entertainer Sunny Leone in 2008. Distributed by Vivid Entertainment, Sun Lust Pictures productions reflect their president's attributes, focusing on high glamour, beauty and passionate sex scenes.
Follow Sunny Leone @
Sunny Leone Movies @
All Media Inquiries or To Schedule Interviews Please Contact:
April Storm
Director of Public Relations
Versatile Media Group, Inc.
Office: 818-736-8348
Email: AprStorm@aol.com
AIM: AprStorm