Girlsfriends Films' Contract Star Prinzzess Felicity Jade Named 'Treat Of The Month' By Twistys.com
For Immediate Release: August 6, 2010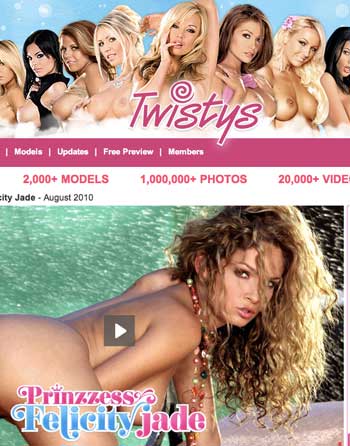 Twistys.com Showcases Prinzzess, Star of Girlfriends Films' Pin-Up Girls & Women Seeking Women, to Two Million Viewers!
August 6, 2010 --- RESEDA, Calif. --- Prinzzess Felicity Jade, exclusive contract star for Girlfriends Films, was announced as August's Treat of the Month by highly trafficked website Twistys.com. In the month of August, Twistys.com is featuring the stunning Prinzzess in a variety of photo galleries and solo videos showcasing her all-natural beauty. Drawing in over two million unique viewers per month, Twistys.com is one of the most visible adult websites in the world. After guests of Twistys.com are done admiring the photos of Prinzzess, they can find her passionate lesbian sex scenes in bestselling series from Girlfriends Films, like Pin-Up Girls, House Hunters and Women Seeking Women. Girlfriends Films Vice President Moose says, "I'm really happy for Prinzzess and the exposure she will receive as the Twistys.com Treat of the Month. We made Prinzzess a contract star due to her enthusiasm, beauty, sex appeal and work ethic. She brings a superstar quality to our movies that the two million fans of Twistys.com will now experience."
To see Treat of the Month layouts featuring Prinzzess, visit www.Twistys.com.
View trailers of Girlfriends Films' movies starring Prinzzess.
Prinzzess exclaims, "Thank you so much to Twistys.com and its members for selecting me as the August Treat of the Month. I had so much fun shooting for them. If people enjoy me at Twistys.com, then they will really love watching me lick and grind on hot girls in my Girlfriends Films movies!"
Critics have long been celebrating Prinzzess' performances for Girlfriends Films. AVN's Ben Atrophis dubs Prinzzess a "superstar". XCritic.com reviewer Apache Warrior says Prinzzess "sizzles on screen". Prinzzess "grabs viewers' attention immediately" becoming "carved into the viewer's mind." AdultDVDTalk.com reviewer Mstrhole writes, "Prinzzess is always fun to watch. She's so cute when she cums…Prinzzess is Prinzzess, and that generally means a lot of heat."
About Prinzzess:
The angelic Prinzzess was raised in South Florida, but grew up in an Amish Community on a farm in Belize where her parents were missionaries. She's part Cherokee and Seminole Indian, with some Honduran and Hungarian blood. Slim and sexy, Prinzzess is blessed with the ageless body of an 18-year-old. Prinzzess got her start in the entertainment industry by posting some mainstream photos on a popular modeling job site. Needless to say, the offers came rolling in for various modeling jobs, but she felt most comfortable posing nude. Making the step to Girlfriends Films contract star was an easy transition for her—one launching her into the elite ranks of the adult industry.
Get Prinzzess' Films @
About Girlfriends Films:
Girlfriends Films was created to provide realistic lesbian-sex movies for discerning viewers who demand the best. The studio's combination of gorgeous performers, talented directors and aesthetic focus allows for Girlfriends Films to continuously produce best-selling movies appealing to both men and women. Girlfriends Films received AVN's Best All-Girl Series award the last three years running and remains "The Most Downloaded Studio" year after year on Hot Movies. For more information, visit www.GirlfriendsFilms.com and www.Twitter.com/GF_Films.
Girlfriends Films Movies @
For more information please contact:

Moose