Alexis Texas On The Set of
Reality Blue's Superstar Showdown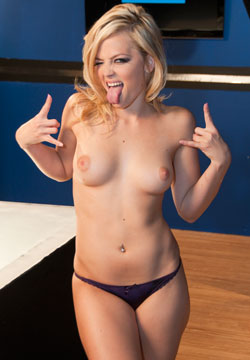 How is your feature dancing going?
Alexis Texas – Really well, I have been doing it for the last year. I have had so much fun. I have gotten to travel all over. I actually am getting to go to Puerto Rico in October which i am really excited about. I am performer at heart. I love getting up in front of a crowd of people and being an entertainer. I getting into the make-up and costumes. I just love the traveling and meeting new people. I minored in sociology in college so I find all that very interesting.
I don't know anyone who has featured in Puerto Rico before. Where are you going down there?
Alexis Texas – I am going San Juan to a club called Lips. Belladonna went down there last year.
Has any of your fans brought you your ass mold to sign yet?
Alexis Texas – No because it is not out yet. I did do the molding for Doc Johnson but I am not really sure if the deal is all sealed or exactly what is going on with that. But I did do the molding. That much is done.
How was that experience?
Alexis Texas – It was totally crazy. It was obviously something I have never done before. It was a lot harder then it looks. I had to literally be on my knees with my ass in the air for 20 minutes and not move because it would mess up the mold. And this big booty weighs a lot so it was really hard to stay still for 20 minutes. I was so afraid I would move, screw it up and have to start all over again. But it was really fun. Lexi Belle was there with me so it was a lot better having someone there with me then being all by myself.
Did you watch the YouTube video of you getting your ass molded?
Alexis Texas – Yes, I did it was quite entertaining. I am sure my fans got a big kick out of that.
You received some recognition at the F.A.M.E. Awards this year.
Alexis Texas – Yes I did, I won Favorite Ass. I was very happy about that because I had never won an award by myself so it was fun to have something that is not part of a movie or something. It is for something that is just for me.
Now you have been nominated for that at NightMoves as well, correct?
Alexis Texas – I have been nominated but I have not actually won one before.
What do you have coming up?
Alexis Texas – I have a movie for Hustler called Alexis Texas Superstar. I did 3-4 scenes with performers I had never done scenes with before like Misty Stone and Andy San Dimas which are some really great performers who I was really looking forward to working with. I also did a film for Harmony Films called Nymphomanic: Alexis Texas that should be coming out soon. It was basically a showcase of very sexual things. I did a DP with a girl using a strap-on which was quite different. It was interesting to say the least but quite different. I always have my website going on. I update my content every other week.
Were you the one being DP'ed by the two girls?
Alexis Texas – It was only one girl using a double-strap on thing. That is why it was kind of interesting.
You don't normally do DP's.
Alexis Texas – No, no I have NEVER done something like that. I will also say it was more of an "attempt" we also brought in a male performer to so it was also more sex. But it was fun. I like trying new things and pushing myself to what I know my limits are.
Both you and Tori are fairly "new" to the anal game. How is that going for you?
Alexis Texas – I love it. I don't it as often as Tori does. The more scenes that I do it in the more I enjoy it and I learn how to really relax and be my sexual sex. My first Buttwoman movie two years ago was the first time I had ever even tried to do it so it is still very new to me and I am a bit of a control freak so if I don't know how something is going to feel I tend to freak out even when I shouldn't. But it was totally nothing like I expected. I should have done it sooner. It is all about relaxing. Being comfortable in your own skin and just trusting your partner.
There are several impostor Alexis Texas sites all over the social network, can you give us the right address'?
Alexis Texas – There are several impostor sites which I find rather silly but whatever.. My Twitter one is Alexis_Texas, MySpace is myspace/therealalexistexass. I don't have a Facebook one so all the Facebook pages are fake.
Do you have a YouTube Channel?
Alexis Texas – I do have one but it is through my site so I am not sure of the address to be honest. I am through the Premium Pass network so I am not sure if the YouTube channel is through them or it is just me.
What can your fans expect to find on your website?
Alexis Texas – What I love about my site is that because I travel so much I film everywhere so my fans get to see a backstage view of what is really going on. It is very personable as well. I bought a house two years ago and I have incorporated that into my site as well so they don't just get to see me on a stage or in a studio. I think overall it is just more of who I really am and how I am in my everyday life.