jessica drake - FUCK to Manhunters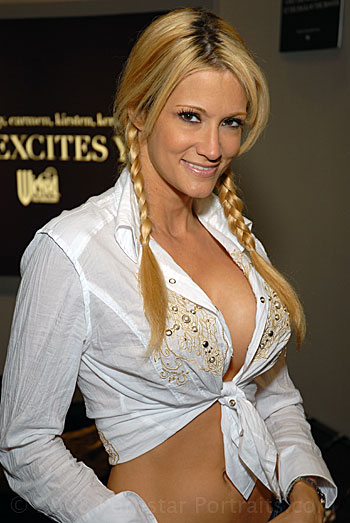 I wanted to talk to you about your upcoming project that is getting a lot of buzz already even though principle shooting has just completed. The current title of your project is?
jessica drake - Actually there are two. Both of them are shot on film and strangely enough neither of them is actually what you would call "My" movie. The first one I am going to tell you about is called Fuck and it is directed by Brad Armstrong. It is an all sex vignette that kind of follows in the steps of The Collector or Sold only the scenes are much more theatrical. In one of the scenes I am a very high tech robot. Eric Masterson as the mad scientist who created me. We had a very good time with that because we painted Eric's hair bright white. I was also saran wrapped from head to toe. Actually from neck to toe. And we literally took all day to shoot the one scene. It was really cool. I think it turned out really well. In another scene for Fuck I did it with Felecia, Katsumi and other really hot chick that is foreign and I forgot her name. But I am a doll. We are all dolls. But I am more the puppet master. I am up on a 15ft ladder and my skirts are covering the ladder and the chicks come out from under my skirt and we have some really dirty sex in it. And I must say between Katsumi and my level or horniness that day...Oh my God. I love Katsumi she is my new all time favorite.
The other project we literally just got done shooting is called Manhunters. Manhunters is based on real life experiences of bounty hunters; not just female bounty hunters but bounty hunters in general. To prepare for this movie I actually received certification. I am a certified bounty hunter. I took a course in fugitive recovery and another one in strategies of surveillance. I also did a lot of physical training. We actually did a lot of physical training as a whole. It was myself, Carmen Hart, Kirsten Price and Exotica. There is a lot of action in this one and each of us basically get's our own moment to shine. Kirsten did a great thing in a karate do jo, Exotica did a thing on the basketball court and Carmen was just Carmen ALL the way around. But Carmen had some action sequences as well. It was really hard. I would go on record and it was probably the hardest movie I have ever done. As you can attest I still have scrapes and bruises all over me. I was taking a really big chance wearing a skirt today because I am all banged up.
When is Fuck coming out?
jessica drake - We expect both Fuck and Manhunters to be released in September to be eligible for the AVN Awards.
I noticed during my interviews today that when the subject comes to you and scenes the phrase DP seems to be used a lot. Which is kind of a change.
jessica drake - I have been doing it for 2 years, where have you been? All of that started with The Collector. I think The Collector was really a pivotal movie for me in my career as well as my time here at Wicked. I was coming out of a relationship that was very prohibitive and it was really dictated to me the things I could and could not do. Now it is not really a matter of striking back because I am not doing EVERYTHING it is not a matter of I am going to do something to show somebody or upset them. I just get a chance to really do whatever I want to do now. I can handle my career as apposed to letting someone do it for me. It is just a matter of exploring what I wanted to do sexually all along.
I was watching some of the Behind the Scenes and Mark Stone was trying to shoot you and you started giving him a little speech about how he should know better then to shoot you without make-up on.
jessica drake - (jessica laughs) YEah we definitely have had words before. Mark Stone is very quick to jump on me like the second I get out of my car. Before I have had my cup of hot tea and danish or anything for the day and all of a sudden he is right in your face. Just like that. I give him a talking to. I tell him he is intrusive. I tell him I do not go over and poke my bits into his work, I tell him all kinds of stuff. Sometimes he listens and sometimes he doesn't. I think he is very happy with some of the footage he got from Manhunters because I did all kinds of things especially to Kirsten which we can't actually talk about.
So are you trying to take the title of "lofty" from Stormy?
jessica drake - I am the same chick that got into this business almost six years ago who just loves to fuck. And I have found that when I am happy in my personal life the way I have been the last few years it just comes across so much better on camera. But I really.. I know where I came from. I think I am extremely fortunate to be here. I don't think that ...a lot of people say don't forget the little people. I don't think there are little people. That is the whole thing. There are no little people. And all those people you cross on your way up that big ladder are the same people you are going to run into on the way down. I always keep that in mind. So "lofty"...Not me.
What are you doing with your featuring? I have seen some stuff about you doing appearances but not much on you featuring.
jessica drake - Well not a lot. I have been concentrating on shooting movies and getting ready to direct. I am starting to do all that.
Oh? Now there is something I did not know.
jessica drake - It has been in the works for about a year and a half now. I just don't want to do it until I understand every aspect. So basically I have been doing my homework. As far as featuring I did a thing with Carmen and Julia Ann in Baltimore and I had a lot of fun doing that. It was a Wicked Showcase. We each performed separately and together. It was an event I really look forward to but then it was time to come back home and focus on shooting and preparations for all that. I had a physical trainer to work with in order to get ready. As far as directing goes I just re-negotiated my contract with Wicked because my first three years were up and we had talked about directing before but I did not want to jump on that bandwagon. I want to think my projects out long term. I want to be sure I understand everything. I do not want to be the chick behind the monitor who just goes "Oh I don't like it. Fix it". I want to be the chick that goes hey lighting guy move this light over there to get what I want. I want to understand lighting. I want to understand camera. I want to understand editing. I want to understand all of it so if something goes wrong I have the ability to fix it. But I am doing my first project sometime this year. I have written a couple but then I also wrote a couple way back for Sin City. There is also some stuff I have been sitting on I also directed a couple before I signed for Wicked for a couple of different companies. So we will see what happens.
For your first movie do you think you are going to go big or are you going to go small?
jessica drake - I think I am going to go small to medium. There is no sense in me taking on so big extravagant project that I have no idea how to complete. You know. Really I want to start from the ground up.
Script with acting or more a vignette style?
jessica drake - I have always said I would go vignette. I have always said that. But in light of a few scripts that I have written that people have read. They are really interested in me directing those movie so I might have to do that on a per project basis and maybe have my own line.
Is there anything else you would like to talk about?
jessica drake - Yeah actually and it is kind of a downer. Asia Carrera lost her husband. He passed away on the June 11th. His name is Don Lemmon and he was a big fitness guy. Asia is about 8 1/2 months pregnant and has a 1 year old little girl. So I would just like to take this opportunity to plug asiacarrera.com. Obviously she is in a really bad state of mind right now. I sent her as much as I could. Wicked is going to help her out a little bit. She keeps an on-line diary and if you can read that and not donate and still feel comfortable with yourself then I would be very surprised. The industry got a lot from her and I would just like to help her any way I can.