Carmen Hart - Southern Hospitality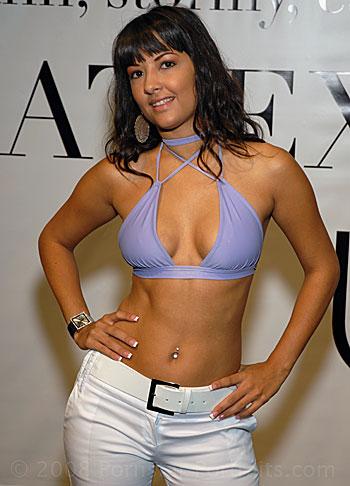 Carmen Hart - Great no video.
No. No video. You can sit here and dose off and no one will know. Okay we are here with Miss...
Carmen Hart - Carmen Hart
You are the latest Wicked Contract Star.
Carmen Hart - Everyone keeps saying that but it has been almost a year.
That is true but you are still the newest one of the group.
Carmen Hart - No, me and Kirsten were signed at the same time but everyone seems to think that I came later for some reason.
So you are not the newest.
Carmen Hart - Nope.
You are Native American but what part?
Carmen Hart - 100%
No. What tribe?
Carmen Hart - I do not say. If I told you it would take you right to my home town. Not that I am embarrassed or anything they just do not need any attention from me.
You never did a scene in someone else's movie at Wicked before signing with them?
Carmen Hart - No when I signed with Wicked I had never really done anything. We put together three movies with New Sinsations and Adam & Eve just to give me some experience but they never even watched them. They were not out yet when they signed me they were done and I signed in the very same week.
You have a web site?
Carmen Hart - Yes, it is www.carmenhart.com. It is down at the moment but it will be up again shortly. We are redoing it.
Are you making it more "wickedized"?
Carmen Hart - Not necessarily. It was too girly the way it was and it was a year and a half old. It was nothing I really wanted in a web site. The web master I had was not working out so I got rid of him and we are re-designing the site.
I have been told that Wicked Pictures is a concept that not everyone can understand or contribute to. How will you contribute to the concept that is Wicked Pictures?
Carmen Hart - Well it is very simple. I look at it this way. It is basically employer/employee. They pay me for my services and in return I give them what they pay for. All I can do in turn is more so give to myself rather than give to Wicked. Because I want to do these movies for me. For the purposes of AVN and being established as a good adult film star. Wicked Pictures as a great company helps me get there.
What movies have you done for Wicked so far? I found one list that said 7 but can not find that many with you.
Carmen Hart - Gossip, Rendezvous, Honky Tonk Girl, Becoming Carmen Hart, 1,000 Words, Naked Illusions, Made in the USA and Manhunters. So 8 at the moment.
You have said you didn't plan on being in the adult business. You even have a Masters in Business Marketing? So what did you plan on doing? (ADE Interview)
Carmen Hart - I have a Bachelors in Business Marketing. I did not really make any definite plans. I graduated high school when I was 16 and went straight to college. I worked in an attorney's office. Had my own office at a bank when I was 18. I did all that and it did not pay the bills so I wanted to do something that made me money. I started stripping to have more time to myself. From there I saw Exotica come in and feature. That is the next best thing. I was like "Wow, what is she." They said men's magazines so I applied to all those. Got lay-outs in all the magazines became a feature. And then I met Brad and jessica, which is the Next best thing. So they were like "Hey, become a porn star with one of the best groups in the business." And I was like "Hey, cool.". Now, it is not like I am looking for the next best thing but I will strive to do the best I can in what I am doing now.
You have also said if it wasn't for a contract you probably wouldn't have stayed in the business doing gonzo work. Why is that?
Carmen Hart - If porno has a level of class in it then that is the level I want to go with. Before I was ever in the business I had met Carmen Luvana who is also a contract girl. And just from that and knowing what the gonzo was there was never any way I was going to say I would do gonzo in hopes of getting a contract. I never want to do the little things. I always want to go straight for the big things. I am very competitive and Wicked Pictures between them and New Sensations I was either going for the top or not at all.
You have said you are "scared of ghosts" I take it then that you believe in the supernatural? (ADE Interview)
Carmen Hart - I do. Maybe it is just a myth. Maybe they are just stories to scare you. Some people have said they have seen them. Some people say they do not exist. I say I will believe anything until I am proven wrong. I do get scared of ...maybe not so much as ghost as something like the dark. If I do not see it and I do not know it is there I do not like that feeling. I want to know what is around me at all times. So a ghost, you can not hurt them, what can you do? So no I do not like them.
How far have you gotten with your writing? Ready to submit any scripts yet? (ADE Interview)
Carmen Hart - I have written 2 so far. One was read and I had good feedback from it. The second one no one has read yet. I think I am holding on to that until I decide what I want to do with it. That may be something I want to hold onto for awhile if I ever decide I want to direct.
Why screen writing in the first place?
Carmen Hart - I am a good writer. I am a jack of all trades. I hate to say that because it can sound conceited. I can sing, I can dance, I can play an instrument, I used to write a lot of poetry, I can write songs if people give me music, I can write a script if I am interested in doing that. Just because I had a story line ...I used to be in pageants and thought "God the story of my life about this would make for such a good plot". When I got into the business and realized that we made real movies what other way to express that then to write it myself.
You are the reigning "Miss Nude 2006". What exactly did you win along with the title and what, if any, are your "duties"?
Carmen Hart - Basically I won best dancer and best body at the same contest. The competition in itself is just so difficult with some of the best features in the business. The title alone is just an honor to have. It is just to be able to say I won this contest and overcame all these obstacles and ...I do not want to say beat all these other girls...yeah I do. I beat all the other girls in the contest. Just to able to say I got it and walked away with it.