Woman of Steele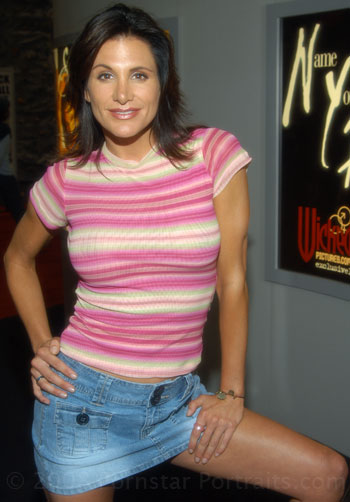 What was your favorite TV show growing up?
Sydnee Steele - The Muppets was awesome.
Which one was your favorite?
Sydnee Steele - I liked the drummer. The little red dude, Animal.
What projects are you worked on?
Sydnee Steele - I did Island Girls which is a show I got to pick out. I got to pick some of my girls that I have never worked with. I had never shot an all girl movie and I wanted something that the fans could have that they hadn't seen me in before. We had gorgeous locations. Brad Armstrong directed and we do well together when we shoot. We were out on a boat one day, in the sand another. We had to cancel one day because it was just so cold. Jonathan and I did a project that I have wanted to do for over a year. I put together my favorite scenes and we shot some new ones for a project. It was something that I really wanted to do and I finally got Steve to say yes to it because Wicked really doesn't re-use their product but I finally got it done.
What advice would you give to a woman just coming into the industry?
Sydnee Steele - You can always say no and you can still get hired on other jobs so don't be afraid to speak up for yourself. Don't ever do anything that you don't want to do. If it feels wrong, don't do it. Just have a good time and an open attitude. Don't do it for the money just do it for fun.
What, if any, are the differences between you as a person and Sydnee Steele?
Sydnee Steele - Sydnee Steele is a little more aggressive and a little more out spoken. But other than that what you see is pretty much what you get.
How hard is it for such a nice woman to play mean in so many roles?
Sydnee Steele - You know I go into automatic pilot and I just play that character. It is like the role I played in Devinn's movie Kink. She picked me for that role because there was an experience she knew of where someone treated me in a way that I didn't care for so she told me to think about that one day of how that person was and recreate it. So I actually did that and in one take got it. I did three pages of dialogue all at once and just hit it.
Why couldn't you bring yourself to hit Devinn with the prop gun?
Sydnee Steele - I can't hit. I don't believe in violence. Even as a little kid I never fought with my brother. I never hit anyone. I have only hit people a couple of times in movies. Alec Metro really liked it. He was always like "harder". It is not a part of me. I love. I am beauty and I don't see negativity. It just doesn't fit in me. I just can't ever see that type of rage in me so I don't even want to create in me as an actress.
So far you have seduced a priest and slept with your husband's son. What taboo are you going to break next?
Sydnee Steele - :) You are right. Wow. I don't know. I wish I was quick thinking on that so that I could come up with something but I don't know what I can do next.
What did you do to come out of your shell so much on the My Father's Wife Commentary?
Sydnee Steele - Sometimes you wake up with a funny strong energy and that day I just woke up and felt really alive. I was like "I want to rock out with my cock out." Sometimes you are just in the flow.
Have you decided to start directing yet?
Sydnee Steele - Nope, I have not decided that yet. You know it is a huge commitment because I put a lot into my career as an actress to make sure I am ready for things. Directing takes a lot of organization and that is not only organizing yourself it is organizing other people. And I don't want to have someone commit to have me doing that until I am ready to put that much effort and time into it to do it right.
Do you think your first project would be a gonzo or a feature?
Sydnee Steele - You know I really like dialogue. And I really like fetish. So something along those lines. Not dark. But where you worship the body. You have shots of people where you can't even see their face yet but they are kissing in such a way that you are just...Oh my God. There are a lot of directors that seem to forget that just to sit and watch someone kiss in a good way is really hot. And a close-up of a hand going down the body is just hot because you anticipate that feeling. I think that sometimes they miss that even in gonzo. Eyes especially are very expressive that people miss a lot.
Give me 5 words that describe you as a person?
Sydnee Steele - Happy, loving, friendly, non-judgmental and laid back.
Bernard Pivot Questionnaire
What is your favorite word?
Sydnee Steele - Yes, please.
What is your least favorite word?
Sydnee Steele - Hate
What turns you on?
Sydnee Steele - A whip will turn me on. I like a cat of nine tails for sure.
What turns you off?
Sydnee Steele - Arrogance and someone with a big ego really.
What sound do you love?
Sydnee Steele - I like the sound of my dogs snoring.
What sound or noise do you hate?
Sydnee Steele - High pitched screaming.
What is your favorite curse word?
Sydnee Steele - I haven't used one in a while. Ass is one that I liked a lot.
What profession would you like to attempt, other than your own?
Sydnee Steele - Retired writing a book.
What profession would you not like to participate in?
Sydnee Steele - Bathroom attendant.
If Heaven exists, what would you like to hear God say when you arrive at the Pearly Gates?
Sydnee Steele - Yahoo, let's start again.