Nicole Sheridan - The Perfect Woman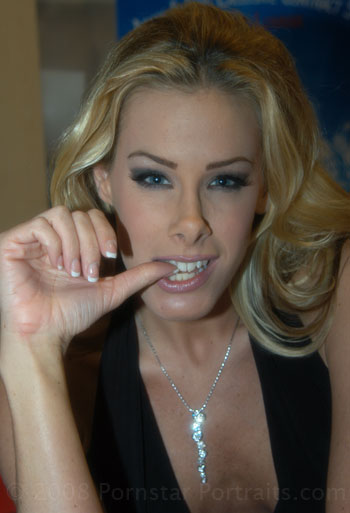 Why would you ever do a bukkake video?
Nicole Sheridan - You know it was something that I was paid an obscene amount of money to do and it was definitely a money thing. I mean it is not something that grosses me out but it was something that I didn't see where the appeal came in. I had fluffer's that were blowing and giving the guys hand-jobs getting them ready to pop. So basically I laid there with my eyes closed and waited till the guys came on me. So for me it was the easiest money I ever made but I don't really see what the appeal is. And usually when I do a movie I at least feel like I am giving something back and I didn't feel like I was really giving anything. I was kind of a prop. I mean I would probably do it again if they paid me the same but it is not something I am burning to do.
What type of fetish work did you do?
Nicole Sheridan - I used to work as a dominatrix. I have done bondage work. A lot of foot fetish, leg fetish, stockings, panty hose, peeing. And some weird ones to. There is a mannequin fetish, a latex fetish and a lot of things that aren't so common.
Voodoo - She is also a consultant to Skye Blue and Kelly Holland for a lot of the fetish movies that they have done. Because she has such an extensive background in all different types of fetish's. Such as crazy little things that people don't think of as fetish's like "pony girls". They talk to Nicole about and put her in the credits as a consultant.
So you didn't specialize in one type of work as a dominatrix?
Nicole Sheridan - As a dom I pretty much specialized in corporal. Flogging, caneing and the whip. I am not real big, I will do verbal humiliation, but that is not really my thing. Actually that is why I quit working as a professional dom because it seemed like I was getting more clients that were into degradation and humiliation and cross-dressing and that is not really my thing. I want to dominate a guy who is a strong guy with a strong personality who enjoys physical pain. I am not so much into the mental. Into the mind play of it.
Where did you grow-up and what was it like?
Nicole Sheridan - I grew up in Pennsylvania in a very small town. A very conservative town. I don't know. I definitely liked where I grew up and I am glad that I didn't grow up in a big city because I think a lot of my values and morals come from growing up in a small town and in a conservative town. And despite what I do ..I am very open minded but at the same time I do believe that there is a time and place for everything and I do respect other people. And I think that some of the girls that do come into this business that grew up in LA or come from a big city they don't have that same thing. I see them out there pulling their skirt up and a family walks by with kids. You know that is not cool to me.
So when you decide to start your own family are you going to move back to a small town?
Nicole Sheridan - We are actually debating the family thing. We have dogs. We love our animals. We are not sure we want to bring kids into this world. The world is kind of a fucked-up one that we live in and I don't know if that is fair. But we are definitely planning on having a second home or a cabin in some small town wooded area. Probably in the Northwestern United States.
What did you love to do as a child?
Nicole Sheridan - I loved to dance. I actually danced for 19 years. Tap, ballet, jazz. I was actually in every dance class I could take. I was a cheerleader. I was in gymnastics. I was really physical. I liked doing physical things. I also love to read. I grew-up in a family where I really wasn't allowed to watch TV unless it was an educational program so I did a lot of reading. Kind of a normal suburban childhood.
So you probably didn't have a favorite TV show growing up.
Nicole Sheridan - No, I mean I was allowed to watch like Sesame Street as a child and I was allowed to watch National Geographic Presents and the animal shows.
So the Muppets were out of bounds?
Nicole Sheridan - Oh I don't know. I remember seeing the Muppets a couple of times but I was probably supposed to be watching something else. I used to come home after school and watch Scooby Doo before my mom got home from work.
What projects have you done recently?
Nicole Sheridan - Oh god we have been working more in the last couple of months then we have in a long time. It has been pretty crazy for us. I actually have a movie that was just released from Adam & Eve called Tell Me What you Want. It is a three-way with myself, Voodoo and Julian. It is a little bit different for Adam & Eve because they tend to be a little bit softer than some of the other companies and this is a little bit dirtier a little bit more gonzo. The girls are talking directly to the camera and talking as dirty as possible. I also updated my web site and now how over 13,000 pictures on my web site. And then there was Stiletto for Michael Zen..you were on the set for that. We have been working a lot.
What do you think about the fact that they had to edit Wicked Sex Party 6 down so much?
Nicole Sheridan - I am very bummed about the fact that they edited it down so much.
Voodoo- I am happy about that fact.
Nicole Sheridan - Why?
Voodoo- It just means that the sex was so good that they had to edit it.
Nicole Sheridan - Well yeah. It means that it was super hot.
Voodoo- They need to do an un-edited version which would be even better.
Nicole Sheridan - I don't think from what I observed that day. I saw a lot of really hot hard sex but I didn't see anything. I mean an issue I have right now with a lot of the new girls and a lot of the new companies is that they are doing things more for shock value. And they are doing things that aren't even safe health wise. They are not sanitary. They are not hygienic and they are not things that you should be doing. I mean I am all for filthy sex nasty sex but the filthy nasty sex that day was all that day was realistic and was not breaking those boundaries. So I am kind of bummed that people aren't going to be able to see all of it.
What, if anything, do you wish you had known about the industry before you came in.
Nicole Sheridan - Before I got into the industry I definitely wish I had known a little bit more about the companies before I worked for them. There was some companies that I worked for that I had some issues with. Then later on after the fact I would talk to people and they would be like "oh God I could have told you that". So I kind of wish I had known a little bit more and talked to more people. I definitely wish I hadn't signed a contract so quickly either. I think that was probably the biggest mistake I have made in the industry. But it is a mistake that I have learned from.
What advice would you give to a woman either thinking about coming into the industry or just coming in?
Nicole Sheridan - I would tell her to definitely talk to the girls in the industry. Talk to the girls who have been in the industry for 2 years or longer. Find out a little bit about the companies. Find out a little bit about the talent. You want to know when you are put with a guy how he is as a performer. There are certain girls that can't do certain things. Everyone had their own style of fucking. That goes for the guys as well. A girl will come to me and explain to me how she likes to fuck and how she likes to perform and I will know right then that she will not want to work with so and so then because it wouldn't work. So definitely talk to the girls who have been around for a long time.
What, if any, are the differences between you as a person and Nicole Sheridan?
Nicole Sheridan - **Voodoo starts laughing** Me as a person he actually tells me I am like a child. I am very naive and innocent about certain things when I am not being Nicole. I don't know. I think sometimes I am too nice and as Nicole I can be a little more of a bitch and stand-up for myself.
Voodoo- Nicole Sheridan is powerful, assertive, cocky and business oriented. And just no fucking around. No one is going to mess with her. Her real personality is very shy, very timid, very insecure, very insecure and very insecure.
Nicole Sheridan - I am only insecure about certain things. I am very secure about my IQ, about my brain.