Jesse Jane - Hooters Girl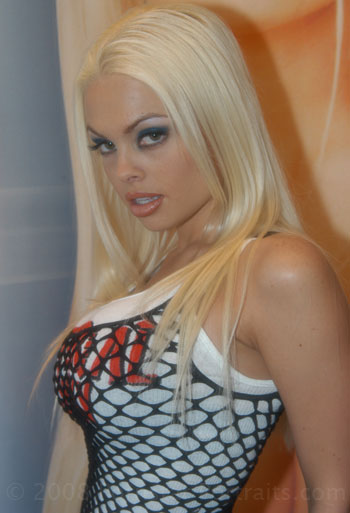 Okay I am still a little confused by the whole transition from Hooters Girl / Hawaiian Tropic model to "let's go make some porn". How did that particular career move come about?
Jesse Jane - I always wanted to be like an "ultimate sex symbol" and I believe porn makes you into that. It wasn't enough ...I mean I had my modeling gig and I got to travel but I wanted to have people see my sexuality and experience my sexuality. And have them get turned on by it because that turns me on. So it was just good for me.
You are extremely beautiful and probably would have been offered a contract by any major adult movie company. So why did you choose Digital Playground to contact first?
Jesse Jane - I liked Digital Playground's work and I liked the fact that they have very few girls. So nobody gets all the attention. Plus they are really like a family. They take care of you so I really like it.
What exactly did you do as a Hooter's Girl and Hawaiian Tropic model?
Jesse Jane - Well as a Hooter's Girl I was a regional training coordinator. So I trained all the new girls from 4 different states. I teach them their bar codes class and go through the bar supplies. As well as help them study for the test. Hawaiian Tropic you just went to different events. You were a model. You were eye candy at different events and sometimes you competed in events against other Hawaiian Tropic Models.
There are tests for Hooter's Girls?
Jesse Jane - Yeah. You needed to memorize the menu. You needed to memorize the beers. What you have in bottles what you have on tap. What alcohol you have. The 13 basic rules of service. Codes of conduct. A million different things.
You have said that you had been with a woman prior to your first girl-girl scene on camera with jessica drake. How did your first experience with a woman come about?
Jesse Jane - My first girl-girl experience was right out of High School. Every one was experimenting at the time. I was at a party with my boyfriend and he said let's grab a girl and I was like "yeah! let's get her". It was great. It was awesome. My first time with a woman. I think I was meant for women. I love women. I think I have had more women then I have had men.
You said in an interview with Rog @ Rog's Reviews that you weren't nervous about doing your first scene before it was ever shot. Did that hold true all the way up to shooting it?
Jesse Jane - No, my first shoot was a girl-girl and I wasn't nervous at all. I had two camera crews there. One for the movie and the other for Family Business. I was not nervous. I had been with girls before so it was very easy. Now my first guy-girl was a different story. I wasn't nervous at first but then on the same day the guy got sick and got replaced by Mark Davis. I didn't know who he was at the time. And I was like "oh my God this guy is going to come here in like 10 minutes. I don't know who he is and I am going to have sex with him.". So then I got REALLY nervous.
Who was the guy who got sick?
Jesse Jane - Julian
You have said you like being dominate in your scenes with men.
Jesse Jane - Yeah. :)
How dominate are you in your personal life?
Jesse Jane - I am dominate there to. I like to be on top. I love to take control. I love to throw the guy around but I like to be thrown around to. So if you challenge me it is like a wrestling match. Which makes it better, you know. But I am dominate on and off screen. Sometimes in my movies they are like "okay you can't be dominate in this scene. You have to be submissive" and I am like no because that is so hard for me to just lay there and not move.
Have you ever thought about being a dominatrix?
Jesse Jane - No. I mean sometimes I have the thought. Sure I wonder if I have the potential. You would have to call me "Madam Jesse" and line up to kiss my feet. :)
I am sure guys would line up for that.
What do you think of how Oklahoma ended up winning the 2003 season National Championship?
Jesse Jane - Oh my God. That was horrible. That was a horrible game. I don't even want to talk about it. That sucks that we lost to LSU. And like it was Jason White, obviously the Heisman Trophy winner, was not himself. He wasn't finding the guy. He was not throwing the ball. He was holding onto the ball and that was why he got sacked so many times. And when he did throw the ball he like half assed threw it. I was mad the entire game.
You are one of those women who gives the impression of being very "high class" yet in the behind the scenes on your movies you are quite the "ham". What is the real you?
Jesse Jane - I am just a goof. What you see behind the scenes with me sticking my tongue out and just being a goof ball that is just me. I am very high class I don't act trashy. I never like disrespect myself but I do act like a nerd every once in a while.
Any plans on hitting the road as a feature entertainer?
Jesse Jane - Yes but not yet. Maybe by the end of 2004. I have had dance experience before. Not stripping but all types of dancing like ballet and jazz club. So I am going to throw some stuff together and hit the road.
You have recently been named sex editor for "Ice" magazine. What does that entail?
Jesse Jane - I am the "Sex Editor". People write in their sex questions. Some people have fetish questions, other people are just curious about different things. This one guy like to cum in girls hair. It was the only place he liked to cum. I just get lot of odd questions believe it or not. I mean really really odd questions. I am in porn so you would think that I am used to a lot of stuff but I get some fucked up questions. And I just answer them. It is pretty cool. I might be taking on Sex Editor for "Rock Confidential" as well so that is really cool to.
You have been getting a lot of "mainstream" attention. How has people's response been to you as an adult film star?
Jesse Jane - You know what. A lot of people are curious. They are very respectful. They like Digital Playground's work. They have a lot of questions like how does it work when you shoot a sex scene and things like that. But they are very respectful. A lot of people tell me I should jump over to main stream. I have a movie coming out "Starsky and Hutch". I am interested main stream as well but like I said I like sex and I like being a sex symbol so this will be my thing for now.
Give me 5 words that describe you as a person.
Jesse Jane - Fun, loveable, happy, goofy and sloppy.
Give me 5 words that describe your perfect mate.
Jesse Jane - Fun, goofy, spontaneous, outgoing and pretty eyes.
Tell me something about yourself that would surprise people.
Jesse Jane - Hahaha. :) I would say that I am such a nerd sometimes but people are getting to know that. I have no idea really.
Give me three things you think you can't live without.
Jesse Jane - sex, girls and boys.
Happiness is…?
Jesse Jane - Finding the happiness within yourself.
What is the best way to win your heart?
Jesse Jane - Pretty smile and good humor.
What do you like to do to relax?
Jesse Jane - I like to get massages and go to the mall. Dancing relaxes me. Working out and roller skating relaxes me.