Devon - Digital Girl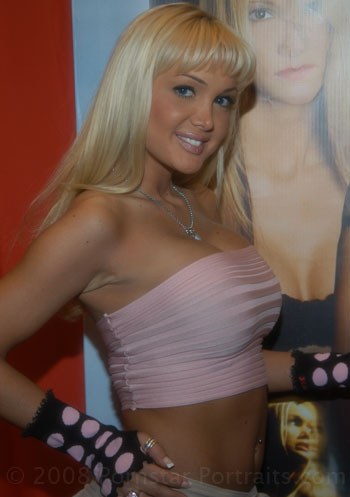 You have been under contract to some of the biggest companies in the industry. Why did you decide to sign with Digital Playground?
Devon - Well I was with Vivid and I wasn't happy there. There was a lot of girls and there was a lot of cattiness. I just didn't feel they were focusing on me as much as they should have. So they held me to my contract for a year. I went with Jill Kelly Productions for a while and that didn't work out. I loved the way Digital Playground promoted Tera. I thought they did a great job. So when I was interested again they were one of the companies that offered me a contract and they were my first choice.
What was it about Jules Jordan that got you to do your first movie?
Devon - At that time I was just a regular house girl at a club and I was bored. He was kind of cute and has a big dick actually. We had a lot of fun and he paid me a lot of money so why not.
How does doing a virtual sex (Virtual Sex with Devon) title compare to doing a feature?
Devon - Actually that is one of my titles that I am most proud of. It is different in that it is a very very long day. It is a very long shoot in that you are basically doing every position that there is. You are doing blow-jobs, pussy eating, missionary, doggie style.. you are just doing everything so it is like an 8+ hour day. It is different in that while in a regular movie you are doing maybe one sex scene and dialogue in the virtual title you are doing all sex all day.
Any plans on doing an anal scene in the future?
Devon - We are considering it. No guarantee's but we are considering it.
You have said that you are too self-conscious to watch yourself on screen. Is that just the sex or does that apply to the acting as well?
Devon - Oh yeah I can not watch myself having sex but I do watch my acting because I like to see how I did and how I came across. But for me I am very VERY critical of myself as far as watching myself have sex and seeing myself naked. I can't watch myself. I can watch other people's scene's but no my own.
I take it you haven't watched Virtual Sex with Devon then?
Devon - I have watched portions of it. I have watched the intro and the stories but that is about it.
If memory serves me you said you liked being choked while being fucked in the missionary position. What is it about choking that turns you on?
Devon - You know what I like to be dominated with men. With women I am more the dominate one but with men I like to be dominated. The choking makes me feel even more dominated so it turns me on more.
Should the director be allowed to spank stars when they play mean practical jokes on him?
Devon - You mean like I did in No Limits?
Yes
Devon - I would have let Nic spank me. I don't know if all director's should be allowed to spank me but I would have let Nic spank me for that. That was a good one I pulled on him.
How was jumping off a building?
Devon - That was amazing! It was really scary. Actually when I did that it was 4 o'clock at night and I had to do it 5 or 6 times to get the perfect shot. Because when you jump off a building you have to land a certain way. There was a whole stunt crew and an air bag at the bottom to catch me. You have to land on your back so I had to practice a whole bunch of times and they had to shoot them so they could get the perfect shot. The scariest part isn't jumping off the building it is when you hit the air bag the air deflates out of it as you hit the air bag so when you hit you slowly feel the ground coming up on you and then there is all the dust and sand in your face. But it was a very fun experience. I had never done anything like that before.
Give me 5 words that describe you as a person.
Devon - I would say cute. I would say honest, absolutely honest. I am a bit of a. ...I have a good sense of humor. How many is that? I am not very good at complementing myself.
Tell me something about yourself that would surprise people.
Devon - Something that would surprise people. I don't know let me think about that...gosh I don't know I am not really sure about that one.
Give me three things you think you can't live without.
Devon - I can't live without my cats. I have 4 cats and I can't live without them. I can't live without my lip gloss and I can't live without the sun. The sun makes me happy.
What are your cat's names?
Devon - Bouses, Bruiser, Russian and Seven.
How do you spell the first one?
Devon - B-o-u-s-e-s. Yeah I know it is a really funny name. Don't ask me where I got it.
Happiness is…?
Devon - You mean like in "Vanilla Sky"...What is happiness to you? Did you see that movie? Did you love it or hate it?
I have seen it and I didn't really care for it one way or the other.
Devon - See I really loved that movie. Happiness to me is ...happiness is being able to have people in my life that I trust. Which is very hard to find especially in the adult business.
What do you like to do to relax?
Devon - Honestly? Am I allowed to say it? I like to smoke pot. That really helps me relax.
If you could visit one place in the world where would that be and why?
Devon - Barbados
What advice would you give to a woman either thinking about coming into the industry or just coming in?
Devon - I don't think that a girl should get into the industry before the age of 23. I don't think you are fully mature and you fully understand what you are getting into by having sex on camera.
What, if any, are the differences between you as a person and Devon?
Devon - I would say Devon is much more outgoing and much more....God how would I put it. Devon is much more flirtatious.
What do you have coming out this year?
Devon - I just shot an AMAZING scene for a series called Jack's Playground. It won't be out till much later this year but they are telling me it is probably one of the hottest scenes I have ever done. It will be released in Jack's Playground 13
Bernard Pivot Questionnaire
What is your favorite word?
Devon - My favorite word...Chi ca
What is your least favorite word?
Devon - Probably whore.
What turns you on?
Devon - Men, women, large penis's. Girls that can lick great pussy.
Are you a size queen?
Devon - No I am not a size queen actually at all. I am very petite. So someone very big gets kind of painful actually. But then again anything below 6 inches I don't know if I could deal with that. That would be a little hard to work with.
What turns you off?
Devon - People that are overly arrogant. People that are very judgmental. As far as appearance wise I would have to say that I am not into very hairy guys or very short guys.
What sound do you love?
Devon - I love the sound of the ocean and the sound of my bong.
What sound or noise do you hate?
Devon - The sound of my alarm clock going off in the morning. I hate that high pitched beeping.
What is your favorite curse word?
Devon - Fuck
What profession would you like to attempt, other than your own?
Devon - A veterinarian is actually what I am considering doing after I retire from porn in two years.
What profession would you not like to participate in?
Devon - Anything that has something to do with manual labor.
If Heaven exists, what would you like to hear God say when you arrive at the Pearly Gates?
Devon - Well being that I don't believe in organized in religion I don't think he would say anything.