Getting Past Steele Barriers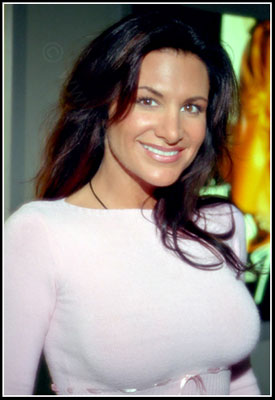 Sydnee was born in Texas on September 23, 1970. The last set of stats I have on her lists her as 5 feet 7 inches and 114 lbs. While I am sure the height is still right I am not so sure about the weight. She has had a more aggressive workout schedule as of late and is definitely becoming more toned and muscular. The Wicked Press release refers to her as "striking" and to that I would definitly agree but I would say the first word that comes to my mind when looking at Sydnee is "intimidating". But in a good way.

Going back to my Red Neck roots Sydnee is the woman they were talking about when someone said "Built like a brick shithouse". I don't think there is an ounce of fat on her body and it goes without saying that she can probably bench press my body weight (hers is probably what she curls). She always impressed me as being very self-assured but as I have learned over the years appearances can be deceiving. Going through all of my old photographs while doing this article I discovered that I first met Ms. Steele in January of 1999 at the Consumer Electronics Show. She was signing for Exquisite Pleasures and seemed to be very happy go lucky. I don't recall much about my opinion of her at that time other than my confusion between her and Angelica Sin.

Yes, I know they don't look anything alike now but back then I was forever mixing the two of them up. It wasn't until I saw her again at the July 1999 Adult Entertainment Expo that she really made an impression on me. I still wasn't familiar with her work but she was wearing an outfit that really showed off her incredibly sexy stomach and THAT made an impression on me. After that I made it a point to find out more about her.

Contrary to what her current fans may think Ms. Steele wasn't always known for her acting ability. She actually started out doing more gonzo than features. As a matter of fact a good deal of her early work was for companies that specialized in gonzo only and all of her early awards were for sex not acting (2000 Best Group Sex Scene - Tristan Taormino's Ultimate Guide to Anal Sex for Women from Evil Angel, 2001 Best All Girl Sex Scene - Dark Angels from New Sensations and 2001 Best Couples Sex Scene - Facade from Vivid Video). One of my personal favorites of her early performances is her scene in the Blow job Adventures of Dr. Fellatio #9 from Elegant Angel. Another thing that may surprise a lot of people unfamiliar with her early career is that she performed in quite a few bondage titles when she was first starting out. Probably the one thing that sums up Sydnee's early career best is the fact that she received the Unsung Siren Award from the X-Rated Critics Association in 2000.

In 2001 Sydnee made a big career change by becoming a contract woman for Wicked Pictures. While "unsung" may have summed up her early career Wicked Pictures made sure that would not be what summed up her career with them. With write-ups in the likes of Billboard Magazine, personal appearances, billboards on the Las Vegas strip during the January show's and her own line of toys from California Exotic Novelties they made sure everyone knew just how beautiful and talented this woman really was. In 2002/2003 Sydnee finally received some long overdue recognition of her acting ability with her awards for Best Actress 2002 - Euphoria and Best Supporting Actress 2003 - Breathless. 2003 is shaping up to be a year of a lot of small changes for this very lovely lady. She has a new "action figure" coming in the Spring of 2003 from Plastic Fantasy and a web site that is much more hands on (including a daily journal updated by Sydnee herself) and more feature dance appearances. As someone who just recently got to see this lovely lady perform for the first time let me tell you it is well worth the trip no matter how far out of the way it may be.

The following interview was conducted on the January 9, 2003 during the Adult Entertainment Expo in Las Vegas. I would like to thank Steph at Adult DVD Talk, Daniel Metcalf at Wicked Pictures and the lovely Ms. Sydnee Steele for making this article possible.

I am a little confused by your personality. I have always thought of you as kind of aloof, confident possibly arrogant though that is kind of strong. Though I have been assured that you are actually quite shy. How would you describe your personality?

Sydnee Steele - As a child I was always one of the shyest children you would ever want to meet. I hid behind my parents legs when someone said "hi". In high school I was known as a "bitch" because I wouldn't say "hi" to anyone. I went through the halls with my head held high and my back straight. I had very good posture which wasn't a sign of being shy. I was never insecure but I did not know how to approach or speak to people. It has been a hurdle I have fought with for a long time and I always walk around with a smile. A smile is kind of my guard, a way of saying "okay she is smiling she must be friendly". That is really where I am at. I love people, I have never really met many people in the industry that aren't nice and if I can get to know someone I will I just tend to not take the first step. At a show for sure, I have two minutes to go to the bathroom and 30 minutes to barely get a meal that is delivered to you and I am a vegetarian now so it is tough for me to squeeze that all into 30 minutes. So I am...it shows you are kind of "hi, hi, hi, hi" but I do have a barrier there and I do turn some people off but I don't do it intentionally it is just a personality...call it a fault or a positive, whatever. At least I speak too much and I am not one to gossip.

What type of Vegetarian are you?

Sydnee Steele - I am a full vegan basically. This accidentally happened. I read some literature on meat and chicken and how 70% of poultry inspectors won't eat chicken because of Sal manila. There was just an article in Oprah Magazine on chicken and the antibiotics they put in them causing resistant strains of bacteria in people. So I started realizing that my whole life I had never really been that into eating meat. It is flavored really well it is good but other than that I don't like it. I love cum, but that is about it. It has to be hot. If it gets cold I don't like it. So I gradually found that out and then I realized that eggs and milk come from a chicken and are a baby chicken which seems even worse. And milk, I don't think people were meant to drink cows milk. Cows milk contributes to digestive problems and allergies.

In several of your movies you play a cheating spouse who is something of a bitch. How do you feel about this as an actress and how do you feel about this as a woman?

Sydnee Steele - I do! I just had a fan come up for an autograph who said that they loved it in "Heroin" when I played such a wild and abandoned character. In that one she wasn't a cheating spouse but she was helping a spouse cheat and she was aware of that. I think I have a look and an edgy style that carries a character like that very well. And I think people like to watch things like that and hopefully by watching it will make them not want to do it in their own lives. People who watch porn and who have a healthy sex life and they are open and talk together I think that will keep a relationship together. When it comes to me playing a character like that ...personally I don't believe in cheating on a spouse. I believe in honesty and always being faithful. Most people out there know I am not with Michael Raven any more but we had an open relationship and we always talked. We just grew apart. He still eats meat and I don't it is hard to relate to a meat eater, just kidding. We changed in different ways. It wasn't because we cheated or because of the business. We changed, our interests changed and as a couple it just wasn't working so we are still good friends. Some people ask how can you still be good friends and well we still care about one another.

Do you feel that is a way of making women feel / look more empowered by making them the one cheating?

Sydnee Steele - I think unintentionally, absolutely. I know a lot of women who respect what I do and say "oh my gosh you can take that power." I just hope people realize that a movie is a fantasy. It is a story and most of them are written. And a man's direction. Brad Armstrong is a beautiful art director and artist. Artist's can be more "left brain" thinker which means "right side masculine, left side feminine" He can be more left side, at least that is what you think. I mean because it is amazing. Because you have seen me on film with him and he always has a hard cock so he is definitely masculine too.

So I should put down that you think Brad is feminine?

Sydnee Steele - Hahaha I trust that you would not do that come on, wow (big smile).

Today is different. Normally you are wearing a collar or choker. Are you trying to tell us something?

Sydnee Steele - This is what I am wearing today. And the reason I don't have a collar is that it would get all tangled up. This is a stone I found on accident when I was top of a mountain. I was up a Big Sir above the clouds when I really said "you do not want to smoke cigarettes for the rest of your life." I have but not when I have this on. When things are going good I will take this off but when I feel the need to smoke I need something to grab onto to take care of that craving. So when you quite something that is a huge habit you have to support it so I support it with this. And if I need I grab and just start rubbing it. It is just a security thing. And this a key link that blocks all the computer rays from going through my body. You know how they say that a cell phone will give you brain cancer. This blocks all that. Tiger Woods uses it and a lot of the sports people use them. And I have noticed that since I started training it has made me stronger. So I don't have anything like this tape recorder if it has anything to it, it is not going through me. And like this place I have even had them send me a free UV detector to see how much is around you and to see how much you are absorbing. Plus with my exotic face I think collars breaks it up nicely but I don't think I will be wearing one during this AVN show.

How is it that wardrobe helps you get into character?

Sydnee Steele - Wardrobe helps me get into character because once you put the outfit on you have to walk that way. Shoes make you walk a certain way. If you are barefoot or a low boot you feel that. If you are in high high heels and you are fully dressed it is going to make you stand a certain way so that the dress lays right. How you dress puts the character in her place. Also you can look in a mirror and say okay you are not you anymore. You are but you are not fully Sydnee.

Condom use is becoming more apart. It is no longer the now you see it now you don't approach. How do you feel about that?

Sydnee Steele - I think it is a great message to send but I think it is also great for the story. The biggest thing I can say is that when you put a movie in and people remember that this is a fantasy world. We are all tested. We all know each others habits. We are a small family. People do stray from the family but overall I know what they are doing and who with. People out there sometimes get all careless about things, they get caught up in the fantasy. Go for that fantasy but be careful. And in the movies and if the story calls for it sometimes the directors can play off that whole fantasy better. For them to see them putting it on. I personally I like to see. If I am watching it I like to see. Sometimes I have a long tongue and I am not real coordinated but if I could be real coordinated I would like to slide it down on camera like a "Matrix" shot where it is just smooth. And nice and yummy but usually it doesn't happen that way.

Why is it that you like having your panties pulled aside during sex?

Sydnee Steele - I don't know where that comes from. It is a tease and it is a control by a male/female. It is a person relinquishing who you are and...not who you are but your control of yourself. Going yes take me not having to think about what you have to do with your partner. It is taking your mind out of it and going please ...Actually taking your mind or you body out of it separating the two. Because when you have the mind and the body together the mind is thinking and the body wants to as well so you are confused. So if you go just on the mind set that you are here to please or here to be pleased the two are going to combine into a beautiful making. It is like having a physical or mental sex. Making love is more mental and physical and with a partnership. Just having those types of fantasies. It is about learning to shut your mind off because sometimes you are going why can't we do this or I should be doing that. Just feel fully. Do one or the other.

What is it about sex on stairs that you like?

Sydnee Steele - Sex on stairs is easy. You can get great shots. You have a railing to hold onto. You can put one leg down and one leg up. So if you are not muscular or strong it is a great way to do it. And now that I am even stronger since I started working out I can lift myself almost up on one hand now. Today I was in a friends room so I am like jumping and down on her stairs and lifting my leg up and she is like "come on monkey what are you doing". I was just playing, testing my strength because I believe if the body is strong you are mentally stronger, healthier and the sex is better.

How is it that you don't know how to cook?

Sydnee Steele - I just got better. Okay here is the story. I used to cook but it was all basic casseroles. Noodles, pasta, cheese and after a while the relationship I was in that wasn't expected of me so I just stopped doing it.So it became it became something that I really did not feel like I knew how to do. In this past year I have pretty much had to learn how to fix my own meals since I became a vegetarian. I can make vegetarian fajitas and was having about 8 people over for dinner and I over made. I made enough for about 18 people and it was gone. I have learned how to spice and how to do things. I have learned to make Cajun dishes and you put 20 different vegetables in it and it tastes the same because I just coated it with seasoning. Now I have learned to just season this vegetable and this vegetable and mix it with lettuce to try to make it more of an art. It is kind of like when you have sex. I try to make everything I do now ...I try to get into it, make it important and focus on it.

How did you feel when you were doing a commentary and they spend a lot of time talking about how they want another woman?

Sydnee Steele - You know what it wasn't even a thought in my mind. I did not feel left out, I did not feel jealous, I did not feel envious. I did not feel horny. We were just in a conversation. There are a lot of beautiful women around here whom I admire and respect. I don't look at a woman and say her boobs are to big or look at her ass she gained some weight this year. No I look at the person inside and say wow she is a pretty person and smile and look at her eyes. You can be the most gorgeous woman in the world and look into their eyes and see if they are hurt or angry or jealous or envious. They have all those little things going on that they have to get rid of because they are just causing themselves heartache and disappointment. Because you get to a certain point and that will affect you. It doesn't have to you can keep yourself strong and it will still be there. But if you keep yourself inside and spiritually good. Hopefully all the girls around here are working on doing and not going "oh my god I have to this" or "oh my god I made the cover of this magazine" so I have to show it to everyone. Instead just thank the people who made it and that it looked beautiful. The billboard up in Vegas. It is nice to see yourself up there when you put your heart and soul into a job and that got you there. Not by saying "oh you are a bitch" or cattiness or trying to beat someone down to get there job.

Do you think you could do a commentary by yourself?

Sydnee Steele - I could totally do a commentary. Just give me a subject or I could pick one myself and go. But who knows where it will end up if it has anything to do with adult or not. I like to write my AVN column. I have a column I write for AVN Insider and I want to start doing...We just went through a transition with our web site and www.sydneesteele.com it hasn't been dormant, it has been busy and it changes but it hasn't had a real personal touch from me and I am so ready to get in there. I already do a daily journal of everything. And I want to start doing that because it is fun for people to read and if there is anything I can put in there that people will go god she went through that today. Maybe I can help people through something or maybe people will go "my god she is just an ass today." I don't care. I just want people to have people get out there and have a good time.

Why does the fetish crowd like drool so much?

Sydnee Steele - Drool you know. I wonder, I actually did two videos that I would not do at this point in my career. They were fetish video with bondage. It was way back and I don't even remember the name of the company.

(I tried to figure out which titles these could be but did not have any luck. Most of her bondage work was for Bizarre Video however)

Sydnee Steele - But it is some of the stuff that you see in magazines. You are not being raped because you are all by yourself but you are all tied up and you are running around trying to get out of your...That is the only time I really saw drool. When it comes to stuff like Summer and Skye would do. There is a little drool when you have a ball in your mouth. That is a sign of submission and it is messy. Which adds to the feeling that you are into it or something like that. But the ones that I had done, I don't feel bad about them but it is just not an image the public needs to see. I don't think it is a good image. Not of myself but of anything it just doesn't...it is not a good market. I figured people are tapping a little too deep into the darkness and it could take you to a place you don't want to go. In my mind.

There have been a couple of big movies that have come out recently that have a strong S/M content. You don't like those?

Sydnee Steele - Those are fine. S/M is not the problem. I am talking about tying up, drooling videos. I jumped into the worst possible fetish videos. You can scratch that if you want to start over. Do you know what I am talking about that magazine that just shows girls tied up in straight jacket. It could be a whole turn on to me if I was with my boyfriend. But the way they shoot it looks as if someone has just tied me up and left me in a closet and I don't like that. It is the only thing I have shot that I had fun doing it but the way I see it as a patron is not quite a healthy way to see bondage because I think bondage is very healthy and fetish is wonderful.

Why hockey players?

Sydnee Steele - (Big Smile) I love hockey man, the aggression. I don't like fights. I don't care for boxing or to see blood spilt. But the whole thing is like kids, I look at guys as being big kids out on the field full of aggression. They slam them up against the wall and then they just smile and leave. I think that whole aggression on the field is very safe and fun even though people get hurt. It is like two little boys who can beat each other up. I love that and think that is how hockey should be.

I prefer a long shot of sex scenes but you have said you prefer close-ups. What is it about them that you like?

Sydnee Steele - My biggest reason for close-ups is that there is no faces and no people to fantasize about. It is just two physical bodies getting together so you don't have to see someone you know or don't know. It is just two bodies being intimate and think about sex. You are coming in contact you are inside someone you are contact with them and that is an amazing thing to think about. So I don't necessarily want to see faces because that would take the fantasy to a whole other level and I don't want to see it that way.

Why do you think life would be easier if everyone just said what they felt?

Sydnee Steele - Because we have so many thoughts that and so many layers we all have. And if we just said what we felt we might not have those knots in our backs. You might find that you stand up straight and that your body was healthier because you did not let that thought grow inside you and become poisonous to your body.

Can too much honesty be a bad thing?

Sydnee Steele - You know if we all did it what kind of trouble could it get you into besides maybe having a clear conscious. I think maybe it is something we should all do a little more and maybe stop talking about people behind their backs. Keep your thoughts responsible. Try to just be who you are and try not to worry about what everyone else is doing.

Are cheat sheets normal on sets? Do you normally get the script enough in advance to memorize it?

Sydnee Steele - I get the scripts early with Wicked for sure and sometimes there is still a few pages to do. The endings tend to be the ones. You can build a great story but making a great ending is hard to do. It is like my life. I thought about writing a book about my life at one time and I know why I did not was because it wasn't done. The story was but that era wasn't done. I like to read a script to see where I am going and then go to sleep to it. So that the thoughts are in my head and then I sleep on so my mind will relax and will wake up the next morning and have a better recollection of the script. I read the script and get the basics of my character, who she is and then I memorize the words. On scripts I tend to feel that I have ...I am some what scattered in my personality. I am straight but either I talk a lot of don't talk at all and I get confused on the issues when I start talking on one thing and then go look at that and eventually I have to pull it all back together and ground it. So I know where I am at and what I am doing. And when it comes to a script a lot of times it helps me to read those two and a half pages and really sit down by yourself so you can feel what she is feeling. That is the biggest thing for me to feel that character so I can bring that to the screen. That is really not a direct answer to that question. Do you want to start over?

Why do you dislike to think about death?

Sydnee Steele - I am not sure where that was taken from or what. I can tell you my basic philosophy on that. I lost my mother when I was 16 and I lost all my grandparents an aunt and an uncle within three years of that. So I really learned to deal with death really well and understand it. I helped a lot of friends and helped Michael Raven through the death of his grandfather. I understand it and how you prepare yourself for death. I thought I would die when I was 21 because all those people died when I was young. So I thought I had to do all these things like get married before I was 21 and then I did not die. It was just a mind fuck I gave myself when I was a teenager. And then when I hit 25 I was like...wow I don't know where I was at and what I was thinking when I said that but actually I don't have any problems with it. I actually like thinking about whole spiritual body and death of who you are. What you are here with and what your cells do and how your hair grows and I find all of it quite interesting. I don't have any specific fears but if you told me today I was dying, yeah I would come up with some fears and try to keep my ego and existence alive. But I think are so many interesting and unexplained things out there that it could be very interesting when you do die. It could be fun. But I plan to kick it around another 70 years or so.

Still doing movies?

Sydnee Steele - Oh hell no! No Granny Sydnee going on.

Since coming to Wicked I can't recall a single vignette movie that you have done. Is there a reason for that?

Sydnee Steele - All stories unless they were for someone else. Though I would like to do one for sure. They know that I play stories well and I like to play stories. Believe me I would to do one they are a whole lot of fun. But I am sure there will be one in the future. I would love to do an all sex movie for sure.

The plot for Falling From Grace is somewhat controversial. When you read the script did you have any misgivings about it?

Sydnee Steele - Well I will tell you. The first thing was I did not have the time to read it right away so I asked Daniel, my publicist, to tell me about it.

I was like "What is this "Falling From Grace"? Is that like a joke? Is someone trying to fuck with me? What is that about?" And he said "No it is not about you or your character it is about the whole religious thing."

When I read the script I fell in love with it and thought about the whole love story. People get caught in circumstances and situations in their lives. He had made a commitment to his religion and the church to be celibate. And then someone comes back into his life that loves him dearly. And he obviously has some issues from her cheating on him and his issue with the fact that he still cares about her. And then there is the whole "Oh my god sex again.". That is a natural human instinct. Why should someone not have sex. I don't believe that makes a person purer I think it makes them more evil. I think it is damaging to your soul and spirit to try and be celibate your whole life. I have never done it so I can't say if it is unhealthy or not but it seems to me to be an unnatural way to be. We are naturally sexual beings. And the whole story the way it ends ...There are two endings actually on the DVD and I thought both were good in that he made the choice that he thought was right for himself.

How are the dogs doing?

Sydnee Steele - Oh they are GOOD! Mario and Nadine are rockin`. Nadine is dropping ass like crazy. I had a group of people over and all of a sudden you see everyone's shirt go up over their nose. And another time I had our make-up artist Shelby over and she said "Sydnee your dog is just killing us". I feel I have to tell everyone because it can smell the whole house up. She is so stinky. She is 14 years old, she looks like a pig, miniature Boston terrier, corkscrew tail, eyes are all cataracted over but she is still great. Mario is great he loves the beach and the sunset. Nadine doesn't want to go so I have to carry her. They are wonderful and so happy.

Why have I never seen you dance in LA?

Sydnee Steele - Someone asked me that today at the show. I have been out touring for the last three years. Last year I only featured 11 times and in LA I have been independent of an agent so I had enough work that I really did not have my agent get me into a Rhino or something like that. I plan to work in LA but I don't have a time.

What does 2003 hold for Sydnee Steele?

Sydnee Steele - 2003. I would like to wish everyone a Happy New Year I think it is going to be a fabulous year. I think we will find that everybody has calmed down a little bit and become a little more peaceful. And I just want to see what is going on. I just want to keep myself as happy and balanced as I can. I have a couple of new projects that I am starting and I have started training. I have a lot of personal things going on that I am going to put into my web site. So I am going to concentrate on a little more fan based stuff. And really get in touch with the fans a little bit more. Along with my movies from Wicked Pictures. My new action figure! Did you see it? I picked the snow boarder. Learning to surf and snow boarding are cool. I did it once and it kicked my ass. I ski perfectly so this year I am going to work on that. The thing about using your face and body to make a living is that you have to take care of yourself and put yourself in the right mind set before you go down that hill. The thing about porn is that a broken nose or arm doesn't work very well.

Okay I have one last question that I have to ask because they will kill me if I don't ask it. Will you date a non-vegan?

Sydnee Steele - Yes, absolutely. Anyone else out there can eat whatever they want and I don't judge them. I will sit at a table full of steaks. The coat behind you is mine and is a cow coat that I have had for years. I believe in animal rights but I am a vegan because of my health and my body.