Stephanie Swift - From Gonzo to Glamour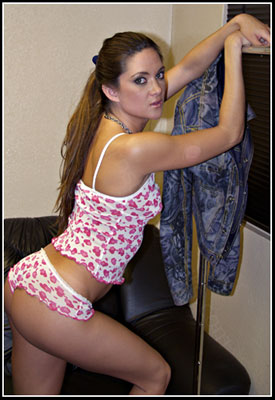 It is hard to believe but it has been 9 years since I first meet this lovely young lady. She was signing at the Evil Angel booth and I had no idea who she was. She was just a new pretty face so I took her picture. Since then this woman has gone from a sweet and innocent young woman to a sexual dynamo and finally a elegant and refined lady who can still peal the paint off of the walls when the motivation hits her.

Stephanie's career is one that is full of contradictions. When she first appeared on the scene she was known for her couples fair. Great scenes but still more "mainstream porn" than anything else. Then in 1997 she surprised everyone and went under contract to Elegant Angel Productions. Now Stephanie had done gonzo before and even worked with the likes of Greg Dark and John Leslie but no one was prepared for the performances she did in Rob Black's Miscreants and Gang Bang Angels. As well as her work with the likes of Max Hardcore and Kym Wilde. This was not the Stephanie everyone was used to seeing.

Her performance in Miscreants won her the AVN Best Actress Award for 1997 as well as helped earn her the AVN Performer of the Year award for 1997. Then after her contract with Elegant Angel was done Stephanie shifted gears again and signed with Wicked Pictures where she has been ever since.

Outside of work Stephanie used to be an avid reader of Anne Rice novels though she hasn't had the time to read any recently. She is also well known for her "obsession" with all things "Scooby Doo". Though she may deny it all you have to do is ask her dogs "Scooby" and "Doobie". She is also a "work alcoholic" and has on more than one occasion worked herself to the point of exhaustion.

Recently Stephanie has also taken an interest in singing as was showcased in her Wicked Pictures release Makin It as well as managing some new talent in the business (Michelle Michaels). And if all of that isn't enough she is now producing and directing her own line of movies to be released through Wicked Pictures later this year. All of this on top of her regular duties as a Wicked Girl and her feature dance appearances.

I was supposed to have interviewed Stephanie at the 2003 Adult Entertainment Expo on the last day of the show. But as fate would have it she ended up getting sick that day (to the point that a trip to the hospital was in order). I finally tracked our down our little "energizer bunny" at the Spearmint Rhino in Downtown Los Angeles and managed to get her to sit still between sets long enough to answer a few questions.

So you told me you just started producing and directing which is a new thing to me so tell me about that?

Stephanie Swift - Well right after Vegas I went on vacation to Brazil and that is how it all began. I was over there I saw all the beautiful girls. I went there with vacation intentions and then I thought I should do some content trade shoots with these girls out here. They said "well we really want to come to America and shoot movies" so I tried to get them a visa and that didn't work. This was all in the process of about a week. After spending all time with them and getting to know them they wanted me to come there and shoot but I couldn't do that because I am under contract to Wicked Pictures. So I came back and talked to Steve and then I went back and shot, produced and starred in my first two movies for Swift Entertainment in Rio and Brazil

What type of movies are they?

Stephanie Swift - I don't really want to say gonzo they are more of a vignette style. One of them is more like Red Dragon where it is a vignette style but there is a story behind them in the way that the movie is shot. Since everyone speaks Portuguese you can't have too much dialogue. But then again I like to hear people talk dirty in different languages. I even had a list of different phrases that I wanted to hear each of the girls say.

Are they condom only movies?

Stephanie Swift - Yes

Did you perform as well as direct?

Stephanie Swift - Yes. It was kind of interesting. I was running around naked with a clip board in my hand making sure everything was set up before starting the scene. So I was behind as well as in front of the camera. It was hard but I needed to do it especially since it was my first time.

When are we looking for a release date on those?

Stephanie Swift - Don't have one yet but my goal is to do day/date release for VHS/DVD.

David is going to love you for that.

What is your contract with Wicked now?

Stephanie Swift - Still 2 movies per year through 2004. I haven't done any yet this year but I am having a meeting with Steve on May 1st to discuss that.

Have you been to Greece yet?

Stephanie Swift - That is funny you should say that because there is an opportunity for me to go to Greece in the near future. Why are you asking me if I have been to Greece?

Because you said you always wanted to go.

Stephanie Swift - I did. I want to go to Athens and check out the ruins. I think it would be gorgeous over there.

In your Wicked press release they refer to you as the "consummate adult performer" what do you think that means?

Stephanie Swift - Typical hard working, straight edged. A work alcoholic basically.

Do you think that is you?

Stephanie Swift - Unfortunately yes. But I like what I do. If I need a break.. well you have seen what happens when I need a break.

Yeah you just pass out.

Stephanie Swift - Actually what happened with that was that I was definitely tired and I was working a lot but I have an acute case of horizontal vertigo. I have always had it ever since I was a little kid. That is like motion sickness. It is an inner ear problem and also I recently found out that flashes of light ...There were about a good 35 photographers in front of me when I passed out. I didn't completely go out. I just literally slid down out of my chair and scooted back up against the wall and proceeded to lay down on the floor because the room was spinning. And then I got really dizzy and weak. There were just to many flashes of light. And I have found that in clubs when I am featuring no strobes what-so-ever. I also don't go on that little ride where the room spins around and the floor goes out from under you. Don't do on that at all.

You have stated recently that you prefer working with women now more than men. So why do you still work with men?

Stephanie Swift - I have always preferred working with one of each at the same time. Lately the girls their drive has been a lot stronger than the men recently. The guys have been getting very. not professional, professional isn't the right word because they have always been professional but it is just that when you have been working with the same guy over and over again and it is like an old relationship. Oh I have to have sex with you again type thing and the girls just seem to be more excited than the guys are. That is kind of why I said that. I think I worked with Randy Spears how many times in the last year? I think I worked with Randy in every single movie last year. Not to say I don't like working with Randy. He is "the consummate adult performer" as well. He is extremely professional and makes the day go a lot easier as well. No wood problems there. Defiantly not.

In just about everything I have read about you they refer to you as a "sweet little girl". Does that start to annoy you?

Stephanie Swift - No, it is true. Even now that I am the age that I am. I will say it I guess since everyone probably knows it any way, I am 32.

WOW!

Stephanie Swift - As you get older your body changes but you are still the same person on the inside. I will always be just a sweet little girl with a side to me that comes out every now and then. Don't know where that comes from but it is hiding right now as I sit here in my little footy pajamas. Being a sweet little girl.

Does it bother you that you still look so young?

Stephanie Swift - Oh no. I remember the first time I ever went into an adult place to buy one of my movies. I was probably about going on 25. They would not let me in. I couldn't pass for 18 and I am looking and right behind the cash register there is John Leslie's Fresh Meat 2 and I am like "that is me!". I was uncomfortable showing my ID because I didn't want them to know who I was. I thought they might follow me home or something. That was in San Diego at the F Street Bookstore. The guy was kind of scary needless to say.

Really? Every time I have been in there there has been a woman behind the counter.

Stephanie Swift - It was the one in Chula Vista, close to National City.

The Scooby Doo Movie...what did you think?

Stephanie Swift - Oh my GOD. The Scooby Doo Movie. I was on the road dancing. I remember looking at my schedule, writing it down on my calendar this is the day the Scooby Doo movie comes out and saying that I have to go see it the first day the first thing it comes out. I got off the plane probably at 7 o'clock at night and I went straight from the airport to the movie theatre to watch Scooby Doo. I watch Scooby Doo at 9:45 at night and I was happy. Then I went to bed had one day off and then I was back on the road again. That is my Scooby Doo movie story.

Is it healthy to feed your dogs popcorn?

Stephanie Swift - Do Scooby and Doobie eat popcorn? Probably not.

Yes they do. It was on the audio commentary.

Stephanie Swift - Oh yes that is right. It was the only thing I could do to keep them quite. Though it probably isn't good for them.

What scene in Red Dragon did you masturbate to?

Stephanie Swift - Ummmm I would definitely say. The motorcycle scene with Marc Davis. That one or the girl-girl scene with Charmane Star. Have you seen her around lately?

No.

Stephanie Swift - I was so glad to get a hold of her. She is so back and forth all the time. I am glad that I got a piece of her when I got the chance. I don't see her that often, not that I get a chance to see anyone that often.

If you got a chance to build your "theme house". What would the theme's be?

Stephanie Swift - I was just talking about this. I whole Scooby Doo room. Not that I don't have one already but a whole Scooby Doo room. I definitely want a whole hearts one. As we speak here is my Scooby Doo box. My Scooby Doo bag. I have a Scooby Doo key chain around here somewhere. I am a Scooby freak.

Do you have the large talking Scooby Doo?

Stephanie Swift - Yes I do I have the one that has a motion sensor so when you walk by it moves it head.

What other theme rooms would you have?

Stephanie Swift - Hearts, bunnies that is about it. I don't know why people say that I am a sweet little girl. I am pretty excited because Easter is on Sunday and I have been a really good girl and I think the Easter Bunny is going to bring me a really nice Easter basket this year.

You wrote Backseat Confidential. It had a little bit of a story behind it but it was more in a vignette style like Red Dragon . What does it mean to write a story like that?

Stephanie Swift - Well I will tell you the story behind that. I am not sure if we put that on the commentary or not. Jonathan Morgan needed to shoot a movie and asked me if I wanted to do it. I said sure since I like working with Jonathan. He is a very talented director and he keeps you laughing on the set. Even if his sarcasm is extremely thick it is still humor and you just have to know how to take it. So he came to me and said here is the premise for the the movie and would you want to write the voice over for it. So we went to the editing bay and wrote the voice over while watching the director's cut of the movie. That was fun though. I think that is a good way to write a movie to give it a little more then just sex.

You have made the statement that you "have had sisters". Would you care to elaborate on that?

Stephanie Swift - I definitely have but I am not sure which ones I was talking about at that time. I actually have two sisters living with me right now. They are from the Presidents Club in Windsor, Canada. It is actually pretty funny because it actually two years ago that I meet these girls and they moved down to LA in November of last year. I find out through another girl at that club that they were out here. Well we were out for one of the sisters birthdays and I was getting ready to leave and they were staying in hotels and I told them to stay in my house. Though actually I have only cuddled with both of them. I will have to think about which ones I was talking about.

Tan lines. Why do you have them at all?

Stephanie Swift - Because I don't have voluptuous hips or really big boobs and I find that they accentuate my body really well. I find I look less like a twelve year old little boy with them.

Has anyone ever told you that you look like a twelve year old little boy?

Stephanie Swift - Yeah but they must have been joking. But it kind of stuck in the back of my head.

Why do you consider yourself a dork?

Stephanie Swift - Because I am. Look at me. I am in the footy pajama thing, half make-up on, hair kind of up and it isn't necessarily what you look like it is more of a personality thing. I am not a really prissy girl. I don't have to have perfect make-up on all the time. I wouldn't know how to be a really prissy girl. I consider myself to be a dork. I haven't look up dork in the dictionary recently maybe I am thinking of another word but I am pretty much a dork.

How is the new fan club and web site coming along?

Stephanie Swift - The fan club is not as slow as it used to be but it is still very, very, very slow. Did you get yours yet?

Yeah I got the card.

Stephanie Swift - Literally two of my helpers sat in the office for 4 days straight going through literally thousands of letters. I didn't want anyone to be left out and I didn't want to turn it over to a company.

All those money orders should have expired since they only have a 5 year shelf life.

Stephanie Swift - Most of the time I honored them if it was there. I didn't care. I just wanted to make sure people got what they wanted.

What did you mean when you said you were "getting into theatre"?

Stephanie Swift - I have always wanted to get into theatre. I have just wanted to take classes if I had the time. I love to be on stage and be on the spot and the tension. It is an attention type thing. I like to be put on the spot and push myself to those limits.

It wasn't that long ago that I found out that you were married in the first place but you have made the statement that you are never getting married again. Why not?

Stephanie Swift - You know I go back and forth as far as marriage goes. I don't want to say I didn't have a good experience with marriage but it should never have been a marriage it should have stayed just friendship and marriage is a very serious thing. I don't really think that paperwork and a ceremony really means anything. I am happy now then I have ever been even when I was married so I just don't believe in it.

What do you think controversy that surrounds people's decision whether or not to do inter-racial scenes?

Stephanie Swift - That is a problem I ran into and people hold it against you. It is not because you have a problem with it is just that you are doing something already which makes you be treated differently. It is really up to you whether you make that decision or not. That is kind of funny because I went through the same thing when I came into the business.

What does 2003 have in store for you?

Stephanie Swift - Still working on the singing thing. I am still looking for the right voice coach and producer. I am pretty excited about Michelle making the AVN up and comers. I am really excited about that. She made the cover of Ninn Worxs "Lost Angels" and she is the company logo. She is also in Swift Picks with me. I also had sex with myself in that one to.

Solo scene?

Stephanie Swift - No sex with myself. The magic of cameras.

Well it is time to let this overworked and jet lagged lady get a little sleep before her next show. You can find more information about Stephanie on her website. I would like to thank Stephanie Swift for her time as well as Daniel Metcalf from Wicked Pictures and Steph from Adult DVD Talk for making this interview possible.

Bernard Pivot Questionnaire

What is your favorite word?

Stephanie Swift - Um mm am I really going to tell you this? Yes, I am. I baby talk a lot and probably my favorite word, and I don't know how to spell it is "ouse".

(your guess is as good as mine people)

Stephanie Swift - It is when I want something really really bad. It is a comforting thing for me. It is a verb, noun, whatever. It is just makes me feel good. I don't know where it came from and it is getting really bad because Michelle had picked it up and now she uses it on me all of the time.

What is your least favorite word?

Stephanie Swift - Shut-up. I hate that word.

What turns you on?

Stephanie Swift - What doesn't turn me on? That is the thing. Even more than watching people have sex I like to listening to people have sex.

What turns you off?

Stephanie Swift - Being touched in my good spot too soon. Like if you just go straight for it there is no chase to it there is no excitement. It is just like okay I have had that before. Basically the longer you wait to touch me the more excited and wetter I get.

What sound do you love?

Stephanie Swift - **laughing** I like it when Scooby Doo does his "Scooooby Doooobie Doooo, hehehhehe". I love it.

What sound do you hate?

Stephanie Swift - I don't like honking horns or cars crashing.

What is your favorite curse word?

Stephanie Swift - I say "fuck" all the time. I didn't used to be such a potty mouth. I think it is from being around boys all the time. I was literally on the phone in the store the other day and I said something like "ahhh fuck I can't believe I didn't fucking do that" or something to that effect and this lady comes up to me and gets in my face and says "fuckin' this, fuckin' that". I said "mind your own fuckin business". I mean pardon me but you don't have to go in my face like that.