Kaylani Lei - A Sweet Wicked Woman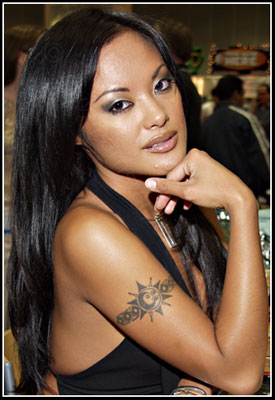 It was 4 pm and I was waiting in the reception area of Wicked Pictures for Daniel Metcalf to come get me and escort me to my interview with Wicked's latest contract star, Kaylani Lei. As Daniel steps into the lobby a curious face peeks around the door frame to look at me. Daniel introduces me to this beautiful young woman and I think she is incredibly lovely and incredibly small. At 6' 4" I tower over this 4' 11" young lady but she definitely had me at a disadvantage right from the start with her quick smile and sweet disposition.

I will admit to knowing next to nothing about this young woman before our meeting and all I had learned after that was that there is so much more to know.

I would like to thank Ms. Kaylani Lei for taking the time to sit down and talk to me as well as Daniel Metcalf and Steph for making it all possible.

What are the specifics of your contract with Wicked Pictures?

Kaylani Lei - It is a one year contract for 7 movies as well as appearing in other Wicked Productions.

I have been told that Wicked Pictures is a concept that not everyone can understand or contribute to. What do you think is the concept of Wicked Pictures and how are you going to contribute to it?

Kaylani Lei - I think I will be a good representative for Wicked in there dealings with the public and other companies. I am also a "new face" Asian so that is a whole other market for them. I also feel I have a good personality in that I can get along well with everyone on and off camera which is really important in order for a company to work well. Plus I have a lot of enthusiasm for the work which I think will come out really well.

How does it feel to be the "ethnic girl" at Wicked?

Kaylani Lei - I feel great about it actually. I think we work well together and the pictures of all of us together just look great. Everybody here has their own little identity here but we all come together nicely.

It appears to me that the majority of your previous movies were of the gonzo variety. What were your reason for going from that background to a company that does more features then anything else?

Kaylani Lei - The gonzo was great as far as giving me experience at having sex in front of the camera. Getting to know the crew and just becoming comfortable. Now going onto the features I am not as shy. I am more relaxed and very eager to do them. I like the acting, the script, the dialogue and the special effects on some sets. I like watching the director and learning about what is going on.

Any concerns about the acting?

Kaylani Lei - No not at all. I am really looking forward to doing the acting and taking on bigger roles.

What was the first feature movie you did in the industry?

Kaylani Lei - I did some supporting parts in other features but Angel X which was actually directed by Michael Raven for Wicked (note this was a pre-contract movie for both the star and director) was the first one that I had a starring role. I played Angel and got to work with Asia Carrera in that. It was a big shot with a lot of long hard days but it was really fun. I learned a great deal from that and got to know a lot of people on set.

Tell me a little about Angel X.

Kaylani Lei - Angel X is a Japanese tale about a young girl (me) who has a spiritual awakening in the Anime style. It has a lot of special effects and we had to wear kabuki make-up and warrior costumes. A lot of the costumes were authentic so there is a lot of silk and flowers. It is just beautiful. We also got to work with a martial arts coordinator/choreographer which was really fun. He taught us the movements and what they meant so we got a little background information on Tai Chi art which I found very interesting. We also got to work with real swords which were very heavy but I enjoyed learning about it all.

Do you have any experience in the martial arts?

Kaylani Lei - I did Tai Kwon Do when I was in seventh grade but we moved so I didn't get to continue it. I have done cheerleading so that explains my flexibility which helped we do a lot of the harder stances and stuff.

Tell me about Blue Rain?

Kaylani Lei - That is going to be my first Wicked contract feature and it will also be directed by Michael Raven. It is a science fiction type of movie. I play a cop who investigates other dirty cops (one of whom I fall in love with) and some drug dealers. I also get to play with guns in that one which I have absolutely no experience at so I am really looking forward to that as well as all the acting again.

What do you plan on getting out of your contract with Wicked Pictures?

Kaylani Lei - I just want to do my best in everything for Wicked. I want to work with them as a team to promote them through my work and they will help me with my name. A contract was really what I wanted when I got into this business not because you don't work as much but I wanted my name to go somewhere when I was through. So you really need a good company behind you in order to do that and everyone here is really great.

What impression do you like to leave your fans with when you meet them?

Kaylani Lei - "A lasting one" :) I love to meet fans and talk to them face to face. I signed at AEE for another company and I just made sure I had a small conversation with everyone who came up to me. I don't want to just sign something and send them on their way. I like to get to know everybody. I also like to watch every scene I have done gonzo or feature because I can then talk to them about it when they have a question or comment about a series or movie I have done.

You have said that STD testing is a concern for you. Did you intentionally go looking for a condom only company to work with of did it just work-out that way?

Kaylani Lei - That is another reason I thought a contract would be really nice since they tend to look out more for their performers health wise. Which is more in the talents favor. I was doing my own STD testing even before it became mandatory throughout the entire industry just for my own piece of mind.

How old were you when you first left Singapore?

Kaylani Lei - I was 10 almost 11 years old.

Are the laws as really as strict as they say they are?

Kaylani Lei - Oh definitely I didn't even chew gum until I was almost 13 years old and in the U.S.

What language did you speak then?

Kaylani Lei - I spoke "tagalian" and very broken English then. But I grew up in an American family so I was raised American and I can't even speak a word of Tagalian any more.

Any plans on going back to Singapore?

Kaylani Lei - Yes! Definitely, I want to stay at the Shangra La Hotel in my favorite suite which we stayed at right before we left. But I very much want to go back to visit. I don't think I was old enough to appreciate it when I was there so I want to see it all again.

You have said that you got in the adult business because "I always wanted to build a web site and all that". Couldn't you have done that without going into adult?

Kaylani Lei - I could have yeah. I was dancing in Las Vegas before I got into the business. A friend of mine ,who also danced with me, talked about other ways to make money and have fun with it. Because we also had fans dancing so it was something for them also and safe for us so we figured a web site. We ran into a mutual friend at the club and he was also getting into the business as a manager so he brought us to someone who asked us about nude modeling and I had never had a problem with that so I said okay. He then brought us out here and introduced us to a man who would become my agent for a while and I just started doing movies. I just jumped right into it.

Tell me about your web site?

Kaylani Lei - It is called kaylanilei.com. My fans can e-mail me kaylani@kaylanilei.com. I did all my own hair and make-up for the site and my web master is my photographer. He is really great. I try to go for a whole bunch of different looks on the site. Some young girl stuff, some natural stuff, sports, fetish, not all glam but some. Just because fans want to see different things. I am trying to work on it now. I have to change some stuff on it now that I have signed with Wicked. I also have a whole new look since I had to dye my hair completely black for Angel X and there are no shots of me as I look now on the site so we have to change all of that as well.

You have said "I never had a problem posing nude". What was your first experience at doing that? How old were you and how did it go?

Kaylani Lei - Dancing, I danced in Mass at a Club called the King's Inn which was all nude and then in Vegas it was only topless. I had a lot of friends doing it at the time so I felt really comfortable about it. I had a lot of support so I felt no negative vibes about it since we were all together. The first time I posed nude actually was at a live art class in Vegas at the Art Institute.

How did you get into that?

Kaylani Lei - A student from the Institute told me about it.

Have you told your parents yet?

Kaylani Lei - Yeah, right.

That would be a "no".

In your February 2003 interview for Adult DVD Empire you said you had held off on doing anal and haven't done two guys yet. Are both still true and any plans to change that?

Kaylani Lei - Yes, I feel I am doing all right now with out having to do anal yet. And the two guys I don't think I would look good doing it since I wouldn't know what I was doing. So no, for now, I am not going to do it. I am not opposed to doing it or the girls that do it I just can't to do it right now.

Nothing wrong with that. Give me 5 words that describe you as a person.

Kaylani Lei - Shy - which will contradict the next one which is.. energetic / social, helpful, friendly and modest - not in the physical sense but if someone gives me a compliment I will go "yeah right".

You have said your personal life is very boring and that all you like to do is watch movies with your friends.

Kaylani Lei - Well it isn't boring to me but it is different then what people assume someone in this business would like to do. I am not really into partying I like to keep things simple.

What types of movies do you like to watch?

Kaylani Lei - Everything though I am not to crazy about Westerns.

Tell me something about yourself that most people find surprising.

Kaylani Lei - My shyness or how friendly I am. Because a lot of people tend to "judge a book by it's cover" so they look at me and think I would be stuck up but I am not so I think most people find that surprising.

Okay I don't usually ask these types of questions but since you are fairly unknown I will. So here are the "required sex questions".

Favorite Position?

Kaylani Lei - Cowgirl

Favorite sexual acts?

Kaylani Lei - I like receiving oral sex.

Things you hate having done to you?

Kaylani Lei - I don't like anything where I end up choking or gagging in the end.

Well that is understandable. Unfulfilled sexual fantasies?

Kaylani Lei - Having sex underneath a waterfall. I haven't done that yet but I plan on trying to do something about that when I go to Hawaii in a couple of months. We will see though.

Favorite Female Performers?

Kaylani Lei - In the business - Asia Carrera though I don't know very many people. I am really looking forward to getting to know the other Wicked Girls so I am sure they will be on my list once I do get to know them.

Kaylani Lei - Outside the business - Salma Hayek. She is very sexy and very intelligent.

Favorite male performers?

Kaylani Lei - Nicholas Cage and George Clooney

Facial cum shots like/dislike?

Kaylani Lei - Don't mind it.

What magazines have you been featured in?

Kaylani Lei - So far Club, Club International and Hustler though I am sure there are more to come since I have shot for a lot of different photographers. I am sure they just haven't come out yet.

Do you prefer men or women?

Kaylani Lei - Men.

Bernard Pivot Questionnaire

What is your favorite word?

Kaylani Lei - You mean what I say a lot? I don't know really. I guess maybe "I don't know" since I use that all the time.

What is your least favorite word?

Kaylani Lei - "Cunt". I hate that one. Oh I also really hate it when people say "right on"

What turns you on?

Kaylani Lei - The way a man kisses.

What turns you off?

Kaylani Lei - Bad hygiene.

What sound do you love?

Kaylani Lei - I like anything relaxing. Ocean sounds. I really like the sound of the ocean.

What sound do you hate?

Kaylani Lei - My little chiwawa barking at 4am. She has a little piercing bark.

What is her name?

Kaylani Lei - It is Ochie.

What is your favorite curse word?

Kaylani Lei - Muther Fucker

What profession would you like to attempt other than your own?

Kaylani Lei - I really want to pursue acting. I never thought about it growing up but now that I have done it I am really interested in doing it some more.

What profession would you not like to participate in?

Kaylani Lei - Escorting, I guess.

If Heaven exists, what would you like to hear God say when you arrive at the Pearly Gates?

Kaylani Lei - "It's about damn time"? No that's not it. I don't know really. How about "Good thing it's here and not down there."